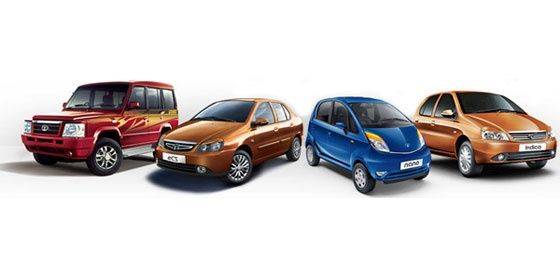 India's largest automobile company has been on the backburner off late and the last thing we expected was a hurricane of new launches heading our way in 2013. Looking beyond the horizon is always a good thing as Tata Motor's new customer-focused strategy seems to suggest. As a precursor to future launches, the company today unveiled 8 improved and enhanced vehicles, across 5 of its key brands.
The surprise packages which have been under wraps all this while include enhanced versions of the Tata Indigo eCS, the Tata Sumo Gold, the Tata Nano and the Tata Indica. Expect bolder and brighter new colours and graphic designs on all of these models in the near future. Further improvements will include higher-quality suspension, more advanced multimedia entertainment options and introduction of a Feather-shift gearbox (F-shift gearbox).
For the sake of environmentalists Tata Motor's CNG range just got wider. The company's Indica, Indigo, Nano and the Explorer Edition of the Safari Storme will all very soon be offered with CNG fitted kits as well.
Speaking at the big unveil of its entire range of refreshed products, Ranjit Yadav, President, Passenger Vehicle Business Units, Tata Motors, said, "These products clearly indicate the significant improvement we are bringing in our product quality. While we are working towards our next-generation product pipeline, today we are bringing best-in-class vehicle experience across different passenger car categories to enhance some of our great existing brands. Besides offering exciting new features, these cars will be backed by an engaging purchase experience and a transformed after-sales network".
Among the many new launches planned for 2013 and beyond is the new Tata Indigo eCS, which will carry a significant number of changes in its exterior and interior packaging. Powered by a refined CR4 diesel engine with max torque of 140Nm the Indigo eCS upgrade will feature an advanced F-Shift Gear box for the first time. A better Duo Float Suspension and an all new NVH package and other expected additions. More details: Refreshed Tata Indigo eCS unveiled
The high selling Indica hatch will feature a better exterior look, dual tone interiors and a new transmission with Smart-shift gear technology. It will also be complemented by a new Dual Path Suspension that ensures best-in-class ride, handling and driveability on all kinds of terrains. The Tata Sumo Gold for 2013 on the other hand once launched will take its comfort and convenience factor to the next level with the addition of dual air conditioning and Bluetooth/USB connectivity.
The most exciting sounding of the lot has to be the Explorer Edition of the Safari Storme that will further build on its SUV characteristics with a range of accessories that would include a Blaupunkt - Touchscreen Double DIN Infotainment system, stylish nudge guard, door visors, explorer decals and adventure gears like camping kits, backpack, etc. These accessories will initially be available in select Tata Motors outlets.
The big ace, however, in all probabilities will be the highly anticipated Tata Nano face-lift, which according to the company will be launched with an array of new features, including remote keyless entry, twin gloveboxes, and a four-speaker AmphiStream music system with all sorts of connectivity. Nano Personalization Kits would enable buyers to customise their Nanos with one of four unique identities: Jet, Alpha, Remix, and Peach. The car will be available in dealerships by July 2013. More details: Face-lifted Tata Nano unveiled