Sipani Dolphin: The Maruti 800 Beater That Wasn't
by Nikil
May 22, 2020
Views : 11085
---
This fibreglass hatchback from the 80s could very well have been India's first people's car, if not for the Maruti 800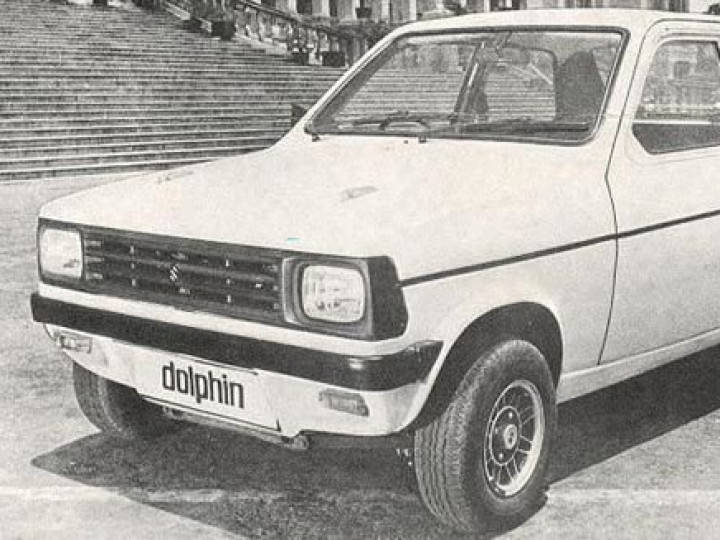 Back in the early 70s, Prime Minister Indira Gandhi's cabinet proposed the production of a 'people's car' that would be affordable, efficient and indigenous. Indira's son, Sanjay Gandhi, was given the licence to manufacture this car after his brief internship with Rolls-Royce at Crewe, England. To this day, many argue that this move was aimed at fulfilling Sanjay's dream of building a car.

Naturally, the alleged favouritism to Sanjay's 'Maruti project' created a furore. To deflate the situation, the government issued a licence to two more individuals, R K Sipani and Manubhai Thakur, in 1971. In this feature, we'll focus on the former and his firm's (Sunrise Automotive Industries Limited, later known as Sipani) attempt at making a car for the masses.

Fast forward to 1975, Karnataka-based Sipani launched India's first three-wheeled car, the Badal. Essentially an autorickshaw with a passenger car bodywork (quite like the Bajaj Qute), the car didn't curry much favour with the masses. This prompted the company to look for an established carmaker from outside the country to partner with. It finally narrowed down on Reliant and started producing the Dolphin, based on the British carmaker's Kitten.

The Kitten arrived in 1982, a year before the Maruti 800 (Suzuki SS80). It finally seemed like the Indian masses had a car they could aspire to own one day. Although it was a strikingly modern car at the time, the Dolphin's price and many other factors went against it. Priced at Rs 70,000, the Dolphin was just around Rs 10,000 cheaper than what the wealthy rode in: the Hindustan Ambassador and the Premier Padmini. Heck, it cost 40 per cent more than Maruti's target price of Rs 50,000 for the 800, which would follow a year later. To make matters worse, the hatchback featured a fibreglass body and just two doors. Yep, the masses weren't happy and Sipani sold just 126 units in its first year.
Also Read: Would You Rather: Buy New Kawasaki Ninja 650 or Used BMW 530i

However, the fibreglass body wasn't without some redeeming qualities. While the masses weren't happy with the plasticky body of the Dolphin, the hatchback quickly became a favourite in the racing circuit. Powered by a Reliant-derived 848cc 4-cylinder engine, the Dolphin produced 40PS, which, incredibly, was 5PS more powerful than the popular Maruti 800. Combine this with the lightweight body (500-odd kg) and the Sipani Dolphin (and the Montana which succeeded it) soon earned a reputation for its ability to go like stink. A 4-speed manual and a rear-wheel drive layout meant it was a hoot to drive both on tarmac and rally stages. And there's no one better than legendary racing driver and former president of Federation of Motorsports Clubs of India (FMSCI) Vicky Chandok to explain it.

"We rallied the Sipani Dolphin very successfully. We were in fact dealers for the Sipani Dolphin. So I thought why don't we try rally the damn thing. The South India Rally was our first event and during our transport run from Trichy to Palani, we suddenly found that we were making enormous time over other people in their Fiats. Our car was built to Group A specification - twin carbs and a little bit of work. But even in standard spec, it was a bloody quick car. On the climb up to Kodai, which consisted of 50 hairpins, we made seven minutes over our closest competitor."

"Sipani had a bloody good product but it was terribly managed. The screwball was they should have stopped with the Dolphin. Instead, they brought the four door Montana and then the diesel-powered D1 that were totally unnecessary. As a company, it had good foresight though. But the dealers had to cry for cars and supplies and sometimes the money simply wouldn't come," said Vicky.

But what about the fiberglass body panels? Would the car be capable of taking the beating during the toughest stage of the rally? "I will never forget those comments from our competitors. 'Just because they were quick up the hill, they think the Dolphin is damn fast, uh? Their cars are going to fall apart in the first three bumps,' they said". Incredibly, Vicky and co-driver Rajiv Rai made it to the Munnar High Range in one piece, avoiding many a bison on the way and parked the car on parc ferme, had a quick shower and were heading for dinner when the second car arrived. Such was their lead over the porky Fiats.
Also Read: #Schumacher2000: When Michael and Mika Walked On Water

Come 1983, and Maruti Udyog Ltd., which finally tied up with Suzuki (after failed negotiations with other carmakers like Renault and Peugeot) rolled out pre-production versions of its hatchback, a van and a pick-up version of the van. They were paraded around major towns and cities in the country. Not surprisingly, people went gaga and came in hordes to take a look at these modern machines with their shiny metallic bodies. Soon enough, the company received 1,35,000 bookings for the hatchback and recouped almost all of its planned investment of Rs 200 crore.
Also Read: Ferrari Finally Reopens Its Museums To The Public

The arrival of the swanky and metal-bodied 800 took away whatever little glory the Dolphin had left. Sipani had to rethink its strategy and it decided to roll out a four-door version of its hatch, the Montana. However, Sipani had failed to learn from its mistakes and yet again, it launched a car with a fibreglass body. The lack of good marketing strategy and poor after-sales service let the Montana down further.

With two setbacks in a row, you'd think Sipani would lose all hope and shut shop for good. Heck, no! It kept introducing more cars, such as the diesel-engined fibreglass D1 hatchback and finally the Montego, a sedan based on the Rover Montego that cost five times that of an Ambassador (not without good reason though, as it came with air conditioning, power windows and power steering, which were rare in those days).

While many would argue that the arrival of the Maruti 800 changed the Indian automotive scene for good, there are others out there who lament the lack of support by the then government in promoting homegrown carmakers. While there's no doubt the alleged "favouritism" (via unnecessary restrictions on import of components) towards Maruti has given us many gems like the 800, the Zen, Gypsy and so much more, one can't help but wonder what Indian roads would be like if homebred manufacturers like Sipani, or the recently rediscovered Aravind sedan (1956) by K A Menon or the Meera Mini (1949) by Shankarrao Kulkarni were lent the support needed to blossom into full-blown carmakers. Would they have been competing with recently turned global giants like Hyundai or Kia across the world? Or is it just wishful thinking? Let us know what you think.
More on Maruti Alto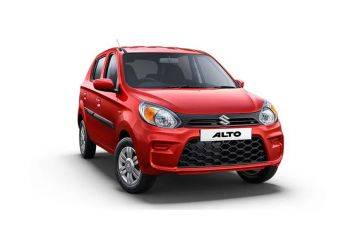 Rs. 2.99 Lakh Onwards
Ex-showroom, Delhi
See what our community has to say!
NEW
India's largest automotive community