Polaris Industries was established in 1954 and operates in more than a 100 countries at present. Polaris Industries Inc has an aggressive strategy for capturing global market share in the off-road vehicle segment. They already have one of the healthiest market shares amongst its competitors in its home market the USA. And their latest goal is to capture market share in the emerging markets. Which is why Polaris have started Polaris India Pvt Ltd a wholly owned subsidiary of Polaris Industries Inc has been setup in India to cater to the off-road market and gain the first movers advantage of this untouched market in India. With the launch of its adventure vehicles Polaris wants to kick off an off-road revolution in India.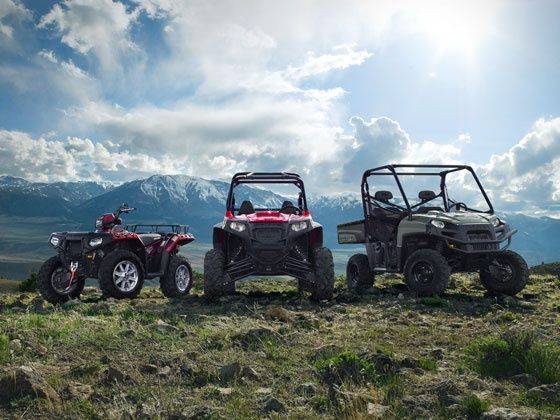 The head office of Polaris India Pvt Ltd is located in Jasola, New Delhi. There are 10 dealerships in India and bookings for their All Terrain Vehicles (ATV), Off-road Vehicles (ORV) and Snowmobiles are open from today. The first batch of vehicles will be delivered to customers from September onwards. All their vehicles are Completely Built Units (CBU), depending on the demand from the Indian market Polaris may at a later stage consider building their vehicles here. The Indian Defence Forces have booked the first set for the Polaris Snowmobile.
Mr. Pankaj Dubey, Managing Director – Polaris India Pvt. Ltd. Commented on the launch by saying, ""Polaris India will uphold the core values of the Polaris brand which is renowned the world over for flawlessly executed design and a passion for improving the riding experience which our vehicles offer. We plan to heavily invest in Indian market in terms of people, machinery, and infrastructure."
The bold move of making the first movers advantage into the Indian market was backed by Mr. Dubey when he said, ""The specialized automobile market is at a very nascent stage in India at this time. Our principal aim is to sensitize the consumers and create a new market for the possible options available in recreational vehicles such as ATVs, off-road jeeps (Polaris RANGER RZR Side-by-Side vehicle) and snowmobiles, and to generate more interest in these activities. We will focus on the utility application of our vehicles in areas of construction, forest, military, police and Para military forces"
The Sportsman range of ATVs start from 455cc engines to 850cc engines and can seat one or two passengers depending on the model. All Polaris vehicles come with Active Decent Control for maintaining appropriate traction for all four wheels when it is descending a steep slope or gradient. Another standard feature is an Engine Braking System (EBS) which helps to slow down the engine speed of the vehicle and aid the brakes in slowing the vehicle down.
The Polaris Ranger starts with the 455cc motor it can also be had with a more powerful 760cc motor. The Ranger can seat anything between two passengers to six passengers depending on the model. The Ranger also comes with a convenient Electronic Power Steering (EPS). There is a Versitrac Turf rear differential to help power the rear wheels of the buggy. All wheel independent suspension, all-wheel drive and an automatic gearbox, tilt steering wheel are standard on the Ranger series. The range topping Ranger RZR XP comes with 88 bhp and while that might not seem like much the high power to weight ratio of these agile and extremely capable off-roaders make them very peppy to drive. The Ranger series also has a useful rear cargo box for carrying supplies. The Ranger series has a maximum towing capacity of one tonne.
Driving a traditional off-road vehicle such as a Jeep or an SUV off-road is a little slow due to the heavy weight of the vehicles. The off-road range of vehicles from Polaris is light and agile which means that they can go about off-roading in a speedier manner. The ride comfort of Polaris off-road vehicles is very good. The suspension absorbs just about anything you throw at it and cushions you from the harshest bumps and can scale some pretty tall obstacles. Kickbacks from the wheels to the steering are also damped nicely by the front suspension.
Apart from pure enthusiastic off-roading Polaris off-road vehicles can be used by the Defence Forces to access terrains without roads, Polaris vehicles are also very light which means that they can be airlifted to places where armed forces may not have any mode of transport. Construction companies in the mining sector use these vehicles to travel on site. Some large factories use Polaris vehicles to tow heavy loads within the factory where bigger vehicles cannot go.
The Polaris range of off-road vehicles starts from 2,40,000 INR to 20,00,000 INR and is available with Petrol, Diesel and Electric motors.
The Polaris catch line, 'Roads aren't exciting anymore' is in short the experience these vehicles offer in just a single drive.