OTD: Ayrton Senna Made His F1 Debut In 1984
---
On this day, March 25 in 1984, a racing driver whose surname alone sounds fast, made his Formula 1 debut and he did it at his home race too.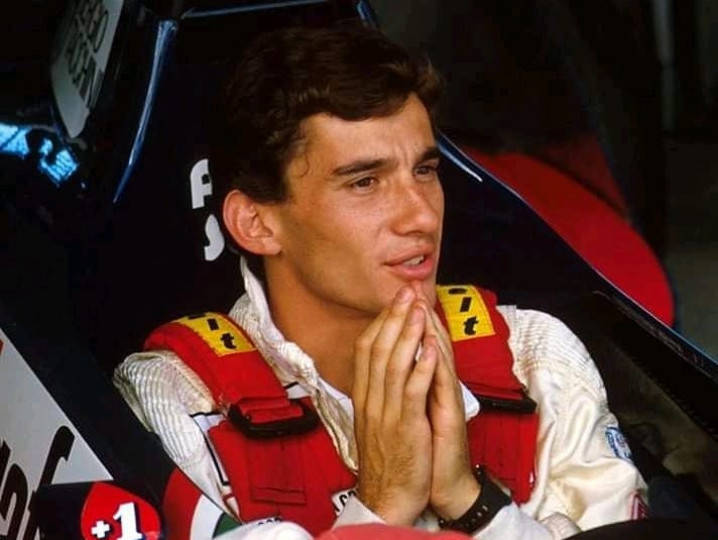 Ayrton Senna, who would have been 60 years old four days ago is probably the most iconic F1 driver of all time, if not among all racing disciplines.
It's been almost 26 years since the 1988, 1990 and 1991 world champion passed away tragically at a dark weekend in Imola, but his legend endures. Let's look at some of the reasons why that one, two-syllabled word still stands the test of time among F1 and sports fans in general.
Breaking the mould
Born to a wealthy family in Sao Paulo, Brazil, Senna beat the long-established stereotype of privilege being a hindrance to sporting excellence. Niki Lauda did something similar when he went against his family's wishes to be a professional racing driver.

That was not exactly the case with Senna as his father did support him during his karting days in South America and even until a 21-year-old Senna moved to the United Kingdom for a year and found success in Formula Ford 1600.
Thinking that that was enough to get the racing bug out of his system and take up a role in his family's business, Senna was prepared to move back to Brazil and call time on motorsport. Winning two titles at the Formula Ford 1600 level attracted interest in the Brazilian, however, and he was convinced by British based teams to move up the racing ladder. This culminated in winning the British Formula 3 Championship in 1983, after a tightly fought battle with Martin Brundle. The British F3 Championship, at this point, was considered to be a credible stepping-stone to F1. Hence, Senna got to test with McLaren and Williams before signing with the lowly Toleman-Hart Team, which was in its fourth ever season in 1984 and had never scored a podium finish. However, Derek Warwick had given the fast-improving team a string of results in the last four rounds of 1983.
My way or the highway
We all are familiar with the concept of team orders and drivers making a team gravitate towards them at the expense of other drivers, but Senna was the blueprint for such a modus operandi when he forced the Toleman team to rid itself of Derek Warwick for the 1984 season. Warwick had finished fourth, sixth, fifth and fourth in the final four rounds of the 1983 season, scoring nine of the ten points for Toleman (based on the old points system in which only the first six finishers scored points), which had gone scoreless in 1981 and 1982.
Senna, however, convinced the team that having two 'number one' drivers was not an ideal situation. So out went Warwick and Senna was able to develop his craft while four drivers occupied the seat in the second car over the course of the 16-race season.
Senna almost won the 1984 Monaco Grand Prix in appallingly rainy conditions as he sliced through the field after qualifying 13th. He passed that season's eventual champion Niki Lauda and was set to do so to his future nemesis Alain Prost too until the race was red-flagged as the conditions worsened.
Counting back to the last lap completed, Senna finished in second place as one of only nine drivers to finish out of the 20 that took the start. Lauda and Nigel Mansell were among the drivers who spun out of the race, including Senna's teammate Johnny Cecotto.

He had served notice to the F1 world, however, and a move to Lotus allowed him to really show his talent as he bagged six wins and 15 pole positions from 1985 to 1987.
Mano e Mano
While Senna had convinced Toleman to send Derek Warwick packing in order to focus the team's efforts around him, there was no way he could have done that with McLaren, where he ended up at in 1988. As F1's rising star, he was partnered with Alain Prost who was 33-years-old at the time, had won two titles back-to-back and held the record for the most number of F1 career wins at 28 at the time.

The combination of the low-line MP4/4 and Honda power, which had powered Williams to two consecutive constructors titles and the 1987 drivers title, was already potent enough. The addition of Senna to partner Prost was – to use a Cold War era example – akin to either the United States or the U.S.S.R. acquiring the entirety of the others nuclear arsenal and becoming the sole superpower in the world.
It was pretty much like that for the 1988 Formula 1 World Championship. Senna and Prost set pole position for 15 of the 16 races in the season and also won all but one of the season's races. Senna took an incredible 13 of those pole positions while Prost was on pole just twice. The Frenchman was just one win shy of Senna's season tally with seven, however. And he set the fastest lap in seven races as compared to Senna's three. There was no mid-race refueling at these times so drivers had to manage their pace throughout a race, much as they do now. And this highlighted a great contrast between Senna and Prost as the Brazilian won his first title after recovering from a poor start in the penultimate round in Suzuka and pass Prost en route to victory.
Deadly when wet
It is generally considered that a racing driver's skill is truly tested when there is more power than grip on offer. That is generally the case for F1 even in dry weather, even though they make things look very easy.
But take that grip away, and then you find out who the real deal is. Such has been the case for F1's most prolific drivers like Lewis Hamilton, Michael Schumacher, Jackie Stewart, Jim Clark and most certainly Ayrton Senna.

We have already talked about that 1984 Monaco GP win and even his first career victory came in wet conditions at the 1985 Portugese Grand Prix.
However, there is only one race that underlines the Brazilian's prowess when grip was at a premium. Senna's opening lap at the 1993 European Grand Prix at Donnington Park will remain as one of the most talked about moments in F1 and sporting history. Starting fourth, behind the all-conquering Williams-Renaults of Alain Prost, Damon Hill and the Benetton-Ford of Michael Schumacher, Senna, in his McLaren-Ford lost a place at the start before overtaking all four cars ahead of him in just the opening lap of the 4.023km Donnington Park Circuit.
He eventually finished…wait for it….1 minute, 23.199 seconds ahead of second placed Hill and at least one lap ahead of the remaining nine drivers to finish the 306km race.
Another Dimension
For me, this is the best of them all. A single qualifying lap that showed the motorsport world what commitment behind the wheel of a racing car was like. In qualifying for the 1988 Monaco Grand Prix, Senna reached what he felt was a state where he was driving purely on instinct and had gone beyond his consciousness.
In last year's Monaco Grand Prix, Lewis Hamilton set a pole position time of 1min.10.166sec around the 19-turn, 3.337km street circuit.
Back in 1988 Senna's pole position time was 1min.23.998sec when the track configuration was almost identical, and the length was 3.328km.
But unlike Hamilton's semi-automatic gearbox Mercedes, Senna's McLaren MP4/4 had a manual gearbox, with a clutch pedal power steering that was hydraulic and definitely not as helpful to a driver as the electronic power steering of a modern F1 car.
Senna's speed was such that he qualified in pole position, 1.427 seconds ahead of the driver in second place, Alain Prost who was his teammate in an identical turbocharged Honda-powered McLaren.
And by lap 54 of the 78-lap race, Senna was over 50 seconds ahead of Prost. Thirteen laps later, however, a lapse in concentration led to Senna crashing out of the race. He eventually won that year's title, his first of three, but on that race weekend, even with by far the best car on the grid, Senna showed everyone what a difference the right driver could make.
Add Your Comments