4 Cars For the Price Of One? Meet The Mercedes-Benz Vario Research Car
by Nikil
May 29, 2020
Views : 2445
---
This long-forgotten concept from 1995 is a sedan, estate, convertible and pickup all rolled into one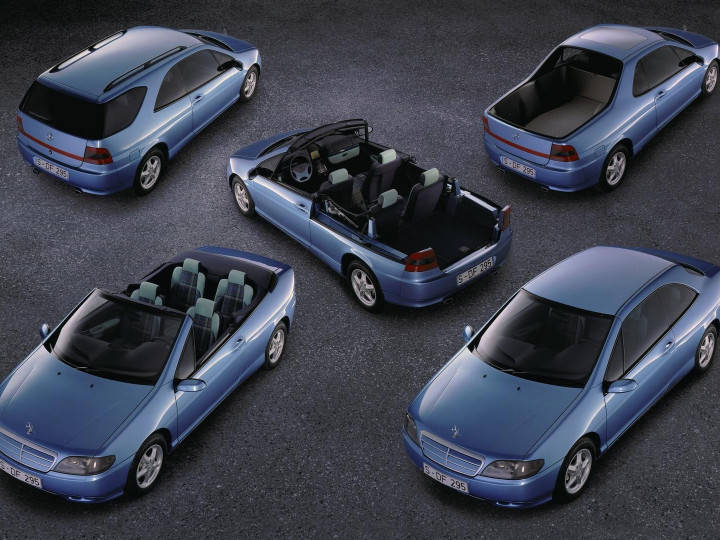 Shapeshifting cars aren't really a new thing. And you can trust Mercedes-Benz to think of it 25 flippin' years ago. A lot of things happened in 1995. Fans of basketball will remember it as the year Micheal Jordan came out of retirement. It was also the year Dilwale Dulhania Le Jayenge, the longest-running Hindi movie of all time, was released. The year also witnessed VSNL officially launching the internet in India. How could anyone forget the sounds of dial-up internet! Among other things, it was also the year two iconic cars were born: the Ferrari F50 and the Audi TT concept. While these cars are legendary in their own rights, Mercedes-Benz was hard at work building something even more innovative. Say hello to the Mercedes-Benz Vario Research Car.

The Vario Research Car, or VRC, was built around the idea that people would have more leisure time in the future, which would allow them to indulge in different activities. Mercedes predicted that these people would want to pick a vehicle that would meet their purpose, which would then make them buy a fleet of cars for different activities. But what if it could roll out a car that would combine the benefits of each body style and offer it for the price of one? After plenty of research and development, the carmaker came up with the solution.
Also Read: Sipani Dolphin: The Maruti 800 Beater That Wasn't

The VRC took the concept of variable vehicles to a whole new level. When it was unveiled at the Geneva Motor Show, no one had seen anything like it. The car could transform into a sedan, convertible, estate or a pickup in under 15 minutes! It could be a stately two-door saloon that could blow the socks off your colleagues, or turn into an open-top convertible for when you felt like cruising down Sunset Boulevard. Planning to go on a long road trip but don't want to leave the dog behind? You could just convert the car into a station wagon. Moving house? Well, you could swap the rear panels and turn the VRC into a pickup. How clever!

Now, you may be thinking all this fixing and removing panels could get tiresome. Well, being a fastidious German brand, you'd expect Mercedes to find a solution for this too. And no doubt, it did! The VRC featured a single-piece body that consisted of the roof, sidewalls, and rear section. The remaining panels were made of carbon fibre reinforced plastic (CFRP) and could be lifted and replaced with another one in a matter of minutes. 'But where do I store these panels that you speak of?' Well, if you could own a Mercedes, we're sure you've got a large enough garage to store them. Right? No, we're just kidding.
Also Read: Fiat Punto To Be Revived?

It goes without saying that Mercedes had another clever solution for this conundrum. According to Merc's bumf at the time, the customer wasn't required to own these panels. The idea was for the customer to drive up to a rental station and let service technicians swap the body while you sipped your cup of latte. Best of all, you could use a particular body variant for as long you'd like as in Mercedes' words, "the rental system is just as flexible as the car itself."

While all of this may seem gimmicky to some, the Vario Research Car did preview various features that would go on to find a place in Mercedes' later models. Take for example Mercedes' Active Body Control that gave its cars from the early 2000s like the CL-Class (C215) and SL-Class (R230) stellar ride quality. It also served as a testbed for front-wheel-drive in a Mercedes-Benz, the results of which would be seen in the first-gen A-Class (W168) in 1997.
Also Read: 2021 Mercedes-Benz S-Class - Sneak Peek

It was also one of the very first cars to feature a colour screen on the instrument cluster, a feature we all take for granted these days, to display information to the driver. This display was coupled to a rotary actuator (a precursor to Merc's COMAND system) on the centre console that gave the driver access to control the entire menu and gain access to the rev counter, trip computer, and even the on-board navigation system. It even featured a distance radar to tell the driver if they are maintaining the speed limit or exceeding it, and even tell them if they were getting too close to the car ahead! The colour display made its way onto the Mercedes-Benz S-Class (W 220) in 1998 while the rotary control for the electric functions made its production debut in the W 221 S-Class in 2005.

Meanwhile, the secondary display on the centre console housed information about the air conditioning and navigation system. It could even display the tyre pressure and the levels of engine oil, coolant, and wash water while the driver stopped to refuel. If that weren't enough, the Vario Research Car was also the first Mercedes-Benz to feature drive-by-wire technology, something which is now commonplace in modern cars. It had an electronically actuated steering wheel and brakes at a time when not many cars sold in India offered power steering. How about that for bragging rights?

The Mercedes-Benz Vario Research Car sure was an innovative car for its time. Apart from showcasing a plethora of features that would become commonplace in a few decades, the VRC also showed that you didn't need multiple cars to live the lifestyle you wished for. It's just a crying shame that none of the major carmakers in the world have launched a mainstream model with variable body styles. But if one thinks long and hard about it, it does make sense. Somewhat. Imagine if the car parked in your driveway could turn into a sedan on weekdays and an SUV on the weekend, would manufacturers have been able to rake in huge profits by selling different models based on the same platform?
Mercedes-Benz E-Class 2017-2021 Video Review
See what our community has to say!
NEW
India's largest automotive community