Lockdown Quarantine Things To Do: Riding Gear Cleaning Tips - Helmet Care
Mar 29, 2020
Views : 5656
---
Here's a step-by-step guide to clean your helmet thoroughly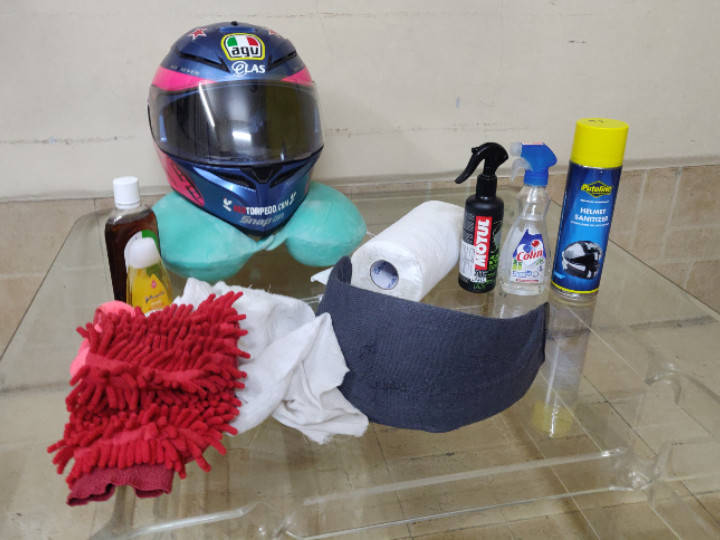 You should either be riding motorcycles or getting ready for the next ride. For obvious reasons, we cannot be doing the former as the COVID-19 lockdown is underway. However, you can get ready for your first ride, which is ideally when the lockdown will be lifted. You can head over to read DIY bike maintenance tips on our sister concern, BikeDekho.com, by clicking the link here. This lull period is the ideal time to clean all riding gear. And we begin with the most essential one -- the helmet. Here's a step-by-step image guide on how to properly clean your helmet.
Also Read: Ixon RS Tilt Glove: Motorcycle Gear Review

We shall be tackling the cleaning process in three phases: exterior, visor and internals. To clean the first two, you only need a roll of kitchen wipes, warm water, an old soft toothbrush, and microfiber or soft muslin cloth. You could also get one of the helmet cleaners available in the market, but we suggest you only use it for the exterior and not for the visor.
Before proceeding with the cleaning process, you should remove all internal elements, like cheek-pads, liners and the wind-curtain.

If you do use a helmet cleaner, spray the solution from a distance. This Putoline one releases a foam-like solution. Let it rest for 10 minutes to soften the grime or bug splatter.

The more convenient and cost-effective method is by covering the shell with kitchen wipes, gently spraying warm water and letting it rest for 10 minutes. The advantage of warm water is that it helps soften the grime easier than cold water.

Irrespective of which method you choose, at the end of 10 minutes wipe the helmet dry with a microfiber cloth. Wipe it well with extra buffing to get rid of dirt spots.

In order to access areas like the visor locking areas and air-vents, dip the toothbrush in warm water and give it a good brushing. Make sure to clean this area judiciously as this will ensure the smooth opening and closure of your visor.
Also Read: Forma Akira Back Protector: Motorcycle Gear Review
With that, your shell is cleaned. Now, onto the most critical part -- the visor.

Use the same tissue and water method that we used to clean the exterior. Make sure to clean both sides of the visor. While certain helmet cleaners claim to be visor-friendly, we suggest you lay off them. Nothing against them, just our preference to stick with good ol' H2O.

Again, wipe it dry with a microfiber cloth. In case you have a spare, clean that too and store it in an old cotton sock or football stocking.

And finally, the internal elements. Drop them in a bucket filled with warm water. You do not want to use scalding hot water, for what comes next.

The best detergent for the internals remains baby shampoo and antiseptic liquid. Drop a small coin-sized amount of baby shampoo and a cap of antiseptic liquid in the bucket. Mix them thoroughly with your hand. Now you know why warm water and hot water. Let it rest for 30 minutes.
Rinse the bits thoroughly and squeeze out the water without damaging the plastic support structure. Leave it to dry in your room on a dry towel. Avoid hanging them in direct sunlight. Again, this is our personal preference.
And that leaves you with a squeaky clean helmet. Cover it with your helmet bag provided with the helmet and store it in a cool dry place to use it on April 15.
What should we clean next? A mesh/textile jacket or a leather suit? Let us know in the comments below.
Add Your Comments