Leaked 800PS Lamborghini Sian Could Possibly Be The Most Powerful Raging Bull Ever
---
Power rumoured to come from an old-school 6.5-litre V12 and an electric motor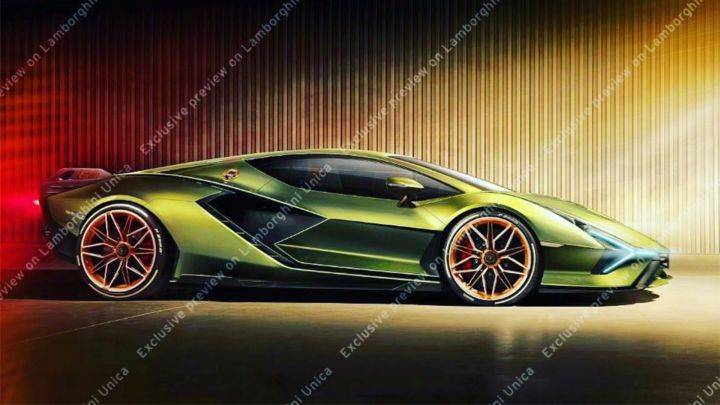 The hypercar will make its debut at the upcoming Frankfurt Motor Show.
The images of the Sian were leaked from Unica app exclusive to Lamborghini owners.
It will most likely use the same 6.5-litre V12 motor as the Aventador SVJ.
The Sian will be the first raging bull to sport a hybrid powertrain.
It is estimated to cost around Rs $3.6 million (Rs 25 crore).
What you're looking at is the latest bull out of Sant'Agata Bolognese before you were supposed to see it. Destined for a global debut at the Frankfurt Motor Show, the upcoming hypercar was leaked through Lamborghini's own Unica app. Likely to be called the Sian, which might not sound as dramatic, the hypercar in question looks worthy of flaunting the Lamborghini badge while putting out a causal 800PS!

Lamborghini has previewed the hypercar through its Unica app to Lamborghini owners which was leaked just a day prior to its debut. From the images, the new bull looks outlandish and wedgy enough to be called a Lamborghini. Various details are still in the dark but going by the 63 decal on the rear, there are chances that it might be a limited-run model. Rumours suggest that the Sian will be powered by the same 6.5-litre V12 as the Aventador SVJ but with an electric motor for a combined output of around 800PS. For the geeks reading this, the SVJ's V12 makes 770PS and 720Nm, while the electric motor is expected to provide a boost of 30PS.

It takes various design inspirations from the Terzo Millennio that we still aren't ready for. The Sian is not as sharp as the Terzo, but looks wild and will be the first hybrid hypercar from Lamborghini. The Sian is unlikely to be considered as a replacement for the ageing Aventador as rumour mills suggest that Lamborghini has delayed the next iteration of its current flagship till 2024.

The Italian marque is expected to give out an announcement at the earliest while the new bull will set you back by around $3.6 million (Rs 25 crore). The chances of the Sian making its way into India are slender, but then we do have an Aventador SVJ 63 incoming. So, you never know!
Add Your Comments