2019 Frankfurt Motor Show: What To Expect
---
From Lamborghini to Hyundai, here are some of the cars that will rock the upcoming Frankfurt Motor Show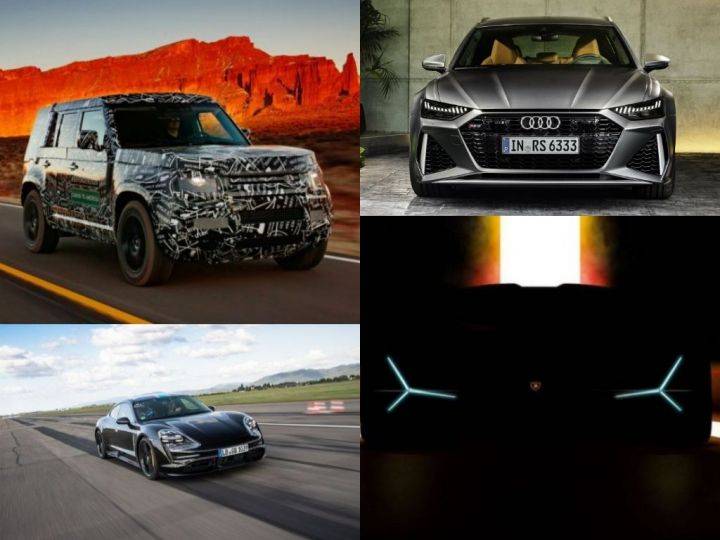 The upcoming Frankfurt Motor Show or the International Automotive Exhibition is the world's largest auto show that takes place every alternate year in Germany. Initially started in 1897 with just eight cars on display, it was witnessed by 8,10,400 visitors with more than 900 exhibitors in 2017. The 68th installment of the motor show will take place from September 12-22 at Messe Frankfurt and here's what you can expect from the upcoming grandeur:
Porsche
Taycan

Set to become Porsche's first-ever all-electric car, the Taycan is capable of hitting 100kmph fromt a standstill in just 3.5 seconds. What's more, it will have a top speed exceeding 250kmph. Stuttgart claims it will also deliver a range of 500km while it is expected to use a 90kWh battery pack with fast-charging capabilties.

Lamborghini
Mysterious Concept

Lamborghini is set to debut an all-new supercar that was teased recently. It might be the brand's first hybrid model that combines the company's iconic V12 engine with electric motors and futuristic styling.
BMW
Vision M Concept

The BMW Vision M Concept previews the company's future. It comes equipped with a near 600PS petrol-hybrid drivetrain helping it achieve 0-100kmph in under 3.0 seconds.

Land Rover
2020 Defender

The all-new Defender will finally lose its camouflage at Frankfurt and is expected to come with a plethora of engine options and retro styling. The SUV has been undergoing rigorous testing around various parts of the world and is expected to be a proper off-roader.
Mini
Mini Cooper SE

The Cooper SE will be the brand's first-ever all-electric offering. It puts out 184PS of power and 270Nm of torque from a 32.6kWH battery pack with a range of 270km. Oh, and it also comes with fast-charging setup that'll juice up its batteries to 80 per cent in just 35 minutes.
Honda
E electric car

Honda's cute little electric car will finally debut at Frankfurt. It gets a water-cooled 35.5kWh battery that can charge from zero to 80 per cent in 30 minutes. It offers a range of 200km while promising to be fun-to-drive as well.

Volkswagen
Volkswagen will be unveiling a revamped version of its iconic logo at the Frankfurt Motor Show. It will also debut a new sound logo which can be heard in advertisements and promotions in the future.
ID 3

The ID 3 is VW's first all-electric car based on the MEB platform. It promisesa range of 550km and VW says a quick 30 minute charge will be enough to cover 260km. It also comes with an impressive 8-year warranty. Deliveries are expected to commence by the end of this year.
T-Roc Cabriolet

We are not quite sure about the T-Roc Convertible, but if you're looking forward to it, it comes with a soft-top that takes around 9 seconds to retract. Two engines will be offered: a 1.0-litre 3-cylinder unit making 115PS or a 1.5-litre 4-cylinder motor which is good for 150PS.
Mercedes-Benz
EQV

The EQV is a long-range electric van from the three-pointed star that can do 400km on a single while transporting eight occupants in complete opulence. It makes 200PS from an 100kWh battery pack that can be charged to up to 80 per cent in an hour.
Next-gen GLA

The upcoming GLA based on Merc's MFA platform will share its styling with the new A-Class and is expected to come packed with a 1.3-litre turbocharged petrol engine along with 1.5-litre and 2.0-litre diesel engines.
GLE Coupe

The GLE Coupe will come with a 3.0-litre diesel engine in 350d and 400d variants along with the GLE 53 AMG good for 435PS. The SUV is a stepup from its predecessor and will be offered with all the latest innovations from the German brand. Styling of the GLE Coupe is bound to split opinions and it surely is an odd looking brute of an SUV.

Audi
RS6 Avant

The ultimate sleeper wagon capable of shaming most modern supercars is back. This time, it also makes more power than some of the established supercars currently available. The new RS6 Avant packs 600PS of power and 800Nm of torque and has a limited top speed of 250kmph. What more do you want in life?
RS Q3

The spicier version of the Q3 will produce 400PS from a 2.5-litre turbocharged engine and will go up against the Mercedes GLB 45 AMG. The sporty SUV has been spied before but Frankfurt will witness it without any camouflage.
Audi RS Q8

Audi's next trick up its sleeve is the RS Q8 which is expected to use the Lamborghini Urus' 4.0-litre twin turbo V8 good for 600PS. Expected to debut at Frankfurt, the red-hot RS Q8 will be the fastest SUV out of Ingolstadt.
Apart from this, Audi is also expected to showcase the upcoming A7, A3, S8 and SQ8 and RS Q8.

Hyundai
New 45 EV Concept

This new concept seems to sport a fastback body and is expected to be propelled by electricity. Hyundai has taken design cues from its cars from the '70s and it looks retro, giving out some old-school boxy vibes. Technical details are still under wraps.
Hyundai i30 N Project C

Lighter and more-focussed version of the i30 N gets some top-shelf parts from Hyundai's motorsport division. Limited to 600 units, it gets race-spec alloy wheels, carbon fibre-reinforced plastic components while retaining the standard i30N's 270PS of power.
Euro-spec i10

Hyundai has teased the Euro-spec i10 with a sketch. And we must say it looks sportier and sharper than the Grand i10 Nios that was recently launched on our shores. It is also expected to get impressive features like BlueLink connected car technology, Apple CarPlay, Android Auto, wireless phone charging, and more.

Skoda
2020 Octavia

Based on the MQB platform, the new Octavia will come with revamped styling with the most noticeable change being the wider front grille. International markets will get a wide range of petrol and diesel engines along with a 48V mild-hybrid option paired with a 1.5-litre TSI petrol engine. We expect the sedan to hit our shores by the first quarter of 2020.
Stay tuned to ZigWheels for the full coverage from the 2019 Frankfurt Motor Show.
Spy Image Source: Motor1
Add Your Comments