KTM Trackday 2021: Your Ticket To Riding On An F1 Circuit!
Mar 12, 2021
Views : 4296
---
A day full of adrenaline, competition, fatigue, but most importantly, lessons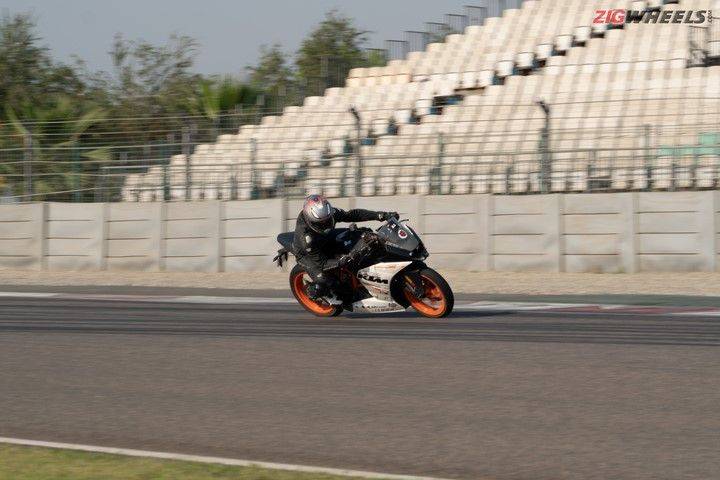 A KTM Trackday isn't anything new. The Austrian manufacturer has been organising trackdays for 390 Duke and RC 390 owners since 2014. In all these years, the only change that's happened is that along with 390 owners, 790 Duke owners can now also participate in these events. I recently got a chance to attend the latest KTM Trackday aboard my 2014 RC 390 and here's a not-so-short summary of how it went:
The Build-up

Like most people, I had spent the last year sitting at home, watching YouTube videos, trying to cook new cuisines through those YouTube videos, and waiting for a vaccine. During these, one thing was always at the back of my mind: the moment I would finally set foot on a racetrack again. You see, just before the lockdown happened, KTM was supposed to organise a trackday at the Buddh International Circuit, which got cancelled. No points for guessing why.
Fast forward to February 2021, almost exactly a year after the first cancelled trackday, things came full circle with the opportunity to participate in KTM India's Pro Experience event at the Buddh International Circuit popping up in my inbox.
Where Do I Sign Up?

This was literally my first thought upon seeing the post. Let me take you through KTM's registration process. There are two ways to register yourself for a KTM Trackday: First, through KTM's website, and second, through KTM dealerships. While the latter includes physically going to a dealership to fill out the necessary paperwork and pay in cash, the online process is hassle-free. Just fill in your bike and personal details on the website, pay the amount online and Voila! You're registered!
The fee for the trackday at the Buddh International Circuit (Greater Noida) is Rs 4,500 while it is Rs 3,000 for the one at the Madras Motor Race Track (Chennai). These cover breakfast or evening snacks (depending on the session), water, three classroom training sessions, three riding sessions, and a transponder. After registering, KTM officials send you an email confirmation of the same followed by a confirmation call. You can even request KTM officials for a racing suit and riding boots, both of which cost extra to rent.
The D-Day

Once the registration process is done, all you need to do is show up at the venue with your motorcycle (in good condition), a helmet (with a D-ring retention system), full gauntlet gloves (with knuckle protection) and Covid essentials along with a negative test report. When I reached the venue, it was just a sea of orange. Roughly 50 KTM bikes were parked and accompanying them were orange stalls set up for the final set of formalities and distribution of entry passes.

Among the usual lot of 390s, there was not only a 790 Duke but also a lone, rare RC 8, KTM's only superbike till date. Once formalities were complete, all riders were given 30 minutes for breakfast post which riders had to attend the safety briefing conducted by BIC officials. Everything from cones to race flags was thoroughly explained so that the event could carry on in a safe manner. After the briefing was when the real fun started!
The Repeaters And The Newbies

Following the safety briefing, the riders were divided into two groups: the repeaters and the newbies. As the name suggests, the repeaters were riders who had attended either a track school or a KTM trackday, or had ridden at the BIC in the past. The newbies, of course, were complete freshers who were experiencing a racetrack for the first time. Since I had ridden at the BIC in the past on my Honda CBR250R, I was in the repeater group.

There were a total of 6 track outings, 3 for repeaters and 3 for newbies. And between these sessions there were classroom discussions to address any issues and to teach riders about track riding etiquette. All this was under the watchful eye of 4 on-track trainers and 3-4 classroom teachers from Gusto Racing.
The Layout

In our theory session, we were briefed about the layout of the track. The shortened 2.2km first-half of BIC that we were riding on comprised 6 corners and 2 straights including the kilometre-long back straight. Once the theory session ended, it was go-time for the repeaters. A short scrutiny and bike setup session was carried out just after everyone had suited up. As the green flag waved, the pondering ended and once again, I was in awe of the majestic F1-grade circuit shining bright underneath clear skies.
The Experience

The first session is always the hardest they say, and my experience was no different. Even though I was familiar with the track, BIC officials had planted barricades to form "so-called" chicanes on the two straights which were supposed to help practice countersteering. The problem here was that the barricades were too close together, but owing to the track's massive width, they created the opposite illusion for oncoming riders. This caught a lot of riders off guard and some of them even crashed into these barricades, which led to the session getting red-flagged twice. Even experienced riders struggled as they weren't used to stomping on the brakes in the middle of the straight.

Luckily, Gusto Racing officials realised the risk and re-positioned the barricades in a much safer way while still maintaining the chicanes. In the second outing, the bike and the track were feeling much better and I actually started enjoying my time on the track. This was also because the trainers had guided us on how to effectively maneuver the bike without losing corner speed. There was a slight hiccup, though. By the time we got on to our third session, my RC 390's puny 9L fuel tank was almost running dry.

Since I had finally found a good rhythm, I didn't want to stop so I stayed out on the track. As the timer counted down to the last three minutes, my bike had its 'Low Fuel Level' light on, with the distance to empty reading dead zero. But I still kept going since the BIC officials had promised that they'd get us back to the pits no matter what--even if we were to run out of fuel in the middle of a lap I assumed. Fortunately, the clock struck zero soon, red flags were flashed on the digital screens around the circuit and my track time had come to an end. Once all activities ceased, all riders were presented with certificates of completion and of course, things wouldn't be complete without a group picture.
Should You Do It?

Absolutely! I've always believed that every two-wheeler enthusiast should experience riding at the race track at least once in their life and KTM's Pro Experience initiative is surely one of the easiest ways to get acquainted with track riding. It might not be the best place to learn how to improve your riding abilities, or get faster, or even get your knee down. But considering that proper track schools cost 10 times as much, a KTM Trackday can be an excellent starting point. To top it off, KTM officials had even set up a service bay with small parts readily available in case your bike needed some field repairs. They even helped riders set up their suspension, fix brake fade issues and assisted during breakdowns too.
Oh, wanna know how I got back home? KTM even had fuel readily available in case anyone needed it! To wrap up, even though I had ridden at the BIC in the past, I still came away having learned many new things here, such as proper body positioning, throttle application and braking technique. For someone looking to explore track riding, we definitely recommend KTM Trackdays. So be on the lookout for any upcoming ones!
More on KTM RC 390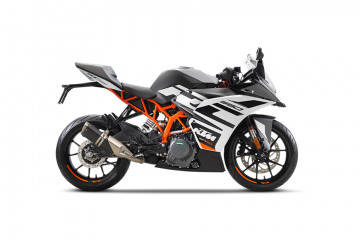 Rs. 2.60 Lakh Onwards
Ex-showroom, Delhi
See what our community has to say!
NEW
India's largest automotive community