Kia Sportage Coming To India?
---
If we were you, we wouldn't hold our breath for it.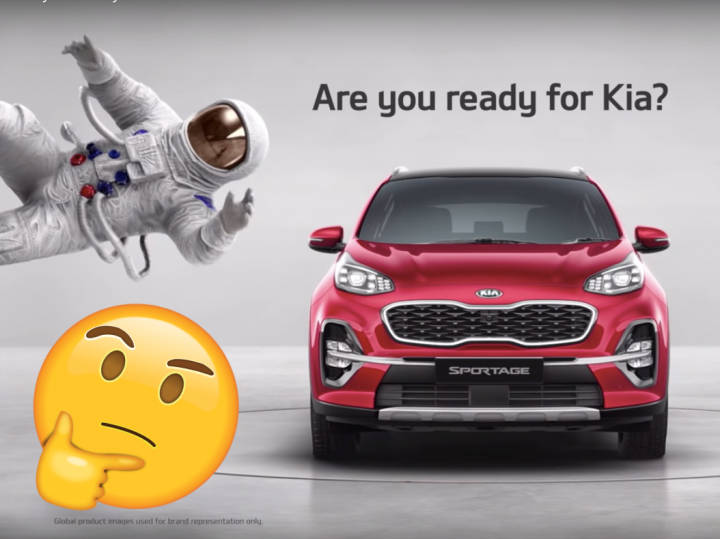 The shiny red SUV you see in the TV commercial is called the 'Sportage'.

Think of it as Kia's equivalent of the Hyundai Tucson.

It slots in above the Creta / SP-Concept-based SUV.
An eye-popping red SUV rotating in the centre of a crisp white screen surely gets eyeballs. More so because it isn't a vehicle you and I have seen very often, or ever. It looks slightly alien-ish too. 'What is it?', you wonder while an astronaut pops up on the screen, floating about gleefully. As the screen fades to black, you're left with two questions. One, is the Sportage really coming to India? And two, what is that astronaut doing there? We mean, really!
Check Out: 2019 WagonR Spied Inside Out!
A little bit of background first. The Sportage has been showcased in India at multiple instances. It was showcased to probable dealer principals in a private event, and then at the 2018 Auto Expo held in Delhi. That big SUV has presence, and we do see it working well in India. But…
….there are no intentions of launching the Sportage in India at the moment, Kia says. The ad is supposed to serve as nothing more but a showcase of brand Kia. You know, just to get the buzz going about Kia finally coming to India. An SUV is definitely the easiest way to grab some limelight in India, isn't it?

Kia's first product will be a made-in-India SUV based on the Concept SP. The concept made its global debut in India at the Auto Expo last year. Expect the production-spec version of that SUV to be unveiled in a couple of months. India will be among the first markets where the new SUV goes on sale.
Also Read:
Kia Concept SP-based SUV: Spy Photos
Add Your Comments
View all comments