Indian Motorcycle Wraps Up Independence Day Ride
by Niraj
Aug 17, 2018
Views : 1684
---
The riders paid a visit to places of national importance in their respective cities to pay tribute to our freedom fighters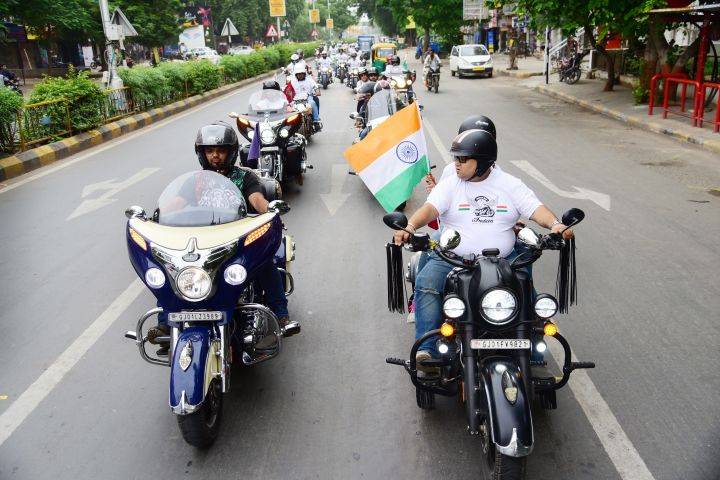 Aside from other bikemakers like Ducati, Triumph and Suzuki, Indian Motorcycle too marked this year's Independence day with a ride. The ride was flagged off from the brand's dealerships across nine major cities in the country. As part of the initiative, the riders rode down to places of national importance in their respective cities to pay tribute to our freedom fighters. Some of these venues included the India Gate in Delhi and Gateway of India in Mumbai. The company also organized a competition on its social media accounts, the winner of which will receive a custom Indian Tricolour helmet.
Here's the bikemaker's official statement regarding the same:
Press Release -
New Delhi, August 16th, 2018: Celebrating India's freedom and saluting the brave hearts who sacrificed their lives for our freedom, Indian Motorcycle, America's First Motorcycle Company organised a Freedom Ride across dealerships to celebrate the moment of pride and glory. Marking the spirit of freedom and passion for riding, enthusiastic Indian Motorcycle Riders Group (IMRG) rode their iconic Indian Motorcycle and visited places of National importance to pay tribute to the Freedom Fighters. The Indian Motorcycle Freedom Ride was flagged off from Indian Motorcycle dealerships across the country.

Commenting on the occasion, Mr. Pankaj Dubey, Country Head and Managing Director, Polaris India Pvt. Ltd., said, "We are happy to organise the Freedom Ride to celebrate the 72nd Independence Day and pay our tributes to martyrs who sacrificed for our Independence. This ride is all about being Independent and enjoying the brotherhood with fellow riders. I express my gratitude to all the riders who were a part of this ride and made it a success and wish all the fellow Indians a very Happy Independence Day.

The Indian Motorcycle Freedom Ride concluded in respective cities to a venue holding National Importance in the city such as India Gate, Gateway of India etc. Indian Motorcycle also conducted a contest on social media for its customers were the winner will receive a customised Indian Motorcycle Tricolour helmet.
Add Your Comments