Here Are The Biggest Grilles We Saw This Year!
Dec 29, 2019
Views : 7969
---
Some grilles that'll haunt you forever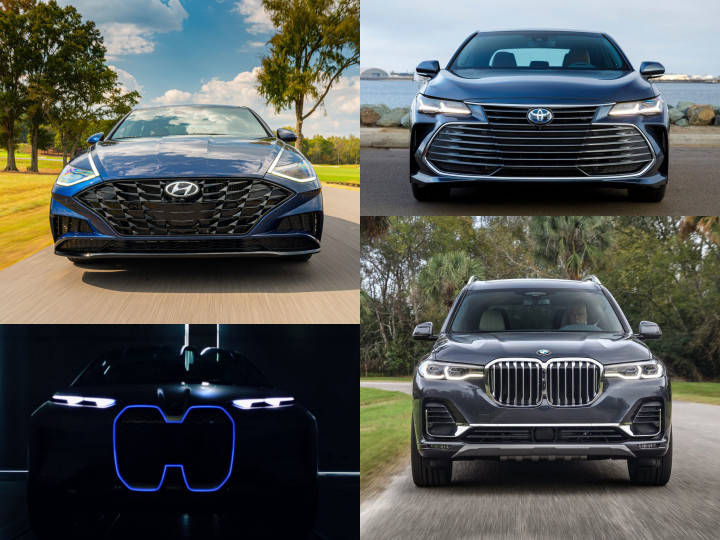 Accept it, beautiful cars are turning into a rarity with each passing year. 2019 saw an alarming rise in not-so-good looking cars (to put it politely), and some even featured large and hideous grilles that could swallow a small hatchback in whole. Since it's only a matter of days before we bid farewell to 2019, we thought it would be a good idea to take a look/dig at some of the gaping grilles we witnessed this year:

BMW X7/ 7 Series

BMW's flagship SUV is a handsome and proportionate looking hunk from every angle except the front. It is no secret that BMW is going big with the kidney grilles but we can't help but wish it came with a smaller one. The same applies for the new 7 Series. But if you think BMW has lost it after seeing these grilles, you are in for a surprise that'll hit you hard. So hard that'll make you wonder what BMW is really up to.
2019 Toyota Avalon

We seriously loved how the Avalon looked right until we were greeted by the massive cheese grater. We hate to say it but this is a great lesson on how to ruin a car's design with an oversized grille. The overall design, especially the rear, has some Lexus influence but what good is it if you see that grille first. That said, things are a bit better in the Avalon TRD thanks to its blacked-out grille.
2019 Hyundai Sonata

Neither of the three generations of the Hyundai Sonata that we got in India was bad-looking. The last generation Sonata looked great with Hyundai's fluidic design language and the seventh-gen that wasn't offered in India was also a fairly nice sedan to our eyes. But Hyundai then decided to make things worse for the Sonata by plastering a huge cascading grille that covers most of the front end. This coupled with the weird LED DRLs that extend to the hood give the 2020 Sonata a face that is hard to like.
Maybach GLS 600

We don't doubt the capabilities of the Mercedes-Maybach GLS 600. It will truly be a first-class experience on the road. Yes, the size of the grille is a concern here but what makes it stick out is the tasteless use of chrome. This is carried on to the lower bumpers, side profile, rear, and even the wheels. We'll say Mercedes had a good opportunity to make the Maybach GLS aesthetically pleasing considering its rivals, the Bentayga and Cullinan, are not exactly pretty looking SUVs to begin with.
Genesis G90

Pentagon honeycomb mesh grille, that's what Genesis calls it. In all honesty, we don't know what to say about this. Let the picture do some talking this time around. Again, we don't have any beef with how the car looks, it's just that pentagon honeycomb mesh grille!
Honorable Mention:
BMW Concept 4

How can we end this without talking about BMW's hideous, horizontally-stacked, kidney grille. Calling it a kidney grille is senseless as it is starting to look more like a pair of lungs now. The Concept 4 was one of the prettiest cars we saw at the 2019 Frankfurt Motor Show, but you had to get past that grill to see the sporty coupe behind it. Making things worse is the fact that this grille is actually making into production, with a likely debut in the 2020 4 Series. Be prepared, people.

Considering the direction that BMW is headed towards right now, we fear the current BMW M2 CS might well be the last proper-looking sports coupe from Bavaria. We just can't digest the fact that these are the same folks which gave us some of the best looking cars in the world!
Oh and if you're reading this, you've got impeccable self-control.
Add Your Comments