F1 Race Director Charlie Whiting Is No More
---
The sad news comes in just days before the Australian Grand Prix, which will open this year's F1 season.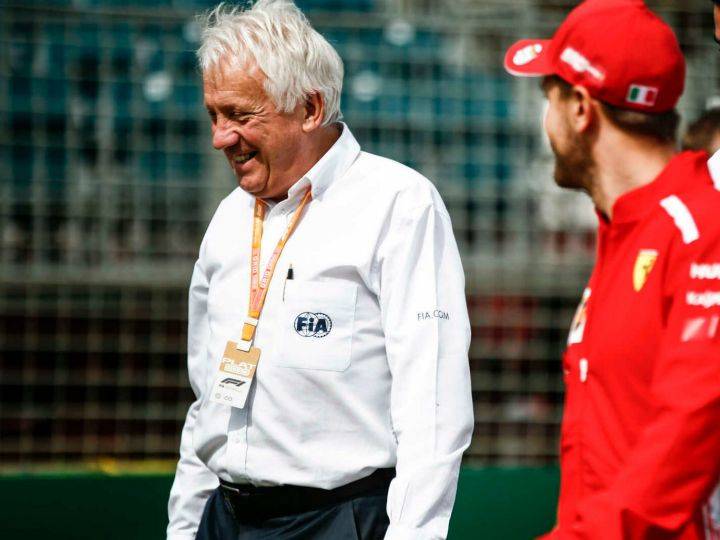 Charlie Whiting began his F1 career in 1978 at Brabham as a chief mechanic and engineer.
He has been the race director for F1 since 1997.
Charlie, aged 66, passed away due to the result of a pulmonary embolism.
It's grim news for all Formula 1 enthusiasts as race director Charlie Whiting has passed away today in Melbourne. The sad news comes in just days before the start of the 2019 Formula 1 season. Aged 66, Charlie Whiting was in Australia for the race weekend when a pulmonary embolism caused his demise. The FIA says that he will be incredibly difficult to replace.
Ross Brawn, Managing Director, Motorsports, Formula 1, said: "I have known Charlie for all of my racing life. We worked as mechanics together, became friends and spent so much time together at race tracks across the world. I was filled with immense sadness when I heard the tragic news. It is a great loss not only for me personally but also the entire Formula 1 family, the FIA and motorsport as a whole."
Let's roll back in time to see some of Charlie Whiting's key roles/achievements.
Charlie Whiting started his F1 career in 1977 working with the Hesketh team. After the team retired in 1977, he moved to Bernie Ecclestone's Brabham team as a chief mechanic when Nelson Piquet lifted the world championship trophy in 1981 and 1983. After working with Brabham for 8 years straight, Whiting then shifted to the FIA in 1988 as a technical delegate. Charlie Whiting took the reins of the FIA in 1997 when he took up the position of race director. He was the go-to man for the sport and was involved in all roles right from safety to technical rules to certifying circuits.
Whiting pushed the safety standards in the sport such as the halo which was implemented in 2018 has proved vital for the driver's protection. Credit also goes to him for introducing the headrest, safety survival cell, front and side impact structures and high cockpit sides.
FIA President Jean Todt said, "Formula 1 has lost a faithful friend and a charismatic ambassador in Charlie. I have known Charlie Whiting for many years and he has been a great Race Director, a central and inimitable figure in Formula One who embodied the ethics and spirit of this fantastic sport."
Scuderia Ferrari Team Principal Mattia Binotto said, "Charlie was a true professional and extremely knowledgeable, A tireless and enlightened motorsport expert, he helped make F1 safer and better. He was a pillar of Formula 1. Our sport is diminished by his passing and we have lost a friend."
Mercedes Benz AMG F1 team boss Toto Wolff said, "I was shocked and saddened to hear the news of Charlie's passing this morning. He was a pillar of our Formula One family - balanced in his approach, subtle in his understanding and always with the interests of Formula One as his main focus."
We are truly saddened by the loss of the man who was instrumental in shaping Formula 1 as we know it today. Our deepest condolences to the friends and family members of Charlie Whiting.
Add Your Comments