Electric Cars Showcased At Auto Expo 2018 - Hyundai Ioniq, Tata Tigor EV & More
by Saransh
Feb 13, 2018
Views : 7733
---
Apart from ICE-powered cars such as the 2018 Amaze and the third-gen Swift, the Auto Expo 2018 also provided us a glimpse of future EVs such as the Mahindra e2o NXT and the BMW i3s, among others
Automobile manufacturers are betting big on vehicles powered by alternative fuels like electricity, hydrogen and ethanol, and the Auto Expo 2018 was all about that. With the whole nation preparing to shift towards cleaner sources of fuel couple with the government's push for electrification by 2030, most manufacturers present at the event showcased at least one electric vehicle (EV) that they plan on launching here in the coming years. Let's take a look at six EVs that piqued our interest at the 14th edition of India's largest automotive event.

Mahindra eKUV100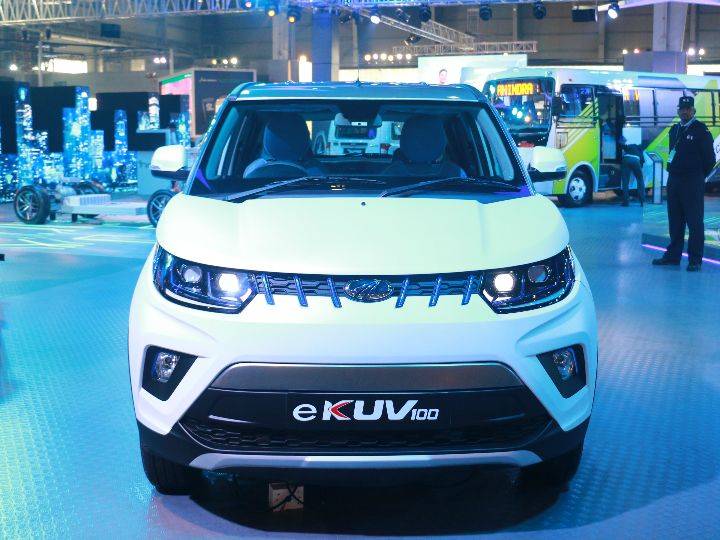 Compared to other manufacturers present in the country, Mahindra is ahead of the curve when it comes to producing electric vehicles for the mass market. The homegrown manufacturer already offers the e-Verito and the e2o Plus in the country. At the Auto Expo 2018, the company took the opportunity to unveil the eKUV100, which is based on the regular KUV100 powered by petrol and diesel internal combustion engines (ICE). In terms of design, it gets a refreshed front bumper along with an 'EV' badge on the boot lid. Although the company refrained from revealing the electric hatchback's powertrain details, it told us that the eKUV100 has a range of 140km. It features a battery that can be charged up to 80 per cent in less than 60 minutes. The Mahindra eKUV100 is likely to go on sale in the country by the end of this year.

Visit Hall No.10 for a closer look at the eKUV100.

Tata Tiago and Tigor EVs



Tata showcased electric versions of the Tiago and Tigor at the 14th Auto Expo. Both EVs look similar to the regular ICE-powered versions, except for the 'EV' badge on the grille and decals on body. The Tiago and Tigor EVs are powered by an electric powertrain supplied by Electra EV. Tata claims both cars have a range of 130km on a single charge. The homegrown carmaker is expected to launch both electric cars by the second half of 2018.

Visit Tata's pavilion at Hall No.14

BMW i3s


BMW unveiled the i3s electric hatchback along with the i8 Roadster at the Auto Expo 2018. The i3s is the updated and sportier version of the i3 EV. Although both version look similar at first glance, there are subtle changes such as a wider track and black accents on the front bumper and wheel arches. In terms of mechanical changes, the i3s gets a more powerful electric motor which produces 184PS of power and 270Nm of peak torque, which is 14PS and 20Nm over the standard car. Wondering when you can get your hands on one? Ell. BMW says it won't be launched anytime soon as it's still mulling over the i3s' feasibility for the India market. Related: BMW i3s Showcased At Auto Expo 2018

Visit BMW's pavilion at Hall No.15


Mahindra e2o NXT


Mahindra showcased the refreshed version of its e2o plus four-door electric hatchback at the Auto Expo 2018. The refreshed car is now called the e2o NXT and features a redesigned front fascia and quirky-looking alloy wheels. The electric hatchback gets a new electric motor that is capable of generating 40PS of power and 91Nm of torque, which is 15PS and 21Nm more than the outgoing model. Thanks to a larger 72v battery, the range has gone up by 30km and now stands at 140km. Mahindra claims that the battery can be juiced up to 80 per cent in just 90 minutes with a fast charger.

Hyundai Ioniq


Hyundai showcased the Ioniq sedan in two avatars - electric and hybrid - at the Auto Expo 2018 and was undoubtedly the car that grabbed the most attention at the South Koran manufacturer's pavilion. Although both version of the sedan look identical, a couple of EV-specific elements on the electric version helped set it apart from the hybrid version. The Ioniq EV is powered by an electric motor powered by a 28kWh battery. It's power and torque output is rated at 120PS and 295Nm, respectively, and has a range of 280km on a single charge. The Ioniq Hybrid, on the other hand, is powered by a 1.6-litre petrol engine mated to an 43.5PS electric motor. The combined output is rated at 105PS of power and 147Nm of peak torque. Although there were speculations that Hyundai was planning to launch the electric version in the next couple of years, it doesn't seem likely as the carmaker has already confirmed that it will launch the Kona electric SUV in the country by 2019.

Visit Hyundai's pavilion at Hall No.3

Kia Soul EV



Hyundai's sister company, Kia Motors, made its Indian debut at the Auto Expo 2018 by unveiling the SP SUV concept. Along with it, the carmaker also showcased 16 other cars, some which are definitely headed our way in the coming years. Among the 16 was the Soul EV, an all-electric sub-compact crossover. In terms of design, the Soul EV has a boxy silhouette which makes it look like a hatchback on stilts. Powered by a 110PS electric motor, the Soul EV gets a single-speed gearbox which drives the front wheels. It has a range of 211km on a single charge and a top speed of 145kmph.

Kia's pavilion can be found at Hall No.7

Honorary Mentions

Renault Trezor


Renault showcased the Trezor concept at the Auto Expo 2018. The electric GT concept made its global debut at the 2016 Paris Motor Show and is brainchild of Laurens Van Decker, Renault's design boss, and gives us a glimpse of where the French carmaker is headed in terms of design. The Trezor gets a carbon-fibre body with a metallic paint job. The single pice clamshell roof and the massive 21-inch front and 22-inch rear wheels look like something out of a sci-fi movie. The Trezor is not just a showpiece. In fact, it gets an all-electric powertrain that generates 350PS of power and 380Nm of peak torque. The 1600kg concept vehicle can go from a standstill to 100kmph in less than 4 seconds.
Related: Renault Trezor Showcased At Auto Expo 2018
Honda Sports EV



Apart from the 2018 Amaze, Civic and the CR-V, Honda also showcased the Sports EV concept at the Auto Expo 2018. Based on a platform built specifically for EVs, the Sports EV features a 'highly responsive' electric powertrain which is placed closer to the ground for a lower centre of gravity. The wide stance and the swooping roofline makes it look like a sports car from the 70s. The concept is also equipped with Honda Automated Network Assistant that is capable of monitoring the driver's emotional well-being and make navigation choices and music recommendations.
Uniti One EV

Among the pool of auto giants, there was one tiny Swedish startup present at the Auto Expo 2018. Uniti showcased its vision of future mobility in the form of the One EV concept. It is a 2-seater concept designed for city commute and employs a 22kWh battery which gives it a range of 200km on a single charge. However, considering the requirements of the average Indian consumer, Uniti confirmed that it will be bringing a 5-seater version of the Uniti One by 2020 with a price tag of Rs 7.14 lakh. Related: Uniti Showcases Affordable EV Concept At Auto Expo 2018
Add Your Comments