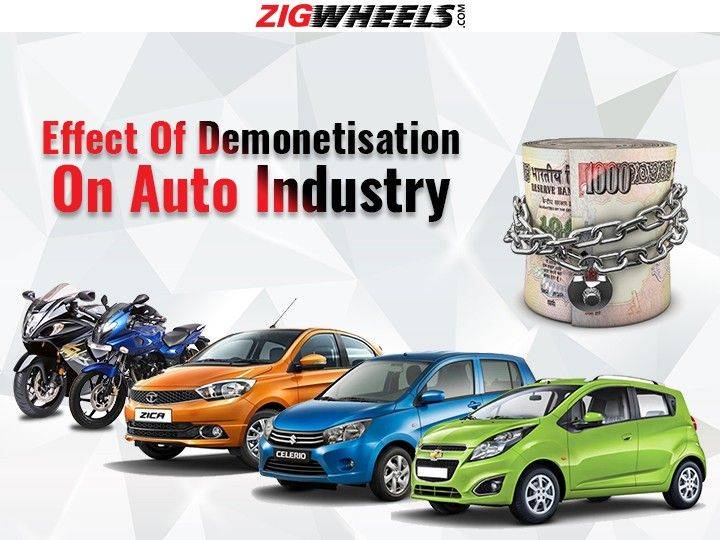 Since November 08, 2016, most Indians have been struggling to maintain a decent amount of liquid cash. This situation occurred as a result of the demonetisation of Rs 500 and Rs 1000 banknotes by the Government of India, which came into effect from November 9, 2016. This shortage of legal tender has resulted in a decline in sales of cars and bikes across the country, adversely affecting the auto industry. Although industry experts are calling this a temporary slump, new car sales for November 2016 may have dropped by up to 30 per cent whereas used car sales could've taken a 60 per cent hit. We can be sure only when the results arrive in a few days time. Meanwhile, let's take a closer look at how demontisation has affected us all.
Two-Wheelers
The biggest struggle for two-wheeler sales is taking place in the villages where the majority of bike/scooter purchases used to happen via cash transactions, which have come to a complete standstill. With only a limited amount of cash withdrawals happening via banks and ATMs, most customers have opted to postpone or even drop their purchase plans. Even the RTOs of some rural areas have a practice of collecting the road tax in cash, which has now stopped, making registrations complicated for people.
This move has also affected the production of two-wheelers. Honda Motorcycle and Scooter India Pvt. Ltd. has taken steps to 'rationalise' its production since the sales have witnessed a dip. The manufacturer is planning to take steps like no-production days to reduce inventory pressure on dealerships and to let them clear out the existing stock. Other brand dealerships across the country have also witnessed a huge reduction in footfall – up to 15 per cent in the first two days of the announcement. This effect is expected to get sorted in a couple of months as, by then, people would have acquired the new currency. While Honda is delaying production, Suzuki Motorcycle India Private Limited (SMIPL) has come up with cashless schemes on all Suzuki products. The customers can book any Suzuki two-wheeler by paying an amount of Rs. 20,000 via online services and finance the remaining amount, hence eliminating the need for any cash transaction. Also, all Government employee or HDFC bank account holders can avail 100% finance for Suzuki two-wheelers from HDFC Bank.
This situation can benefit buyers who are willing to make non-cash payments since dealers and companies who are struggling to clear out 2016 stock before the end of the year will offer better deals and discounts to customers.
Four-Wheelers
The area that has taken a huge blow thanks to this decision is the used car market. This is primarily because most payments in this sector – even in lakhs – take place via cash. Dealers across the country, especially in the NCR, have reported that the purchase of used cars has come to a virtual halt, with customers struggling to acquire cash to make payments. Around 60 per cent (does that suggest a drop of 60%? and where is this data from?) of second-hand car sales have been affected due to the lack of liquid cash with the buyers.
Major carmakers have also issued statements saying that November sales have witnessed a decline and that dealerships are struggling to clear out the existing stock. However, they claim that the decline in sales has already started to ease and that the crisis will be over by the end of this year.
Also, to help customers overcome the cash crunch, companies have come up with schemes using which buyers can make payments using online platforms. For example, customers looking to buy a Renault can pay the entire booking amount via online wallet apps. The carmaker is also offering complete on-road price funding across its entire product range, in addition to providing the option of paying by cashless means like cheques, e-wallets, demand drafts, debit or credit cards and online transactions like NEFT (National Electronic Funds Transfer)/RTGS (Real Time Gross Settlement)/IMPS (Immediate Payment Service) for all after-sales services. Even Honda has tied up with banks like HDFC, AXIS and ICICI for 100 per cent on road and ex-showroom funding of its models.
In a nutshell, although the car buyers and the industry has suffered a setback, it seems to be a short-term hardship. Already, most new cars bought in the country have been purchased using cashless payment options. However, entry level hatches , two-wheeler and used car sales are expected to remain shallow for a longer time. If you are willing to use cashless payment options, this is the best time to get a good deal from dealerships since they would be looking to clear out the old stock before the year ends.