Charles Leclerc Fends Off Mercedes To Take A Tense Italian GP Win!
---
It is Ferrari's first victory at their home race since 2010.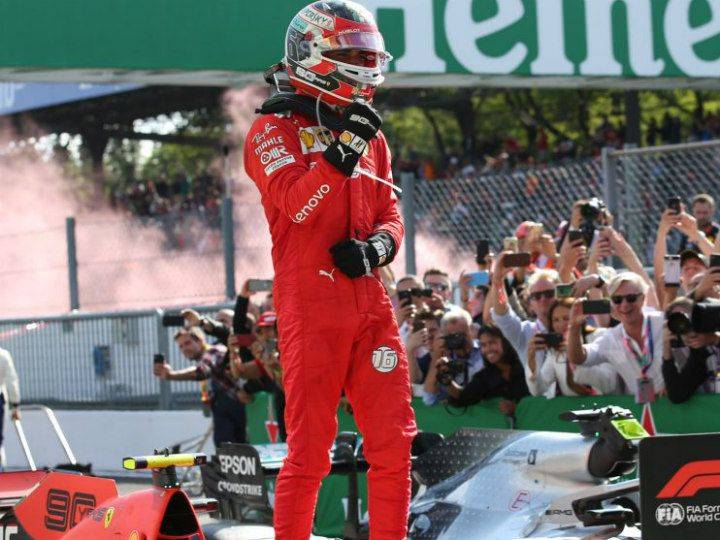 Charles Leclerc makes it 2 poles and 2 wins in a row at Monza.
It was a race-long battle of pure tension with Charles Leclerc against the Mercedes duo of Lewis Hamilton and Valtteri Bottas.
Leclerc inches closer to Max Verstappen for third in the title fight and demotes his teammate Sebastian Vettel to 5th.
Vettel suffers another calamity for the second Italian GP in a row, finishing a distant 13th.
With the unfortunate weekend of Spa Francorchamps behind us, F1 headed to Monza, Italy, for the Italian Grand Prix. As was the case since Austria, this incredible run of good races continued here as well with Ferrari's Charles Leclerc taking his 2nd career win as well as Ferrari's first home win since Fernando Alsonso in 2010. He held off a race-long challenge from Mercedes's Lewis Hamilton who finished 3rd and his teammate Valtteri Bottas finishing 2nd in the end.

Saturday saw one of the weirdest qualifying sessions of the season in the second-run for the top 10 drivers in Q3. in a desperate attempt to gather a slipstream to gain time, only 2 cars managed to set an improved lap time in the end. Thus, Charles Leclerc took his second pole position in succession with the Mercedes duo of Lewis Hamilton and Valtteri Bottas in 2nd and 3rd, with Ferrari's Sebastian Vettel winding up in 4th position. With this confusion, Renault gained the most with Daniel Ricciardo in 5th and Nico Hulkenberg in 6th. The biggest loser in the session was Red Bull Honda's Alexander Albon who had to settle for 8th place, with his teammate Max Verstappen starting last due to engine penalties.

At the start, Leclerc just about held off Hamilton and Bottas past the first two corners, with Vettel losing out initially to Hulkenberg, but claiming the place back in quick succession. Verstappen got off the line cautiously this time, but was involved in another incident that led to a front-wing change and a long race from the back of the field. The midfield also got off relatively well, with Racing Point's Lance Stroll 7th, McLaren's Carlos Sainz in 8th, Red Bull's Alexander Albon in 9th and Alfa Romeo's Antonio Giovinazzi in 10th.

As Leclerc and the two Mercedes started stretching their legs, chaos ensued on lap 4 as Sebastian Vettel suffered another Italian GP calamity within a year as he spun into Ascari. To compound this error, he hit Lance Stroll while rejoining the track, that required a front nose change and dropped him to the back of the field. And if that wasn't enough, he also suffered a 10-second stop and go penalty for the incident, completely destroying his race for good. Stroll also suffered a drive-through penalty for doing the same thing in quick succession.

The entirety of the race became a closely contested battle between Leclerc and the two Mercedes with gaps not going above 1 second. The real fun started once the top 3 made their one and only pitstops. Leclerc was on the slower but more durable hard compound tires, Hamilton and Bottas on the faster but less durable medium compound tires, with Bottas having a 7-lap younger set of mediums. The battle for the race win had loads of wheel-to-wheel action and plenty of close calls between the top 3. But in the end, Charles Leclerc soaked up all the pressure like a sponge and drove a champion's defense to take the Italian Grand Prix win for Ferrari and the first Ferrari home win since Fernando Alonso in 2010. Bottas and Hamilton rounded off the weekend with a 2nd and 3rd place finish.

Lower down the field, Renault had the perfect weekend to catch McLaren in the constructors standings with 4th for Daniel Ricciardo and 5th for Nico Hulkenberg. Alexander Albon finished 6th for Red Bull with Sergio Perez in 7th, Max Verstappen in 8th, Giovinazzi in 9th and Lando Norris scoring 1 point for McLaren in 10th. Lower down, Gasly, Stroll and Vettel finished 11th, 12th and 13th, with Williams George Russell in 14th and Alfa Romeo's Kimi Raikkonen in 15th, Romain Grosjean 16th and Robert Kubica rounding off the finishers.

With this result, Hamilton only suffers a 2 point loss to Valtteri Bottas and continues his stranglehold at the top of the drivers strandings. With Verstappen and Vettel having a difficult weekend, Leclerc has overtaken Vettel to 4th place and is now only 3 points away from snatching 3rd place away from Max. Mercedes continue to hold a comfortable lead over the rest in the constructor's standings.

Formula One will now head to the Marina Bay street circuit for the Singapore Grand Prix to be held between September 20-22. The circuit's characteristics should bring Mercedes and Red Bull back into the fray for the race win, with Ferrari expected to suffer here due to their low-drag aero concept. Could Ferrari continue its momentum, or is it this the last time we see a Ferrari on the top step of the podium? Stay tuned for a comprehensive coverage on ZigWheels.com
Also Read:
Add Your Comments