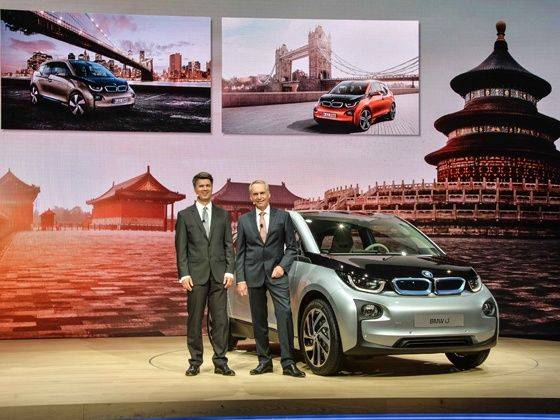 BMW debuted the series version of its innovative electric vehicle, the BMW i3, simultaneously in New York, London and Beijing on Monday. The i3 is more than just a car. It's a revolutionary step towards sustainable mobility. It is purpose-built around an electric power train to serve the needs of our megacity customers," said Chairman of the Board of Management of BMW AG, Norbert Reithofer, at the world premiere in New York.
The BMW i3 features a large number of technological innovations – such as a carbon-fibre passenger cell and a chassis made of aluminium – and sets new standards in the field of lightweight construction. With a curb weight of 1,195 kilogrammes, it is lighter than most vehicles in the compact segment, yet offers significantly more space for up to four occupants.
The vehicle achieves a range of 130 to 160 kilometres. If desired, the BMW i3 is also available with a range-extender, which maintains the charge of the lithium-ion battery at a constant level en route, as soon as it falls below a specified value. This is performed by a two-cylinder gasoline engine with 34PS. The range extender increases the car's maximum range in day-to-day driving to around 300 kilometres.
The BMW i3 sprints from 0 to 60 km/h in 3.7 seconds and from 0 to 100 km/h in 7.2 seconds. Its top speed is limited to 150 km/h for efficiency reasons.
Over a period of three years, the maintenance and running costs for a BMW i3 are about 40% lower than those of a highly-economical 320dA registered in Germany. In other countries, figures may even be lower, depending on the level of subsidies available for electric vehicles.
The BMW i3 will be released in Germany and other European markets in November 2013. The market launch of the BMW i3 in USA, China, Japan and several other markets will take place in the first half of 2014.
The base price for the BMW i3 has been set at 34,950 Euros (Rs 27.56 lakh) in Germany. If customers opt to purchase the Range Extender as an extra, the price in Germany will amount to 39,450 Euros (Rs 31.10 lakh).
Related BMW i3 stories:
BMW i3 all-electric vehicle: Special Coverage

BMW appoints 46 dealers to sell i3 and i8 electric cars
BMW i3 to be world's first fully networked car
BMW's i-cars to be sold online
New BMW i brand is born electric