Bajaj-Triumph Bike Details Emerge
by Niraj
Nov 23, 2017
Views : 5892
---
The fruit of this partnership might be a 500cc, single-cylinder motorcycle
Update: Finally, there is a date set for the alliance between Bajaj Auto and Triumph to become official. Know all about the development here.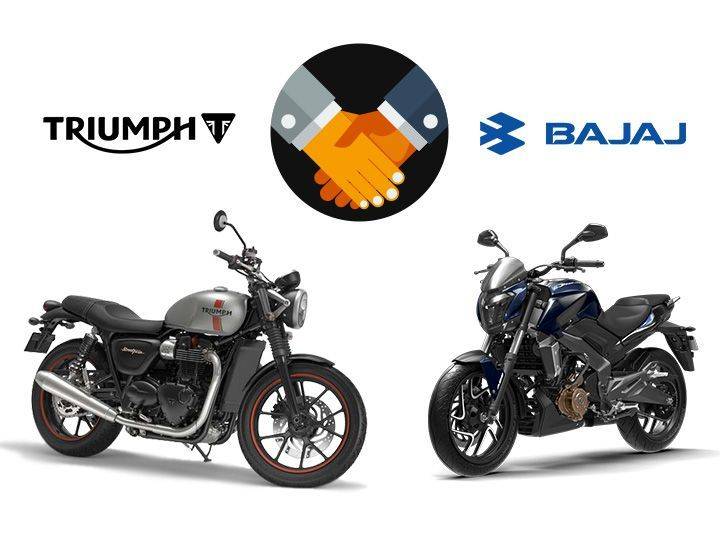 A few months ago two of the most popular motorcycling brands joined hands to develop a new range of mid-displacement motorcycles, the result of which is almost here now. If reports are to be believed, we might see a mid-capacity bike roll out of the Bajaj-Triumph partnership by 2020. Right now, the nitty-gritties of the formal agreement between the two automobile giants are being discussed. It is likely to be signed soon, allowing the project to receive a green light. However, interestingly enough, some reports have suggested that a concept of the project has already been finalised.

In a recent interview with ET, Paul Stroud, Triumph Motorcycle's chief commercial officer, was quoted saying, "The partnership with Bajaj will enable us to become a bigger brand within the country more quickly. You could be talking about a scenario where Triumph goes from selling 1,200 motorcycles today to volumes that are north of 1,00,000 units, which is a significant scale. That is the power of the opportunity."

He further added, "It allows you to hit the market quicker. You are sharing investment, you are sharing knowledge, you are both bringing major strengths to the partnership. It is by leveraging strength of both the partners that you become a powerful force."

So what should we expect? If we put down our tin foil hats and think logically, we can speculate that the new motorcycle will likely be a 500cc single-cylinder one. Why a single-cylinder, and not a multi-cylinder bike that Triumph is known for? For starters, this will help the Bajaj and Triumph to price the motorcycle competitively, just like the Bajaj-KTM partnership. At the same time, Bajaj will also be able to use the same engine for a long-rumoured higher displacement cruiser bike for its portfolio.

But why a middleweight bike? Currently, the global sales of Triumph motorcycle stand at 64,000 units per year and the sale in India accounts only for 2 per cent of this. The British company, not surprisingly, will want to pump up those numbers. And if the statistics are to be believed, the middleweight segment is growing rapidly in India, with volumes increasing by 25 per cent annually.

At present, it is dominated by Royal Enfield at 76 per cent, followed by Bajaj-KTM at 21 per cent. With a 500cc, single-cylinder offering, Triumph will be able to give a fair fight to other industry heavyweights.
Even outside the partnership with Bajaj, Triumph is looking to assemble 90 per cent of their motorcycles in India by mid-2018. Watch this space to stay updated with what comes out of this partnership.