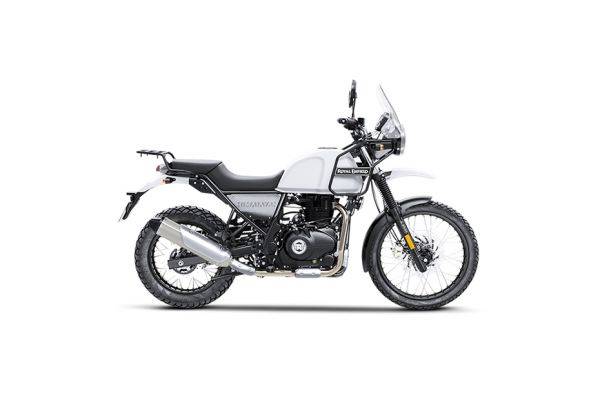 Royal Enfield Himalayan BS4
Rs. 1.79 - 1.80 Lakh
Discontinued Model since 21 Apr 2020
---
About Royal Enfield Himalayan BS4
After the Continental GT, the Himalayan is the new offering from the Indian motorcycle maker in just three short years. The Himalayan promises a lot and has a lot riding on it as well. It is India's first homegrown and most affordable adventure motorcycle. By the looks of it Royal Enfield has gone to great lengths to develop this motorcycle and it is a far cry from Royal Enfield's usual crop of bikes. The 410cc LS4 engine is bored out version of the 350cc engine which has been heavily worked on. It now features overhead cams compared to push-rods, is oil cooled which translates to a higher revving motorcycle. It is even fitted with counter balancers to keep the engine vibrations in check. Also, it is the first Royal Enfield to come with a monoshock rear suspension. Things do look promising for the Indian motorcycle maker and the Himalayan could be the bike that could popularize adventure biking in India.
Royal Enfield Himalayan BS4 Colours
Bikes Similar to Himalayan BS4
Must Read Questions & Answers Before Buying Himalayan BS4
Q. Battery issue in RE Himalayan BS4 if I don't start my bike for more than 3 days. The battery level come to low.
This is a major concern in the Royal Enfield Himalayan! Royal Enfield sold me this bike that had to be taken to the service center every alternate month in the first 6 months. The brand changed a part worth 11K, for which they did not give me any details. Post 6 months in Jan 2020, the bike's battery completely drained out when not used for about 20-25 days. The problem has been there in the bike ever since. If the bike is not ridden for even 12-15 days, the battery drains out and the bike won't start. In the lock down situation, where I can not ride bike on an everyday basis the bike has gone to service center atleast 6-7 times in the last 1.5 years. Again the service teams do not tell me what work is being done on the bike and send the bike back after 5-6 days. AND!! I face the same problem in another 10-15 days, if I don't ride it.The brand is blaming this problem on me stating that the issue is due usage and storage patter.I want to understand that if this problem exists in all Royal Enfield Himalayans out there? Does all your battery completely drains out if not used for 10-12 days?Also since the first week of buying the bike's engine goes off while riding. Have been in bad spots on road due to this issue. The brand is not able to find a fix for this either.The bike is called a Himalayhan but can not withstand Bangalore weather for 10 days..
This is the most frustrating experience. KEEP THE BIKE IDLE FOR 3-4 DAYS AND THE BATTRY DRAINS!!! bloody i have had 4 bikes before this and never faced this issue even during extreme winters..in last one year i have already take the bike to the service center for the battery issue almost 5-6 times.
For this, we'd suggest you please visit the nearest authorized service center as they would be able to assist you better after the inspection of your bike. Follow the link and select your city accordingly for service centers.
View All Answers
More Questions
Q. We want to choose between Interceptor and Himalayan, which is better. Have issue of back pain.
I own both the Himalayan and the Interceptor and I can definitely say with authority that with the himalayan you wont have a back pain. Ride is more comfortable due to the seating posture and the seat itself. Same goes for the pillion rider as well. What you will get is a solid freaking headache considering the Himalayan has so many other issues that you get fed up spending most of your time in RE service centers. I own a BS3 model. So I hope the later models have these issues sorted. Interceptor on the hand was built for a different purpose and tall riders (5 foot 9 and above) will have problems with their back. This is because of the seating posture. But there are work arounds to this. its a great bike and is open to customization unlike the Himalayan.
I have slipped disc and tail bone/sciatic pains .. you know how bad it can get. But I can tell you, on a normal day the Interceptor has never caused any issues or never till date have I had any issues because of the seating position on the Interceptor. I can't speak for Himalayan, I am sure it's meant for touring and expect that to be equally comfortable or more. With Interceptor, you cant go wrong that much I could tell trust me.
The Interceptor 650 will marginally have a better seating posture than the Himalayan and hence should give less back pain.But eventually it depends on whether you will utilise the motorcycle for city rides for which Interceptor is best or for off roading for which Himalayan is best.Hope this helps! Happy riding!
View All Answers
Q. I am confused between Interceptor and Himalayan? mostly I am a city rider and yearly twice touring, which is suitable for me?
Having owned both of them I'd say that for touring the Himalayan makes sense. My only problem with the Himalayan was its lack of power or feeling that it do with some more power. I know that a lot of folks are waiting for a 650 Himalayan.Having said that a lot depends on you and your requirements. Interceptor is great as a daily commuter. You'll most probably have to tweak the handlebar and seat to get the desired riding position. Himalayan seat is excellent. Panniers etc again Himalayan. In case of the Interceptor you'll have to get suitable panniers and stays etc. Both are good and different categories so in the e d it's your call.
Himalayan is a all rounder Off road & Highways it performs well. Suspension set is too good say no to back pain. Interceptor is very good in highways it is the best performer & Powerful bike in royal enfield fleet. It cant off road like himalayan . Suspensiongood so no back pain issue. Because interceptor is not too comfortable in city riding. Plus their are many sensitive quality issues in ongoing models of interceptor. Like problem in T- Stem noise & Strut , Wheel wobble , Which RE might address soon. My choice is himalayan .
For city, Electra or Bullet 500 with ABS is best, Himalayan for touring, Interceptor is for fun as a heavy weight champion. Suggest you an unbiased test drive forgetting our reviews for a while and then decide.
View All Answers
Q. Is Royal Enfield Himalayan a tube tyre, can we change this with tubeless?
Himalayan comes only with tube type tyres and you cannot replace it with tube less tyres until or unless you get the alloy wheels available in the market for it.
No ,you can't.for tubeless tyres you need alloy wheels.himalayan comes with spoke wheels..but the tyres they provide are of good quality..they don't easily puncture in normal city rides.
Tubeless not possible but you can make it puncture free by adding a liquid to the tube tired
View All Answers
More Questions
Himalayan BS4 Questions and Answers
Royal Enfield Himalayan BS4 User Reviews
4.2/5
Based on 548 rating & 159 reviews
Review your vehicle & win ₹ 1000
All

Comfort (30)

Performance (19)

Mileage (17)

Power (17)

Service (11)

Speed (11)

Looks (9)

Maintenance (8)

Engine (7)

Experience (6)

Parts (6)
5.0

Petrol pump

Have not been regular with riding last two years as I have been out of home due work. But the rides I have done has been issueless. Apart from weekend rides, I have made a trip to Leh, transporting my bike from Calcutta to Chandigarh by road, and same way back, riding the rest. It's a bike which I found very stable on the worst of roads. No issues anywhere, as compared to the many problems with my partners. But what I understand, and what I believe is, biking or even driving, needs a finesse which most of the experienced riders/drivers lack. If you live your bike or car, which all men do, then show the love not by cleaning and polishing it everyday, but by riding or driving technically in the correct manner. Keep the machine healthy from inside, and your vehicle will never let you down. We started from Leh, back to Manali, no petrol pump for the next 300 KMS. By evening, all were sweating, their fuel indicators not even moving and stuck at the E symbol, and yet to reach the next petrol pump another about 30 KMS, the first one since we started. It was only me who was laughing on all, as my tank still indicated half tank. All opened the tank to check levels, had their theories of wrong indication. But at the pump, my bike actually took petrol just more than half to to up. All during the ride I had tried to tell everyone about riding correctly, technically, understand the engine limitations, follow the recommended procedures and not apply self created theories, to which no one listened, but the last return paid off my tips, at least to me, and set the example for my friends. I love my bike, the Himalayan, though people have their grudges about it. I do agree though, the quality of the materials used to make the bike could have been better, but again to keep such a competitive price for such a machine must have been a challenge for the company.

2.2

The main thing noticdafter

The main thing i noticed after buying the bike in 2018 is the low quality parts and paint.After riding about 20k kms there are few things that i noticed.The engine oil looses its property really quickly in air cooled engine.After 1k the engine heat and vibration or buzz increases with hard gear shifts.The clutch is very heavy.In city bumper to bumper trafic the engine heat and heavy clutch is really uncomfortable.Speed beyond 100 is not favourable because apparent engine buzz on the handlebar, Seat and footpegs.Beyond 100 its still behaves like the old re buzzy engine.The acceleration is good but not that thrilling.Rollon acceleration from 60 to 100 on fifth gear is not that good its jerky.To pull the bike harder it need to downshift if its moving slower than 70 kmph.Even at speed breaker of the bike is slowed down below 20 it has to downshift to 2nd gear to attain speed quickly.It refuses to move forward even on 3ed gear.The main reason being the weight.The braking needs a whole lot of improvement.The part that really worn out fast is the accelerator cable.It becomes hard really soon.And the cup and cone bearing is a well known issue in the biker community.An average bike for the cost its not value for money.

3.8

Smooth engine

good bike for touring.average is decent.however RE needs to work on many things for improving the1overall riding experience,noted some of them as below,seating posture,vehicle is heating too much in traffic standing positions,more information to be provided on display,especially when bike is designed1for touring GPS, Bluetooth, call taking facility, sms reader etc can be added,mobile charging facility to1be added,one more gear also can be added, rear mirrors are too small,seats of the bike are very1bad.I have changed the same,also no custom designed accessories are not readily available in your1showroom,your workshop mechanics are not able to handle the technicality of the bike,very bad service at1RE workshop,look into the same,but let me tell you with all the upgrades done by me the bike is1fantastic,good torque, smooth engine, no vibration, road stability, heavy running capacity...

1.4

My RE Himalayan"s mileage

My RE Himalayan"s mileage is 12kmpl and max speed is around 100km/h .Don't buy as there is no power or mileage max speed is 95-100km/h, above 95km/h the vehicle gets too much vibration which we cant handle. Problems of bike is the following 1.Low Mileage 12kmpl, 2.Top Speed90-100km/h, 3.Air vent in the petrol tank had problem,so during rain every time water gets into the tank. From the first service i have been reporting this to the RE showroom staff & each time they would say by next service it will be OK . No mileage or NO Top speed also no proper service . I gave complaints and the reply was "just take to showroom you have purchased". So as they i took to the RE Showroom service and i told the problems but they did nothing. Also they won't write down every problems we say to list down in the service chart, they just write 3 or 4 things only Why should you buy a bike giving 100km/h max speed with 12kmpl mileage costing near 2 lakhs .

5.0

Things regularly

Best adventure touring bike below 2 L in India. Mine is 2018 non ABS version of snow white and I've covered over 15 k km with my Himalayan. Off road ride is like whole another level of awesomeness with this bike. During the free service period each service costs around only 1000 rs. Ease of handling in city is too good. I get mileage of 36-40 in highways and 30-35 in city + highways and around 28 in city use. I'm 6 feet tall and its sitting posture is very good. Standing and riding is too easy if you want to stretch your legs. Note : If you are not getting above 30 mileage then check these things regularly- 1. Tyre pressure.2. Use clutch only when needed.3. Do not accelerate like a racing bike. It's not. Its's a RE bike.4. Best speed range for Himalayan is 60-80 km/hr.
Royal Enfield Bikes in India
Royal Enfield Himalayan BS4 Expert Reviews

Can the XPulse be a worthy alternative to the Himalayan as an off-roader? Or should you still spend that much extra on the latter?
July 12, 2019
By Team ZigWheels
Royal Enfield Himalayan BS4 Images & Videos