Volkswagen Passat: Road Test Review
---
In a day and age where big touchscreens, pages-long features lists and cool interiors are defining our cars, is the old-school charm of the Volkswagen Passat still appealing?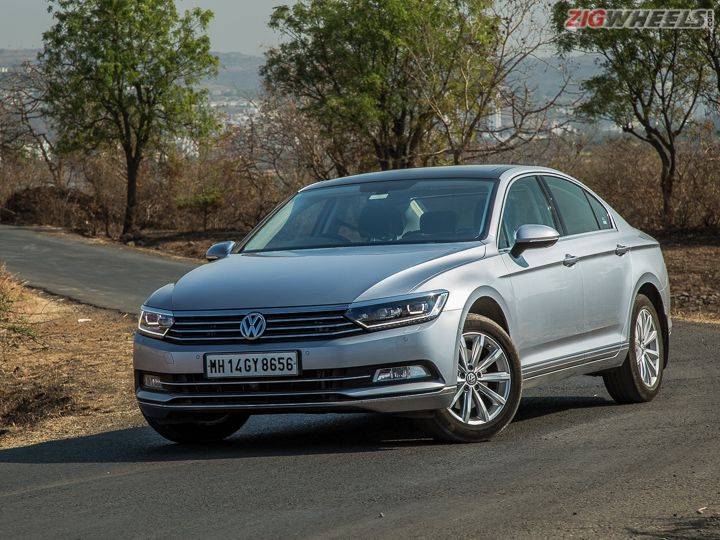 The Volkswagen Passat occupies a very lonely market segment, its only true competition being its Czech cousin, the Skoda Superb, and the Toyota Camry. The Honda Accord has long since moved higher up the price chain with the addition of its new hybrid power. On price at least, the Passat also competes with SUVs like the Fortuner and the Endeavour, so while it seems like Group Volkswagen has a strong hold on the segment, it's not quite that clear cut. Since the launch drive focused on highway driving this test allowed us to also see how the Passat behaved in the more confining city of Pune.

The Passat has a very subtle yet distinguished air to it. There's not much remarkable about the sedan shape and the familiar VW family face but something about its sheer size and low-slung stance quietly announces that it's not your ordinary sedan. If your eyes are keen you'll pick out the large grill with a slight kink on the extremes to help it blend into the all-LED headlights. And maybe you'll also notice the way the door handles are set nicely in the sharp shoulder kink that runs from just aft of the front wheel arch all the way to the tail lamps. More noticeable are the rather nice 10-spoke 17 inch alloy wheels.

The all-black interiors of the Passat are classy but typical Volkswagen in that it's functional, practically laid out but not particularly great looking. The wood trim on the dash and doors, subtle chrome accents, analogue clock and nappa leather seats revel in its distinctive classy old-school charm. We could easily imagine driving or being driven around in one as the scent of our Old Spice aftershave and freshly polished brogues filled the cabin.

It may not sport the biggest touchscreens and tech but there's still not much missing from this cabin. So there's electronically adjustable ventilated seats up front with a massage and memory function for the driver. Three-zone air conditioning, 8-speaker touchscreen infotainment system with Android Auto and Apple CarPlay and a regular power socket in the rear to allow you to charge a laptop.

In terms of driving aids there's 360-degree camera, hands-free park assist, and tire pressure monitoring system. Comfort-wise, there are manual sun shades for the rear doors and an electrically operated sunshade for the rear windscreen, semi-automatic tailgate and a rather large single-pane sunroof. The Passat is also available with Volkswagen Connect, which adds on a great deal of interactivity and features to the already feature-rich package -- and you can read all about it in our seperate review here.



Safety is also up a couple of notches with 9 airbags, disc brakes all around and practically all the three-letter abbreviations you could associate with safety systems: ABS, ESC, HSA, ASR and EDL.

While most Passat owners will most likely be driven around, this is one car in which you'd want one of the two driver's seat settings set up for you. Yes, it may be diesel-powered but this oil burner has quite a bit of character. The 2.0-litre TDI under the hood makes a very healthy 177PS and 350Nm of torque and that enough to propel the Passat pass the 100kmph mark in a brisk 8.65 seconds.

It's also a motor that likes to rev and the 6-speed DSG is up for the task. It's quick changing when the going is fast and since there are less ratios to choose from, it's not constantly working at city speeds, proving that sometimes less is more. Yes, it doesn't really turn your insides upside down with its performance but there's something about the way this TDI responds to throttle inputs that makes driving it really pleasing. Must be one of the reasons that Volkswagen have given it a 'launch mode'.

In city traffic it's smooth and easy going and when a gap in traffic opens up, it's eager to respond to even the lightest prod on the go pedal. It's reasonably efficient too, returning 11.29kmpl in our efficiency test in eco mode. Out on the highway again the Passat is very much at home happily cruising along at triple-digit speeds while the engine ticks away gently at 1700rpm. In this mode efficiency goes up significantly and our highway test saw the German return a very healthy 18.78kmpl.

Further adding to the pleasing nature of the Passat is the adaptive dampers and paired with the DCC or dynamic chassis control menu, you can choose one of five settings: Eco, Comfort, Normal or Sport, depending upon your driving mood or conditions. You can even configure the 5th 'Individual' setting to your preferred driving setting. Yes, they all do what they say on the label so no surprises here. Overall, though, the suspension is very nicely set up for our roads and big bumps and potholes are taken care of without any complaints. There is still some firmness to the overall setup though, and that means smaller imperfections in the road like level changes and tiny bumps do filter through at city speeds.

Verdict
When we first drove this Passat in 2017 we discovered that it is for that customer who appreciates its understated nature, values all its tech and revels in that old-school charm. Volkswagen currently has an excellent offer running that knocks 4 lakhs off the asking price. So the Comfortline Connect Edition is available for Rs 25.99 lakh and the Highline Connect Edition is available for Rs 28.99 lakh. Yes, if you are that kind of person now's the best time to pick one up, if you already haven't. It ticks a lot of boxes, drives brillianty and will certainly fly under the radar. Yes, sometimes a bit of retro charm can be a very good thing.
Volkswagen Passat Video Review
Add Your Comments