The Audi S models have always carried an aura of aesthetic appeal, elegance, comfort and power, so when it comes to the S6, the expectations are high as this car has to uphold Audi's sporting legacy in a practical package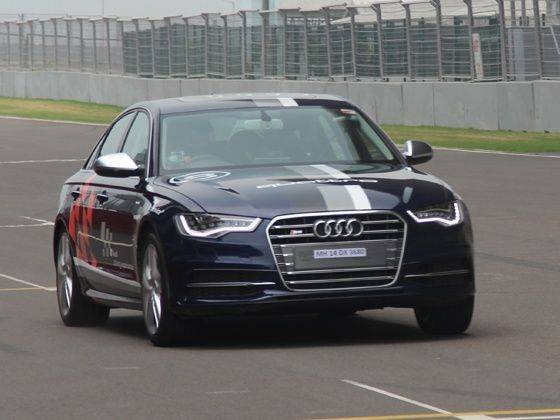 I have always been a fan of cars that underplay their true competence in terms of sheer out and out performance. These are cars that have been designed to look like your normal everyday sedan albeit for the fact that they have performance oriented genes underneath all that sheet metal. The first time I actually got to experience such a car was back in my college days where a friend surprised me with his Nissan Maxima (1996). Life has come a long way since then and while the VQ30DE engine of the Maxima did offer a 0-60 sprint in 6.7 seconds (not tested by us, but according to the brochure), I have managed to find my way into the driver's seat of some rather potential machinery including the BMW M5, Mercedes-Benz E63 AMG and of course my latest outing in the Audi S6.
This breed of car is essentially the best of both worlds, a combination of the luxuries of sedan coupled with the performance and drive dynamics of a sports car. Owning such a car means that you can easily cater to family needs of tooling around town and on the occasions that you would like to make the scenery a simple blur, all you have to do is prod the pedal under your right leg and unleash hell!
In terms of the requirements laid down for cars of such pedigree, the Audi S6 lives up to all the expectations. From the outside it is your everyday Audi A6 sedan and most people might dismiss it to be just that, however a closer look does reveal subtle details that point towards the performance car hidden underneath. For starters, you have the 'S' badging on the front grille, rear boot lid and the brake calipers. The grille itself is an eye-catching single frame unit and you also get a spoiler lip up front in order to provide negative lift. The ORVMs are neatly housed in a Chrome finish and there is a rear spoiler as well, however the telltale signs that this is not your run of the mill A6 are the S line exclusive 19 inch wheels, the platinum grey rear diffuser with blades in Optik metal and two sets of double oval shaped exhaust pipes that take pride on either side of the diffuser. The cherry on the cake is the little badge on the front fender that reads "V8T", the only exterior reference to the monstrous motor underneath the hood. Like I said, this segment of car is all about being understated and Audi has achieved just that.
The interiors remain as plush as you would expect from such a high end car, however Audi has added enough reminders to let you know that this is indeed a sports model and not just a luxo-barge. The S6 badge can be found on the sports seats covered in Alcantara leather, on the multifunction steering wheel, on the instrument panel and even on the welcome screen of the MMI display. Other changes include the matt-aluminum inlays, carbon inlays, aluminum paddle shifts, Optik aluminum pedals and a purposeful red start/stop button. In terms of creature comforts, the S6 comes loaded with all the gizmo and gadgetry you would expect from a car of this class including a high end entertainment system, climate control air conditioning and top notch materials to surround you in the lap of luxury; whether you choose for a sedate drive or a hot lap on the track.
In order to really understand what the S6 packs in terms of its performance capabilities, Audi arranged for the S6 to be driven on the Buddh International Circuit, a track that I have had the pleasure of driving the M5 and the E63 AMG on as well. Reminiscing about how those sports sedans handled on the track, I only hoped that the S6 would also live up to my expectations. On paper, the figures looked great; the TFSI V8 engine displaces a solid 3993cc, generates 420 hp between 5500-6400 rpm and churns out 550 NM of torque between 1400-5200 rpm, which incidentally is 10Nm more than what the Audi R8 makes! Mated to a seven speed S tronic transmission, the S6 is capable of going from standstill to 100 km/h in just 4.6 seconds! The car also boasts of Audi's quattro technology, adaptive sport air suspension, high performance brakes and an electromechanical steering that has been configured for a more direct response. All these items literally point towards the sheer capability that this car is designed for. The question in my mind at this time was fixed upon experiencing all this, so without wasting any more time admiring the fine lines of the car from the outside, I slipped on my helmet (standard safety procedure while driving on any track), got into the rather comfortable driver's seat, adjusted it to my requirements, buckled up and hit the neat red start/stop button.
The large motor came alive and the solid bass exhaust note emitting from the twin double pipes at the rear made their presence felt. I was obviously smiling from ear to ear behind my visor and as I made my way around the track I forgot that I was piloting a car that measured 4931mm in length or for that matter a car that weighed 1930 kgs! This beast handled like a dream and I found myself pushing the vehicle harder with every lap that I took and I still couldn't get it to step out of line! Yes, the wheels squealed a bit under some hard cornering, but the car remained composed and I highly doubt any owner of this car will push it that hard on open roads. Despite its size, it felt nimble and easy to toss around corners and offered more than enough grunt to get your adrenaline pumping.
Unfortunately, my five laps finished in a jiffy; however I was content in the fact that the S6 more than lived up to my expectations. The BMW M5 and the Mercedes-Benz E63 AMG definitely have a serious competitor in the S6 and I am sure that Audi knows that only too well! A showdown amongst the three would be an epic battle to witness to say the least!
Off the track, Audi has ensured that the S6 lives up to being your quintessential luxo-barge. The adaptive air suspension allows for a comfortable ride quality and the active noise cancellation feature compensates for any exterior noise interference to offer a quiet cabin suited to cater to those who like to travel in luxury. Another feature that is great for in-city driving is the Audi cylinder on demand (COD) system that shuts down four of the eight cylinders when they are not required in order to lower emissions as well as increase mileage.
With the S6, Audi seems to have thought of everything. After all it is like building two cars into one and catering to two distinct sets of audience. As harrowing as that sounds, Audi has managed to achieve the task and the S6 works as your everyday luxury sedan as well as a striking sports car. At Rs 85.99 lakh ex-showroom, Delhi, its not such a bad deal for you get the combination of luxury, practicality as well as a large scoop of 'thrill' tossed in for good measure. Now to schedule that epic battle between the S6, M5 and E63 AMG!
Recommended Variant :
S6 4.0 TFSI Quattro