Triumph Tiger Explorer 1200 XCx: Road Test Review
Oct 14, 2017
Views : 6178
---
Triumph's biggest ADV in India is now more tech-loaded and modern. Does it simplify the complex segment of high-end adventure tourers?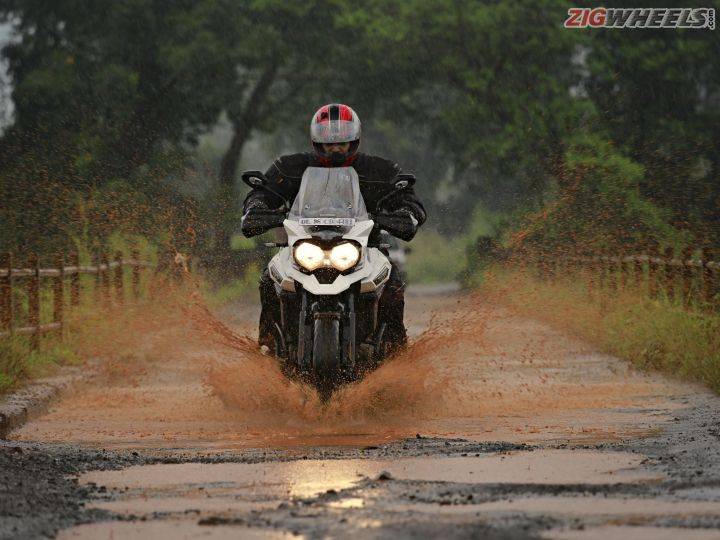 On the surface, justifying the purchase of a big adventure tourer is difficult. They're heavy, come with gizmos that most toolkits can't help fix, and have seat heights taller than the pyramids. But a three day stint with the 2017 Tiger Explorer during the retreating monsoons has changed at least a few perspectives among us. For our conditions, this behemoth seems as sensible as cupholders.

With a more comprehensive tech package and a few more conveniences, Triumph India's flagship promises to make the big ADV segment a little less intimidating. Pinky swear honoured?

Fear At First Sight
The Tiger Explorer XCx is a big bike in the literal sense and the 2017 version doesn't really look all that different from the previous generation. The dual-barrel headlamps retain their aggressive demeanour while the bulbous 20-litre fuel tank makes for some serious presence. The tail light sports two LED streaks which do look nice, but overall, the design draws no superlatives.

Then again, this isn't a category of motorcycle that's meant to walk the ramp at Fashion Week. It's function over form and rightly so. The 19-inch front and 17-inch rear spoked wheels sit on an aluminium rail on the rim instead of piercing through the middle, allowing the use of tubeless Metzeler tyres.

The windscreen may make the Tiger look like a frill-necked lizard about to attack but unlike the previous bike, it's electrically adjustable, making it extremely easy to use on the move. There's even a large enough luggage rack at the rear with mounting points for panniers. There are slots on both sides for hooking up bungee cords as well.

With the seat set to its lowest setting, it's still 837mm high (857mm with the tall setting), making it far from short rider-friendly. But hop into the saddle, and even though the bulk of the tank ahead of you looks a bit intimidating, the riding position feels immediately natural and comfortable. On the 2017 update the handlebars sit closer to the seat, cutting down the stretch required to reach them. The overall posture then is slightly canted forward, bordering on sporty, but never aggressive.

This function-over-form approach extends to the cockpit, so there's nothing that will 'wow' you here. It is an evolution of the old instrument cluster, with a central analogue rev counter flanked by a pair of digital multi-information displays. These screens are informative and intelligible, with easy-to-navigate menus.

However, its competitors such as the Ducati Multistrada have set the bar high with full-colour TFT displays, giving this Tiger an air of not being on the cutting edge of technology. Quality, though, is top-notch. The choice of plastics strike a good balance between premium feel and the toughness needed to survive a tumble.
Ease On The Move

Even though peak torque comes at 6,200rpm, there's so much bottom-end grunt that you merely have to tickle the ride-by-wire throttle to get to city speeds. The Explorer is a very forgiving bike and had it not been for the near 280-odd kg wet weight and radiator fan treating your thighs like a pressure cooker does momos, we'd call this a usable daily ride!

But the biggest highlight of the big X is the powertrain. It's the epitome of tractability and the performance it offers up is extremely usable. No gear is too high even in dense city traffic, and even quick overtakes can be pulled off without relying on downshifts. 0-60kmph takes all of 2.41 seconds, while it picks up effortlessly from 30-70kmph (3rd gear) in just 2.78 seconds.

The Tiger Explorer truly comes into its own on the highway. The wide seats support the pudgiest of bottoms perfectly and even past 100kmph, the engine is vibe-free. Ride non-stop for the approximate 400km+ tank range and you can still dismount without a severely sore back or butt. That's partly down to the relaxed ergos and refined engine, and partly because of the wind protection. The windscreen and plastic tank winglets control wind blast perfectly, with helmet buffeting only being a slight issue if you're well over 6ft tall.
Push It!

But don't let the Explorer's graceful and relaxed mannerisms fool you. Play naughty and the big ADV reveals another facet of its personality. Hard downshifts and wide open throttle are met with an invigorating intake howl. Throttle response is immediate and the power reserve feels limitless.

Yes, you can feel its weight through corners and even when you muscle it into the turns, it prefers to stay upright. That said, twisty sections can be thoroughly enjoyed in both dry and wet conditions thanks to the grippy tyres. However, you're left to deal with a slight lack of front end feel, making for some guesswork involved at turn-ins on uneven roads. That's largely down to the long travel front suspension, which, of course is to be expected on a large ADV bike.
The brakes offer great bite and the Explorer doesn't get unsettled under panic braking either, though nose dive is aplenty even with the suspension in Sport mode. That said, it now sports a 6-axis Inertial Measurement Unit (IMU) constantly communicating the bike's attitude to the electronic safety systems, so now you get cornering ABS as well.

The new safety systems feel quite intuitive for the most part, but set the bike to Rain mode and the traction control is excessively intrusive. While that's great for novices, seasoned riders won't like the constant micromanagement.
Rough It Out

The 2017 Tiger Explorer XCx gets Triumph's Semi Active Suspension (TSAS) with 48mm inverted WP forks up front (190mm travel) and a WP rear monoshock (193mm travel). And this advanced suspension setup works brilliantly on our roads. Set it to Comfort or Normal mode and even the worst potholes are polished off with nothing more than a slight thunk. The Tiger eggs you on to accelerate through surfaces that make the moon look like a runway.

Just stand up on the pegs, stick to 2nd or 3rd gear, twist the throttle and the bike flies through roads that would slow hardcore SUVs down to a crawl. However, as capable as the tyres are on gravel or even wet roads, they are utterly and completely out of their element in the muck. They're out of grip at the slightest hint of slush, so if you actually intend on trail riding in the monsoons, you'll have to get yourself a pair of knobbies.
Final Roar

As elitist as this sounds, the Tiger Explorer XCx isn't for everybody. A larger, taller build and a certain riding calibre are required of the rider to really exploit its full potential. But if you've got some miles under your belt and are comfortable with the challenges of riding big ADVs, it's easily one of the most approachable machines you can get.

It's priced on par with Ducati Multistrada Enduro and the entry-level BMW R1200 GSA. For the money, it offers enough practicality for touring in India while being exciting enough to make it feel like more than just a well-engineered machine.
Spec Check
Engine: 1215cc, liquid-cooled, inline 3-cylinder
Power: 139PS @ 9300rpm
Torque: 123Nm @ 6200rpm
Transmission: 6-speed manual
Mileage: 19.34kmpl (City) 22.40kmpl (Highway)
0-100kmph: 4.33 seconds
100-0kmph: 3.64 seconds, 46.65 metres
Price: Rs 18.75 lakh (ex-showroom, Delhi)