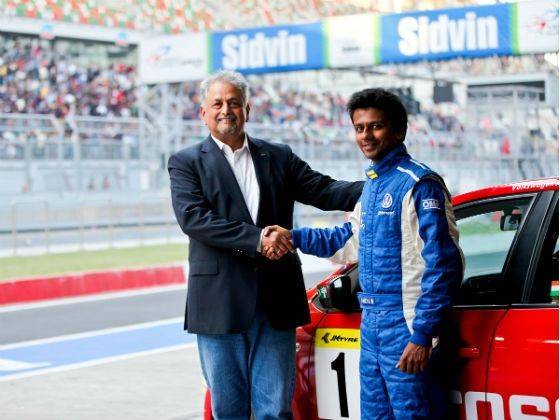 Round 6 of the Volkswagen Polo R Cup 2012 was won by Ameya Walavalkar followed by South African guest driver Jeffrey John Kruger and Avdumber Hede. Ameya finished 0.745 second ahead of pole sitter Jeffrey who led the race till the last lap when he got overtaken by Ameya.
Ameya said, "Jeffrey set the benchmark yesterday but I was lucky to get ahead of Avdumber at the start which set the tone for the rest of the race. I kept up with Jeffrey and finally got past him on the last lap."
Race 2 was won by pole sitter Prashanth Tharani Singh followed by Munjal Savla in second and Jeffery John Kruger in third. It was Prashant's his first race of the season, and he said, "I am really happy to win my first race especially at the BIC. This circuit is brilliant to drive on and really challenging. The start was crucial and once I got ahead, all I wanted to do was set consistent laps and retain the lead. This is the perfect ending to a good season."
Ameya Walavalkar won the 2012 Volkswagen Polo R Cup Championship with 476 points, ahead of A Sandeep Kumar with 381 points and Avdumber Hede, who was third with 355 points.