Red Bull F1 car goes sky high at Khardung La
---
Red Bull does the unthinkable in a Formula One car once again, taking it to the world's highest motorable road at the Khardung La pass in Kashmir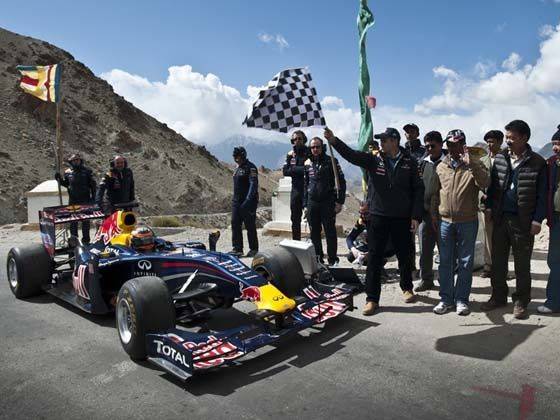 Red Bull has a habit of doing the outrageous with its past F1 cars, but the mental bunch has really gone and done it now. As a part of the Red Bull Speed Street Leh event, Red Bull driver Neel Jani took a Formula One car to the highest motorable road on the planet at 18,300 feet, to Khardung La. What's cooler? This was not a record set for posterity where the car was taken off the containers at the top of the pass, and driven a few metres for some pictures. Jani drove the car for a good 40-odd kilometers, climbing from Leh town at 11,000 feet right up to Khardung La.


While endeavours in the Himalayas on wheels have brought out veritable forms of sport in themselves, until now the participants have only been cyclists, touring motorcyclists, or hardened rally veterans in events like the Raid de Himalaya. To even attempt taking an F1 car over the route could simultaneously be labeled as lunacy personified, and the ultimate in the spirit of adventure.
The feat sets an unofficial world record of sorts, for not just taking an F1 car to such heights, but also firing a high-strung engine at such high altitudes. A rarified atmosphere lacking oxygen certainly must not have helped, but add to that the less-than-perfect road conditions of the Himalayan passes and traversing them in an F1 car which has minute ground clearance, and the real success of the effort begins to present itself.


Jani, who is a Swiss driver of Indian origin and has seen success in the past in the A1GP series, the GP2 series and has had a stint as an F1 test driver, seemed to humbled by the imposing Himalayas during the drive. After being flagged off by Omar Abdullah, Chief Minister of Jammu and Kashmir, Jani passed by the picturesque landmarks of the Thiksey monastery and the Shanti Stupa at Leh on his journey to the pass, lighting up the barren but beautiful landscape of Ladakh with the lively Red Bull car.
The Speed Street shows started with running glorious sounding F1 cars through the streets of the world's iconic cities. Seemed like a great idea – to get the masses to be within sniffing distance of some of the most advanced vehicles ever conceived – and spectators including the ones in Mumbai and Delhi have been thrilled by such events in the past. But then, it seems that Red Bull being Red Bull, got a little bored of the gig.
The Austrian energy drink maker which has been "Giving Wings" to sports and athletes around the world through sponsorship decided to make an extreme twist to its F1 street events too – running the made-for-racetrack cars on ice in Canada, on the sands of the beaches in Santo Domingo, heck, even across a ranch in the US! But this effort just tops them all off, quite literally.