New Aston Martin Vantage Looks Bullish
---
There is a new Aston Martin in the world. And, thankfully, it's still petrol-powered.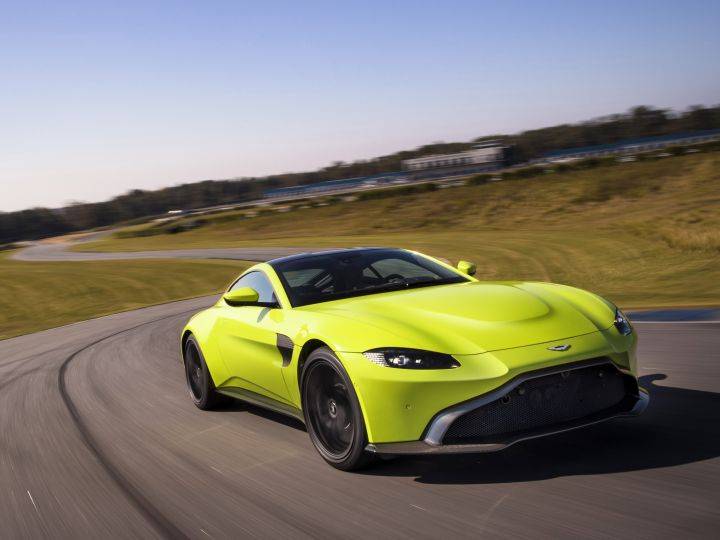 Remember the neon-coloured SLS AMG Electric Drive? That was the car that popped up in my head as soon as I saw the image of the all-new Vantage. And my first thoughts: Aston too has gone electric. But thankfully, not yet. The new Vantage still beats a V8 heart but has taken on a rather different design approach.

Don't get me wrong - it still remains unmistakably an Aston, but the drop-dead gorgeous look has been traded in for a more mean-looking design, like the Vulcan's. It has gone from being a gentleman's tourer to a boy racer's poster. Where this might be a polarising topic, one thing is for sure that the Vantage now looks like no other in Aston's lineup. Something which was a bit of an issue before. Let that be and look at other angles. The stunning tail with connected rear lights and dynamic turn indicators just look amazing and the side profile is just perfect.

By now, you would either like the new design or think otherwise. And there is not much we can do about it. But what we can do is tell you about the new engine. The new Vantage borrows its motor from Mercedes-Benz. It is a 4.0-litre V8 with forced induction via two turbochargers. Power and torque figures are 510PS @ 6000rpm and 685Nm @ 2000-5000rpm. This is the same engine which Mercedes-AMG recently put in the GLC 63 AMG. Mated to this mill in the Aston is an eight-speed ZF transmission.

All pretty neat, but here is the good part. For the first time on an Aston Martin, the new Vantage features an Electronic Rear Differential (E-Diff). This varies power going to each wheel in order to maximise traction. And Aston claims that it can go from fully open to 100% locked in a matter of milliseconds, which gives it a lot of capability to assist with grip in corners and straight-line launches. Result: a 0-100kmph time of 3.6 seconds and a top speed of 314 kmph.

This car is light. Dry weight is just 1530 kg. This is possible with the use of Aston Martin's next-generation platform which uses a bonded aluminium structure. It was first seen on the DB11 but 70 per cent of the structure's components are new for Vantage. Also, with its new size, it is 284mm shorter than DB11 and 34mm shorter than its rival, the Porsche 911.

Inside, you get gorgeous interiors with dual-tone seats and a futuristic-looking centre console. Materials used, as expected, are Strathmore leather and Alcantara. It also gets dual-zone climate control, memory sports seats, an 8.0-inch LCD screen for infotainment and a satellite navigation system.

The new Vantage is already on sale in foreign markets for a price of approximately Rs 1 crore. In India, expect a price of Rs 2.5 crore. Launch expected in late 2018.