MG Motor India Website Goes Live
---
The site showcases the British carmaker's legacy and suggests that two SUVs and an electric car may be headed to India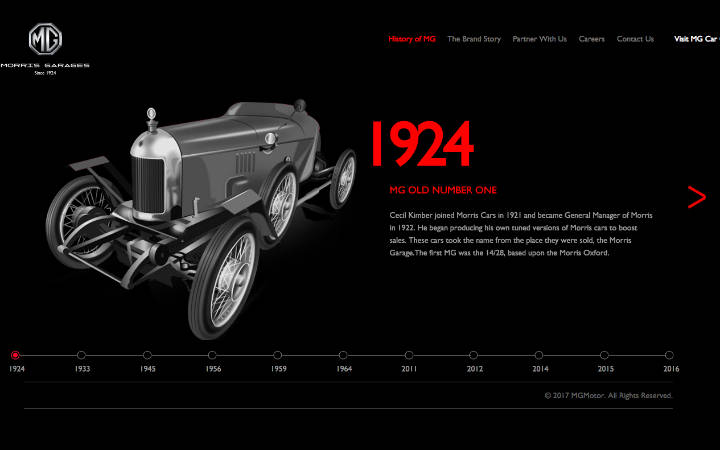 We know MG Motor is coming to India. Now we have a glimpse of what its India-specific website looks like. The British carmaker is highlighting its rich, 93-year history since the brand debuted in 1924. MG Motor will be just five years away from hitting the platinum jubilee when its cars go on sale in India towards the end of this decade.
The new website (www.mgmotor.co.in) presents a timeline of some of its most iconic cars made since the brand's inception. A gap of 47 years and a stark visual contrast between the classic lines of MG Midget and the sleeker MG3 reveals the new-age design trend moving forward as SAIC rescued the legendary carmaker from its downward spiral.
The carmaker hasn't revealed what cars would make it to its Indian showrooms, but three of its cars seem to have earned the spotlight on the website. Two of them are SUVs while one is an electric sports coupe concept. Smart choices considering the craze around SUVs, while electric vehicles promise to be the next big thing. An electric SUV, perhaps, would've been the best possible amalgamation of the desire of the present and the need of the future.
The MG GS SUV is already in production and comes with a 1.5-litre, turbocharged petrol engine that makes 166PS and 250Nm. The engine is available with either a 6-speed manual transmission or a 7-speed dual clutch automatic. It measures four-and-a-half metres long, which is more than 100mm longer than the Jeep Compass, making the GS an appropriate rival, if not a dangerous one. We're less likely to get the GS in the same shape and size and will most certainly see it undergo a redesign before its launch in India; if at all that happens.
MG ZS
The MG ZS is a smaller SUV but the one with an air of desirability given its luxurious styling. The ZS is available with either a 4-cylinder, 1.5-litre petrol engine (106PS/141Nm) or a three-pot, 1.0-litre turbocharged motor (111PS/160Nm). The bigger engine is available with a 5-speed manual transmission while the smaller and punchier mill is available with a 6-speed torque converter automatic. Its length of 4314mm suggests that it'll be a suitable rival for the Hyundai Creta and the likes. The ZS is available in its home market with an impressive 7-year/1,30,000km warranty.
MG E-Motion
The MG E-Motion concept is a luxurious electric car that could retain its 2-door sports coupe styling or transform into a 4-door sedan before entering production. This concept car is said to be capable of hitting 100kmph in under four seconds and covering 500km on a single charge. That should be enough to kill all your anxieties related to the performance and range of an electric vehicle.