The Speedtail Is Now The Fastest McLaren Ever Made
Dec 25, 2019
Views : 3739
---
The three-seater hypercar clocked a maximum velocity of 403kmph during high speed testing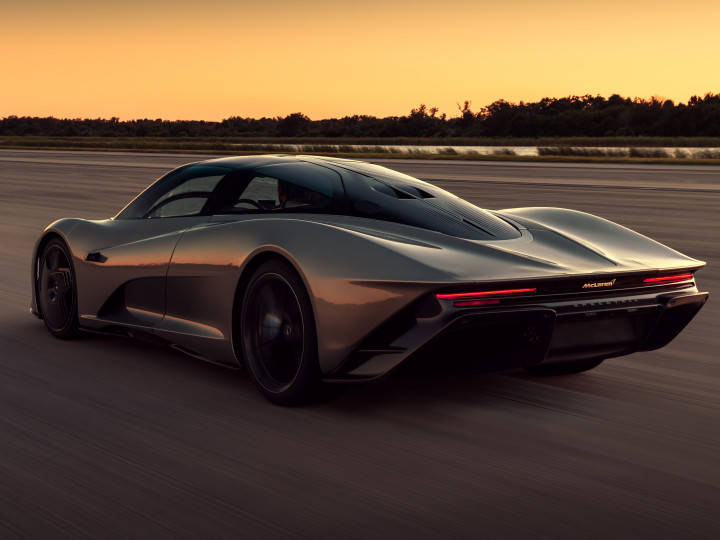 The McLaren Speedtail is the spiritual successor to the McLaren F1.
The F1 recorded a top-speed of 386.7kmph in 1998.
The Speedtail is powered by a 1070PS petrol-electric hybrid powertrain.
McLaren has bested its own top-speed record which was previously held by the F1. The legendary supercar was beaten by none other than its spiritual successor (Gordon Murray Automotive T.50 says hi), the McLaren Speedtail. Justifying its special name, the Speedtail has clocked a top-speed of 403kmph during a high-speed validation programme at the Johnny Bohmer Proving Grounds, Kennedy Space Center, Florida, USA.

The Speedtail looks like nothing else on the road with a long-tail (5.2m long) which apparently aids in top-speed runs like this. The Speedtail prototype 'XP2' reached its maximum velocity of 403kmph more than 30 times on the space shuttle runway at the Johnny Bohmer Proving Grounds. This high-speed validation programme is part of multiple tests including Idiada in Spain and Papenburg in Germany.

The McLaren F1 recorded a top-speed of 386.7kmph from its high-speed run in 1998. Although the F1 came out 28 years ago in 1992, it still to this day is the fastest naturally aspirated production car in the world. Says a lot, right?

Quite arguably the most aerodynamically advanced offering from Woking, the Speedtail, features a carbon-fibre body which can bend! Yes, the Speedtail features active ailerons which are hydraulically actuated and built with a tolerance of only 1mm between the surfaces. This coupled with the super sleek body work, teardrop cabin design with a central driving position, retractable digital rear-view cameras instead of door mirrors and other clever ways to cheat wind has resulted in the most aero-drag efficient McLaren road car ever produced.

Mounted underneath that smooth bodywork is a petrol-electric hybrid powertrain. Combined, the twin-turbocharged 4.0-litre V8 and the electric motors develop 1070PS and 1150Nm of twist. 12.8 seconds, that's all it takes to hit 300kmph from standstill. But the 0-100kmph and 0-200kmph times are yet to be released by McLaren. Meanwhile the Speedtail tips the scales at 1,430kg, giving it a similar kerb weight as the 720S.

Limited to 106 units, it comes with a sticker price of over 1.75 million pounds (Rs 16.5 crore). Even if you had the means to get yourself a build slot, you couldn't as reportedly all of them were sold out soon as the Speedtail saw light. Production is already underway with deliveries set to begin in February 2020.
Add Your Comments