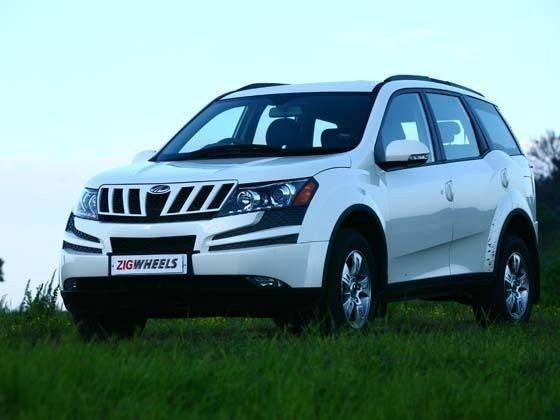 The new Mahindra XUV 500 (Read : Special Coverage) has pretty much toppled any modest expectations Mahindra & Mahindra may have had prior to its launch here in India. Proof of this lies in the reaction of the select few in the country, who have managed to get their hands on the vehicle early on; not to mention millions of our web readers, many of whom churned out articles in our online reportage comments section, helping us break a few records of our own.


On the 18th of September this year, Zigwheels.com was the first automotive portal to go live with an exclusive and thoroughly detailed photo feature on the new Mahindra XUV 500, and within just a few hours online it had already surpassed more than a lakh hits. It was the start of something special, and in the days to come that number would further sky rocket to over a million views. Over a million views for a single online photo feature, something unheard of at least among active automotive portals in the country. Close to 200 readers passed their comments, and expressed their satisfaction at the design breakthrough that is the new XUV 500.

Among the first to comment on the car's refreshing exterior architecture was Rajeev from Bangalore, who said, "Kudos to the Mahindra Team. M&M has made our country proud by delivering a world class product, designed and manufactured in-house, truly showcasing our engineering capability. Fantastic effort. I can visualize it parked in my portico already!!!!!!!"


Hari Krishnan from Kerala too was completely bowled over by the car's international styling and aggressive looks and reacted by saying, "I stood breathless the moment I saw its pics. Brilliant job by Mahindra engineers and value for money pricing, this car is going to change Mahindra's fortunes & it will be leading the roads. No words to say?"


However, while positive feedback on the new age soft roader from M&M has been overwhelming, a shade of criticism never hurt anybody. Speaking of questionable colour and shading options, Quentin Fernandez from Mumbai seemed quite taken aback by Mahindra's choice of interior upholstery and colour schemes for the XUV5OO.


According to him, "From what we can see of the interiors, the colour choice of the dashboard & seating does not look pleasing to the eye. It does not gel with the exterior looks of the car. Infact a better colour choice of the seats will make a huge difference in marketing this SUV."


XUV 5OO Launch Pad

Over 1.5 lakh viewers were witness to the nationwide launch of the Mahindra XUV5OO (Read : Special Coverage) thanks to its well publicized live launch webcast and press conference that gave fans a chance to watch live proceedings from the comfort of their homes and work stations. A dedicated website for live updates and teaser videos of the car was set up well in time to host a customer engaging price guessing competition that resulted in a massive fan following for the SUV well before its actual launch date.


Officially launched on the 29th of September this year, the Mahindra XUV5OO (Read : XUV5OO Launched) took center stage amidst a SUV star struck nation, and the pan India reaction to its arrival are truly worthy of mention.


Commenting on the launch of the car, Raj from Bangalore said, "Wow. On paper it looks great starting from design, features, looks and ofcourse price. I pray that its performance is also too good. It will be known within 6 months of its debut on road. Let's see what people on road says about its performance. Definitely they have done all to give a very tough competition to rest of the industry. Again I wish them all the luck."


Ashwin Thapa from Chandigarh took an instant liking for the vehicle, and commented, "It is an excellent car. It's certainly the car that I had been waiting for from the past 3 years. This SUV looks very stylish and well configured. And a good buy considering the cost of similar from the stables of Toyota, Ford, Chevy etc. A job very well done by team Mahindra. The pricing is spot on."


Price Right Production Tight

For a locally manufactured SUV of its class, the new XUV5OO certainly badges a price tag that has magnified its demand many times over. But as we see it, Mahindra's biggest challenge will now be to ramp up production and meet the demand of its rapidly growing customer base, which hit the 5K mark in early October.


At the announcement of this impressive milestone for the XUV5OO (Read : Special Coverage) so early in its term, Rajesh Jejurikar, Chief Executive, Automotive Division, Mahindra & Mahindra said, "It is a delight for us at M&M that the XUV500 has garnered 5000+ bookings in a mere 6 days and across only 5 cities. We are humbled by this overwhelming response to the launch and would like to thank customers for the confidence they have reposed in the XUV500."

Barely two days after this proclamation Mahindra altogether stopped accepting further bookings for the vehicle as it had already overshot the 8,000 mark, a demand figure that would take the company a minimum of 3-4 months to completely satiate. This was great news for Mahindra, but numerous interested buyers who sadly missed the train like Chiyaan from Pune, said, "I have seen the new XUV5OO (Read : Special Coverage) and also conducted a test drive but, was disappointed to know that the bookings have stalled till further notice."


But, for the few thousands in the country (and us media folk of course) who were lucky enough to get claim some form of proprietorship over the vehicle, performance and drive attributes were the buzz words, and our review (Read: Road Test) will surely help you shed some light on what you can expect the XUV5OO's handling capabilities both on and off the road.
However, direct feedback from existing owners of the chic soft roader nullifies a number of initial speculations surrounding the car at the time of its launch. Gurbir Singh from New Delhi has been driving the car for a few months now, and said, "The XUV500 is certainly an excellent car to drive around the city. It takes away the fatigue that one often experiences when driving hefty SUV on congested city roads. Power delivery is very smooth even at lower rpms and even in second gear this butch of a car moves along with an uninterrupted slide."
"The Bluetooth connectivity option on this car has made it very convenient for me to take phone calls when on the move. The SUV is spacious enough to comfortably carry 5-7 people, but when packed with passengers, rear luggage space takes a severe beating. But all in all it's a great car to drive around and makes everyday commuting a rather relaxing regime," added Gurbir.

There is no doubting the fact that Mahindra has really gone all out to bring to its loyal UV masses in India a car that will offer any owner a fair degree of pride of possession, but with a number of smaller towns still far from the XUV5OO's reach, the strategy behind meeting demands and ramping up productions sufficiently high in order to fulfill its promise of re-opening bookings for the vehicle in January 2012 will be a game changing proposition for the car's long term success and domination in India.