The Tecnomar For Lamborghini 63 Is 4000PS Of Bull Power On Water!
---
It takes inspiration from modern and classic Lamborghini models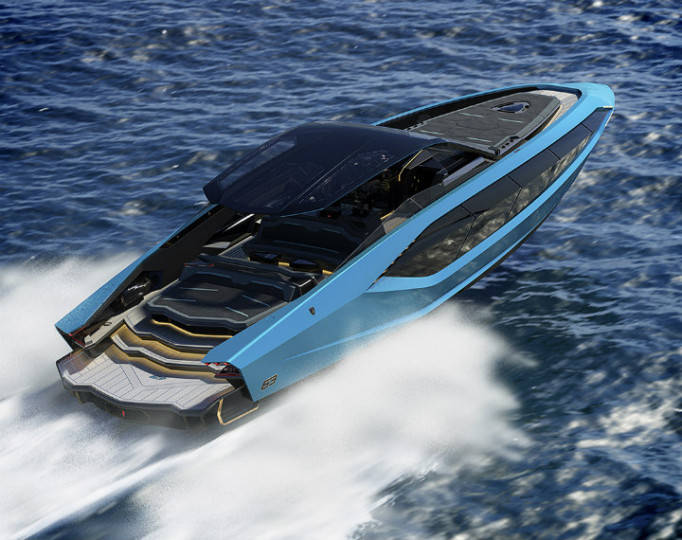 Its two MAN V12 engines produce a combined total of 4000PS with a top speed of 60knots (111kmph).

Design highlights include hull design like the Countach and Miura as well as bow lights similar to the Sián FKP 37 hybrid hypercar.

Lamborghini has equipped the cabin with things that you would find in a modern road-going model including the instrument cluster.

It will launch by 2021.
Lamborghini has been on a roll in the past couple of weeks with multiple surprises for us. First, the carmaker teased the upcoming SV12 hypercar and now, it has unveiled the Tecnomar For Lamborghini 63 motor yacht. A collaboration between Lamborghini and the Italian Sea Group, this yacht takes inspiration from modern road-going Lamborghinis.

The talking point of the Tecnomar For Lamborghini 63 is what's under the hood. It's powered by a couple of MAN V12 engines that produce a whooping 2000PS per motor for a combined figure of 4000PS. This propels the motor yacht to a top speed of 60knots (111kmph) to make it the fastest in the Tecnomar fleet. This isn't Lamborghini's first foray into powerboats, in fact, the manufacturer has been making marine racing engines for the Powerboat P1 racing series for a while now.

In terms of design, the Tecnomar For Lamborghini 63 features a sporty silhouette with design inspiration from various road-going Lamborghini cars. Some notable bits come from the Countach and Miura in terms of hull design, a hard-top design similar to some Lamborghini roadsters, and bow lights resembling the Lamborghini Terzo Millennio concept and the Sián FKP 37 hybrid hypercar.

It sports various features similar to a road-going car. Equipment like a Lamborghini supercar steering wheel, sports seats, and an instrument panel with all the navigation and control systems gives you the feeling of a Lamborghini car on water.

The Tecnomar For Lamborghini 63 motor yacht is expected to launch by 2021. What do you think of Lamborghini's latest contraption? Let us know in the comments below.
Add Your Comments