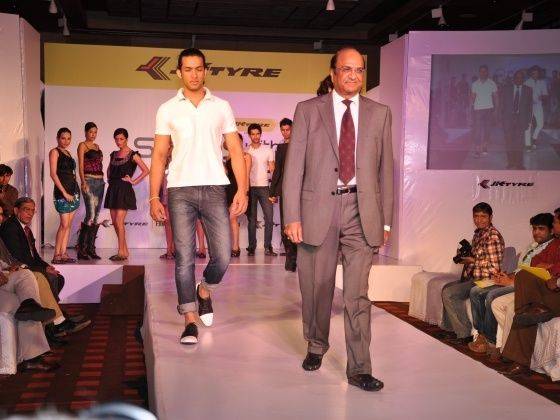 JK Tyre and FDDI have made an attempt to showcase the caliber of products that can be developed from old tyres and inner tubes. The idea behind this exercise was simple enough, as JK Tyre was looking at innovative ways to recycle old rubber in order to lower the amount of pollution and pressure on the environment. The concept titled 'Soles with Souls' is a proposal that JK Tyre wishes to take up with other tyre manufacturers and the industry as a whole.

No other tyre manufacturer in the world has ever carried out such an exercise to recycle old tyres and this outlook makes both business sense and works out to be rather environment friendly as well. In order to showcase the potential of this recycling concept, JK Tyres worked alongside the students of the FDDI, who in turn created over 40 pairs of shoes as well as some handbags, which were then exhibited through a stellar fashion show where the showstopper had to be Dr. Raghupati Singhania, Vice Chairman & Managing Director, JK Tyre& Industries who also walked the ramp wearing recycled rubber shoes and showing his dedication to the cause.
Speaking about this new business-innovation, Dr. Singhania exclaimed his bullishness on the success of such a project. He clearly stated that though this is just a proposal as of now, there is a strong inclination within JK Tyres to consider this as a business opportunity, for the potential is immense.

To put matters in perspective, about 88 million tyres are a part of 33 million vehicles that have been added to the roads in the last three years in India, which include two, three, four and six wheelers. Considering the amount of tyres sold, one must factor in the amount of used tyres that will also be collected across the nation. Burning old tyres, which is a rather hazardous and environmentally unviable solution, cannot be the final answer for old tyres. There is tremendous potential to re-use the rubber and it is with breakthroughs such as the 'Soles with Souls' concept that JK Tyre intends to encourage the industry towards recycling and introduce the concept which could become a revolution in the coming years.

In order to take this initiative forward, JK Tyre is looking at organizing a number of exhibitions and using their market standing to address industry platforms in order to generate awareness about 'Soles with Souls.' Furthermore the company doesn't just want to stop at shoes and handbags, but look at other innovative accessories that can be created out of old tyres and inner tubes.

This innovative idea might be one of many solutions; however there is scope to make this idea a great business as well and that is just what makes it so lucrative. JK Industries has created a fantastic 'green' proposal and we do wish to see this expand into a fruitful business in the coming years.