The Lister SUV-E Is A Go-Faster Version Of The Jaguar I-PACE Electric SUV
Nov 14, 2019
Views : 2682
---
Jaguar Tuning specialist has even tinkered with the faux exhaust notes of the I-Pace!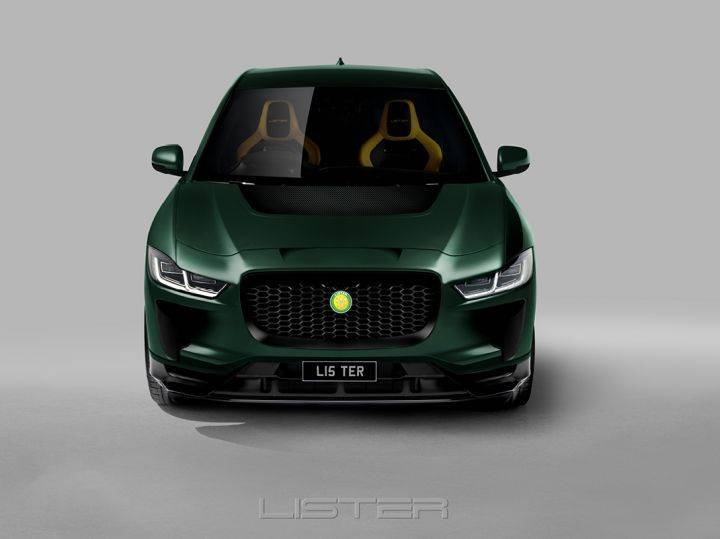 The Lister SUV-E's powertrain gets a software update that bumps up its power.
The tuned electric SUV is capable of achieving 0-100kmph in just 4 seconds.
It has also gone through a 100kg weight loss thanks to use of carbon fibre.
Other upgrades include titanium alloy wheels and carbon ceramic brakes.
It is expected to be priced around $1,61,000 (Rs 1.16 crore, excl. taxes).
There's no doubt that the World Car of the Year 2019, the Jaguar I-Pace electric vehicle (EV), is one fast SUV. It's electric motor churns out 400PS of power that helps it achieve 0-100kmph in 4.8 seconds. And if that wasn't enough, Jaguar plans to introduce a quicker SVR variant with more performance on offer. But if you can't wait long, there's an alternative. Lister, a Jaguar tuning specialist, has just introduced the SUV-E concept, a go-faster version of the Jaguar I-Pace.

Apart from giving the I-Pace a software update, Lister hasn't tinkered much with the powertrain. While technical specifications are yet to be revealed, Lister claims that the SUV-E can hit 0-100kmph in just 4 seconds. This makes it 0.8 seconds faster than the SUV it's based on. Apart from the tweaked software, the SUV-E gets a host of other upgrades too.
It has gone through a serious weight loss programme, shedding 100kg to be precise. This is all thanks to the generous use of carbon fibre. The lightweight material can be found in the front and rear bumpers, bonnet, spoiler as well as the front and rear splitter. Other interesting details include alloy wheels made out of titanium and carbon ceramic brakes. It also has wider fender flares and sits lower to the ground thanks to adjustable suspension. Lister has even tweaked the faux exhaust note to make the SUV-E sound louder and angrier.

To top things off, Lister offers the SUV-E with various customisation options. Reportedly, it can be had multiple colours, 60 leather trims and 200 stitching options.
The SUV-E will not be a full-fledged production model as Lister has stated that it will only produce as many SUV-E's as the demand requires. The SUV-E is expected to be priced from $1,61,000, which equates to Rs 1.16 crore (excluding import duties and taxes). Closer home, Jaguar is set to launch the I-Pace electric SUV sometime next year. Click on these words to know more.

Source - RoadandTrack
Jaguar I-Pace Alternatives