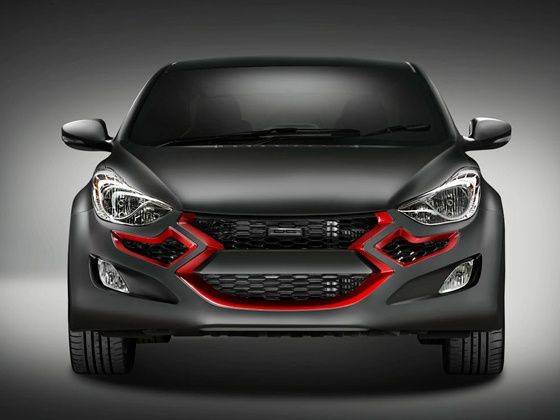 Only the best is good enough is more an attitude with positive connotations and while applying it to the automobile one could either go about achieving it sensibly (which is rare) or go right to the other extreme by being OTT (over the top).
Many a time it is also the lure to gild the lily, the costlier the better but then there comes along someone trying to aim for the middle ground. That someone in the Indian automotive scenario is DC Design which has just come up with an exquisite take on the Hyundai Elantra, done on a modest budget that also delivers exclusivity and in the process highlights how tastefully done minimalism can deliver big.
The key to the Elantra by DC Design is now in the way it has that terrific accent running the length of the car on its side. To many it might look like a masked tape job but in fact using traditional skills allied to the latest computer tools, there has a pure sheet metal swathe inserted along the character crease, raised sufficiently enough to deliver that 3-dimensional look and feel to it.
It is striking from afar but come close and let your eyes rove over it and you will be gobsmacked at the detailing and the craftsmanship! That all red strake on the matt black surface, like a rapier on the fluidic design of the base Elantra really sets this car up as a very exciting sporty automobile rather than just being a stylised family sedan.
The front end gets the same red highlights with inserts having been tastefully added to accentuate the front grille without messing up the car's basic hardpoints, meaning in effect every bit of original sheet metal has been retained as have the original headlights. What we could find was a delicate balance that Dilip Chhabria has tried to incorporate into this very edgy design which now tries to be even sportier while yet showing new found maturity.
The interior has another detail which might not be ground shaking to many who would term it just as a showpiece but move away from the all-red rosso corsa leather upholstery and you will find bits and pieces of carbon fibre generated and baked here in India for the first time!
DC Design has been playing with new age lightweight materials and while there is more happening with this material on its showpiece Avanti mid-engined sports car (set to hit the roads later this year), the dashboard and other detailing on this Elantra are the first manifestations of carbon fibre being employed.
I am sure that just as DC did with his fibreglass add-ons over a decade and a half ago for standard road going Marutis, there will now be a move into the carbon fibre craft being progressively increased in many of his bespoke creations. The present Elantra is a one-off but if user reviews are positive, DC expects to make many more of these on the same lines as his successful production runs of Innovas, Fortuners, Dusters et al.