F1 2020: Styrian Grand Prix Winners And Losers
---
A more predictable race and who tackled it best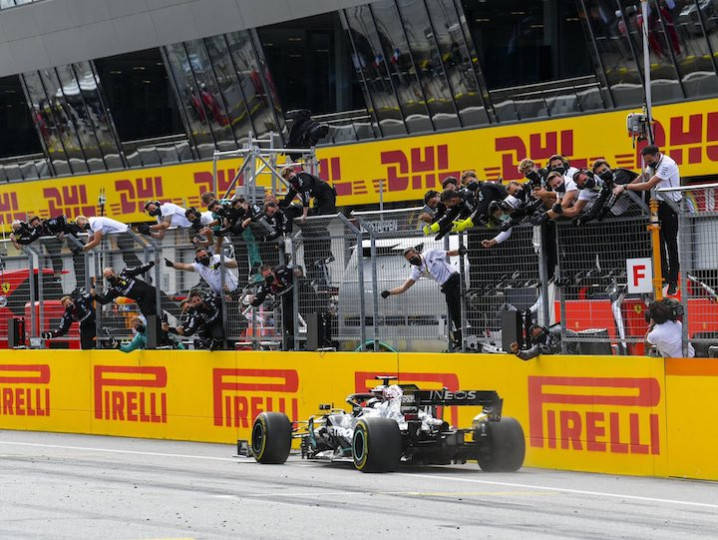 It has been an odd and unpredictable year, to put it mildly! That oddity is reflected in F1 starting its 2020 season last week due to the COVID-19 pandemic and having only ten races scheduled so far. Not only that, the first two rounds have been held at the same venue. While Valtteri Bottas won the season opening Austrian Grand Prix, Lewis Hamilton took the win at today's Styrian Grand Prix.
Called so after the state of Styria (and used for the first time ever) that the Red Bull Ring is situated in.
The race went a lot more according to the form-book that had emerged after pre-season testing before the season was suspended. Mercedes dominant, Max Verstappen their closest challenger, Ferrari totally hopeless and the midfield being very closely fought.
So let's look at who the winners and losers were for the second round of the 2020 FIA Formula 1 World Championship.
Winners

Mercedes - The defending world champions looked pretty dominant last week but a three-place grid penalty and then a five second time penalty in the race took Lewis Hamilton off the podium. The six-time world champion displayed his wet weather prowess in a mad qualifying session and then controlled the 71-lap race from the front. His teammate Valtteri Bottas had brake issues, which held him back in qualifying where he was fourth. In totally dry weather conditions, he took his time to move up and eventually beat the only annoyance to the mighty Mercedes team.
Max Verstappen - The Flying Dutchman didn't hold on to his second place in qualifying, but he sure gave it everything he had. Red Bull Racing-Honda are clearly the second best team in F1 after Mercedes but they are lacking in performance that would help them draw level with the reigning world champions. Red Bull Racing's Helmut Marko had been reported as saying that power unit supplier Honda are being too 'conservative' with their engine settings. Nonetheless, when Bottas came after Verstappen to pass him late in the race, the Dutchman made him really work for it. A third place finish was the best Verstappen could have done had Bottas qualified at least in second place, if not on pole.
The Midfield - It is a boon to F1 fans that we are no longer living in the days of television coverage of a race being handed by the director of the local broadcaster. F1, which produces its own race feed that is carried around the world, is aware that there is a mighty battle for which team will be the 'best of the rest.' Although, with Ferrari being so woefully uncompetitive, it could turn out to be a battle for third place. Just under 1.5 seconds covered McLaren-Renault's Lando Norris, Racing Point-BWT Mercedes' Sergio Perez and Lance Stroll and Renault's Daniel Ricciardo. Damage on Perez's car while trying to snatch fourth place from Red Bull Racing's Alexander Albon was a contributing factor. However, based on lap times and on-track action, F1's championship within a championship could be extremely fun to follow.
McLaren - A third and fifth place finish for Lando Norris and Carlos Sainz Jr, respectively, in the opening round and fifth and ninth for Norris and Sainz today means that McLaren are still placed second in the constructors' championship. After an abysmal ninth place in the constructors' championship in 2017, F1's second most successful team of all time have been making their way back towards the front of the F1 field. They were fourth in last year's championship and assuming that Red Bull and Ferrari perform as expected, they could take third place in 2020. Lando Norris is still only 20 years old but appears set to lead the team into a bright future.
Losers

Ferrari - Well, this was an easy one wasn't it? Clearly Ferrari is lacking in horsepower after the FIA forced them to alter their power unit - the details are still under wraps. However, they now appear to be lacking in harmony and common sense from the drivers too. In only the opening lap, Charles Leclerc tried to pass teammate Sebastian Vettel when there was no gap available. Damaging his own car and Vettel's to the point that both had to retire, Leclerc was contrite afterwards. But it won't be of much consolation to Ferrari's loyal tifosi. They expect better from the team but there seems to be little by way of hope right now. Ferrari brought some of the upgrades it was originally going to introduce in next week's Hungarian GP. Both drivers felt it made the car better to drive but we will not fully know as the team was unable to complete a race distance with either car.
Renault - The French squad showed some fight in the opening two rounds but it has yet to bring both cars to the finish of a race in 2020. Esteban Ocon finished eighth last week while Daniel Ricciardo retired and in the Styrian GP, Ricciardo was eighth while Ocon was forced to retire. The team has officially announced that Fernando Alonso is returning to F1 with them in 2021, but the Spaniard has already told them to focus more on 2022. That is when F1 will be radically different with sweeping new technical regulations in place so it is unclear how much Renault will commit to getting the most out of 2020 and 2021.
Pierre Gasly - The Frenchman who has settled into a good groove at Alphatauri-Honda was unable to repeat his points scoring finish from last week. Fifteenth was the best Gasly could manage while teammate Daniil Kvyat took tenth and gave Red Bull Racing's 'junior' team a championship point.
Racing Point-BWT Mercedes - Their drivers did finish the Styrian GP in sixth and seventh and they are fourth in the constructors' championship, but it has to be said, that more was expected of them. With Ferrari way off the pace, McLaren-Renault appears to have leapfrogged Racing Point. The team that many expected to see on the podium this year - thanks to copying the 2019 Mercedes - appears to be underdelivering on its expectations. Even with only eight more races left in the season - more are likely to be added - the team will get more chances to aim for third place. For the time being, though, McLaren seem to have pulled the rug from under them.
Add Your Comments