F1 2020: Austrian Grand Prix Winners And Losers
---
Who shined and who fell short at 2020's long awaited season opener?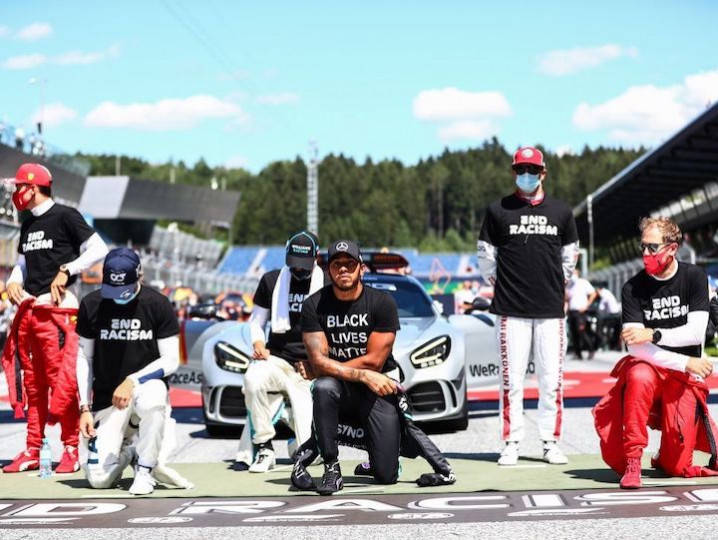 The long awaited 2020 F1 season opener resulted in a win for Mercedes' Valtteri Bottas ahead of Ferrari's Charles Leclerc and McLaren-Renault's Lando Norris.
It certainly was not the podium people expected and there was plenty of drama that led to it. Here is our list of winners and losers for the long awaited first installment of F1's 70th anniversary.
Winners

Valtteri Bottas - This is an easy one. Determined to make his mark and stand up to Lewis Hamilton, the Finn won a lights to flag victory to get his season off to the best possible start. The Finn outqualified Lewis Hamilton by 0.012 seconds in qualifying despite an off-track excursion. Bottas was fortunate that footage that was not available till raceday showed Hamilton not slowing down for yellow flags shown when the Finn went off. The defending champion was dropped to fifth on the starting grid, which made the Finn's life much easier.
Formula 1 - With strict safety measures in place, F1 held the Austrian Grand Prix without a hitch. Ferrari and Red Bull Racing-Honda for not adhering to social distancing and personal protection measures when Sebastian Vettel went up to Christian Horner and Helmut Marko for a chat. That aside, there was due diligence from everyone present. A video of Racing Point-Mercedes' Sergio Perez getting a swab stuck deep into his nostril made everyone squeamish but it was necessary to show that the races were being held responsibly. F1 also made a statement to end racism in support of the Black Lives Matter movement. Some drivers kneeled, while others stood during the pre-race ceremony on Sunday but all were united in support of a movement that appears to be more than just a passing phase.
F1 fans - Sadly for those who are willing to pay money to attend F1 races, all the events this year will have to be held behind closed doors. But F1 fans were still treated to a hell of a race! Despite Mercedes appearing untouchable in qualifying, the Austrian Grand Prix went down in F1 history as a classic for many reasons. Valtteri Bottas won but drama unfolded in his wake as two penalties for Lewis Hamilton - for qualifying and raceday incidents - shook up the running order. Not to mention that three safety car periods kept things close as F1 saw the fewest finishers in a grand prix since 2015. Only 11 drivers crossed the finish line, with seven of the nine drivers falling prey to reliability issues.
McLaren - The second most successful team in F1 history is currently second in the constructors' championship after Lando Norris took a sensational third place and Carlos Sainz finished fifth. Norris got an additional point for setting the fastest lap of the race on the last lap of the 71 lap race to reduce the gap to Lewis Hamilton to under five seconds. This was crucial as a five second time penalty to Hamilton for his incident with Alexander Albon dropped Hamilton to fourth place. What was even more impressive was that Norris had the pace to qualify fourth on merit, before being promoted to third after Hamilton's grid penalty.
Charles Leclerc - After qualifying, it was clear that Ferrari had no business being anywhere on the podium. Leclerc could only manage seventh while outgoing teammate Sebastian Vettel was just 11th and failed to make it to the third and final segment of qualifying. The combination of three safety car periods, Max Verstappen's retirement, Albon getting hit by Hamilton and then being on soft compound tyres at the end of the race allowed Leclerc to make a late race charge. Leclerc passed Norris and Racing Point-Mercedes' Sergio Perez within three laps to move up to third place. That became second place after Hamilton's penalty was applied.
Losers

Red Bull Racing-Honda - Tipped to be the second best team to Mercedes based on pre-season testing form, Red Bull Racing definitely had a weekend to forget. Neither car finished the race and one was . Being well aware of the pace deficit to Mercedes, Verstappen opted to start the race on medium compound tyres after using them in the second part of qualifying. A driver has to start the race on the compound used for time set in Q2. In the third and final part of qualifying, when drivers go for pole, Verstappen was over half a second slower than the two Mercs. The Dutchman, who won last year's race, had hoped to run long and then switch to the soft compound tyres late in the race. Verstappen's race ended with an electronics failure on lap 11 and teammate Alexander Albon was spun around by Lewis Hamilton before also retiring with electrical issues.
Lewis Hamilton - Away from his campaigning for social justice and show of solidarity by the drivers, Hamilton's weekend was one to forget. He is attempting to match Michael Schumacher's record seven drivers' titles this year. However, the start of his campaign to do so was scuppered by a three-place penalty on the starting grid. Then came a five second time penalty in the race for tagging Albon's right-rear tyre while the Red Bull Racing-Honda driver was well ahead of him following an overtaking attempt.
Sebastian Vettel - It seems like the former four-time world champion is hell bent on rubbing salt into his own wounds. On-track incidents that cost him the 2018 title, getting beaten by a driver in his second F1 season in 2019 and now another on-track incident where he was at fault. Not to mention, that he failed to make it out of the second part of qualifying and could only manage eleventh on the starting grid. To make matters worse, he tried a foolish overtaking move on Carlos Sainz Jr. and spun on Sunday. Sainz just happens to be the driver who will replace Vettel at Ferrari next year.
Racing Point-BWT Mercedes - The 'pink Mercedes.' That was the name given to the RP20. A remarkably accurate copy of the 2019 Mercedes car, it was as fast as it was expected to be. Racing Point made huge gains as compared to last year and were expected to be in the hunt for a podium in the season opener. Perhaps it is a bit harsh to call them 'losers' as they were still, by far, faster than Ferrari in qualifying. However, they didn't account for McLaren and Lando Norris being on a charge or Charles Leclerc dragging the Ferrari higher than it deserved to be.
Bernie Ecclestone - The former commercial boss of F1 was forced to keep a low profile following his controversial remarks regarding racism that prompted F1 to publicly distance itself from it. Or rather, socially distance themselves from him! Earlier in the year, Ecclestone was also vocal about calling off the 2020 season entirely. But if contact sports like football can get play underway, then why not F1? The mere fact that the season was kicked off with all the precautions in place and a statement was made against racism was proof of how irrelevant Ecclestone has now become.
Add Your Comments