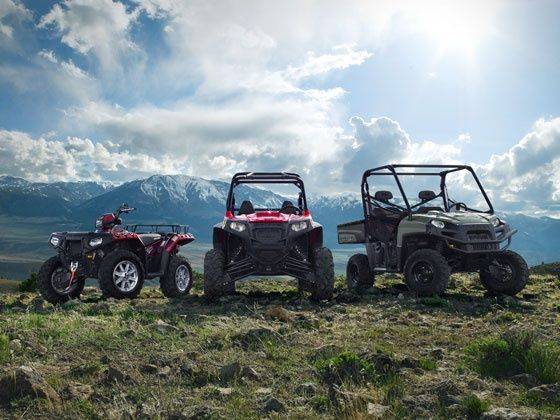 Off-road vehicle maker Polaris, which recently entered the Indian market will be showcasing their range of off-roaders at the 2012 Delhi Auto Expo. Polaris' current line-up for India includes the Sportsman range of ATVs, Ranger RZR Side by Side off-road vehicles and Snowmobiles.
The Polaris Sportsman range of ATVs are termed as 'quad-bikes' (because they have four doors and no passenger cabin, like all ATVs). The Sportsman range of ATVs come with On-Demand All-Wheel Drive System that engages four wheel drive automatically when wheel slippage is detected. The ATV gets Independent Rear Suspension which minimizes body roll and ensures a smooth ride. Polaris's range of Sportsman ATVs can be specified with single cylinder or twin cylinder engines ranging between 455cc to 850cc in the high performance models. Every Sportsman ATV comes with an automatic gearbox to make hardcore off-roading a little convenient.
The Polaris Ranger RZR off-road Jeeps are built exclusively for hardcore off-roading and are not road legal. No SUV of any kind can challenge a Ranger RZR off-road. The Ranger RZR can be had as a two seater, four-seater or even as a six seater vehicle. The Ranger RZR model line-up is as wide the Sportsman ATV range, with single cylinder to twin cylinder engines ranging from 455cc to 760cc High Output (H.O.) fuel injected petrol engines and a 3 cylinder 904cc indirect injection diesel engine. The entire fleet of Polaris Ranger off-road vehicles are equipped with On-Demand All-Wheel drive system, Electronic Power Steering, Engine Braking System, Hill Decent Control, Lockable Centre Differential and long travel suspension with Double Front A- Arms and Independent Rear Suspension. Overall, the Ranger series of vehicles from Polaris will bring a different level of off-roading high to our country with their phenomenal off-roading capabilities
The first batch of Polaris Snowmobiles in India was booked by the Indian Army even before the company's official launch in India, which indicates their popularity and significance worldwide.
All in all, the Polaris range of vehicles will bring a new level of off-roading high in our country. And considering the extensive plans to boost our tourism industry the Polaris range of vehicles should have a good upcoming customer base.
Cars to Watch Out For : Polaris Sportsman ATVs, Polaris Ranger RZR Jeeps and Polaris Snowmobiles
Expected Price Range : Rs. 2.5 – 20 lakhs
Polaris ATVs : Rs. 2.5 lakh onwards
Polaris Ranger RZR : Rs. 12 – 20 lakhs
Polaris Snowmobiles : NA
Competition:
| | | |
| --- | --- | --- |
| Car | Competitor | Price |
| Polaris ATV | NA | NA |
| Polaris Ranger RZR | NA | NA |
| Polaris Snowmobiles | NA | NA |
*Ex-showroom Delhi prices