With 1000PS Of Electric Propulsion, The Humvee Is Ready For The Future
Oct 21, 2020
Views : 4318
---
The recently unveiled all-electric pickup combines off-road thrills with premium creature comforts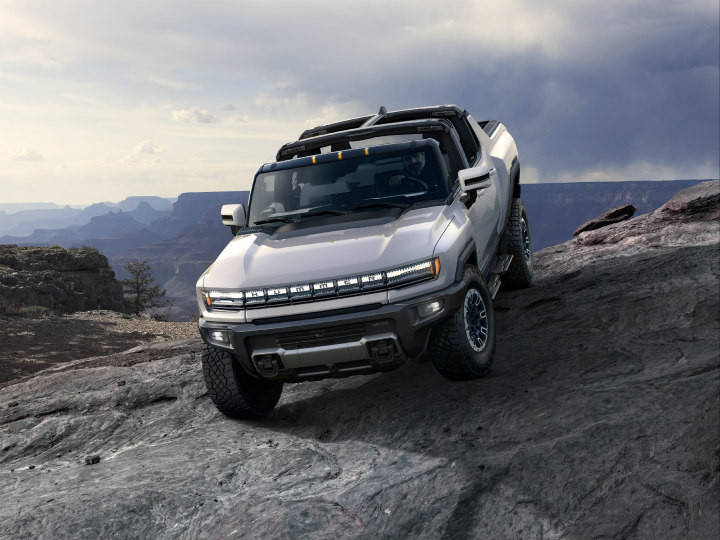 Three electric motors gives the Hummer pick-up EV 1000PS as well as a 3-second 0-96kmmph sprint time.

Off-road highlights include four-wheel steering, adaptive suspension and a sideways-moving Crab mode.

Design pays homage to its predecessors but with sleeker, more modern styling.

Cabin features a 12.3-inch digital driver's display, 13.4-inch touchscreen and a Bose 14-speaker sound system.

Production is slated for 2021, with three more variants to be introduced per year.
GMC has just revived the Hummer moniker with the debut of the Hummer EV. As the name suggests, unlike its predecessors that were gas guzzlers, it is an all-electric pick-up. This has put into question whether the electrified Humvee is really a worthy successor to the H1, H2 and H3. Thankfully, its all-electric nature only boosts its appeal in the fossil fuel-wary world we live in today.

Let's get to the crux of the Hummer EV, its all-electric powertrain. It consists of three electric motors giving the premium off-roader a whooping 1000PS of grunt and 15,592Nm of torque, making it the most powerful Hummer ever. All this gives it a 0-96kmph sprint time of just 3 seconds, which just about matches the Tesla Cybertruck and shames a lot of internal combustion-engined cars.

Power aside, while GMC is yet to reveal the battery capacity, it will utilise Ultium batteries and boast a claimed range of 563km on a single charge. It also supports 800-volt DC fast charging with chargers compatible up to 350kW.

Another X-factor to the GMC Hummer EV is its off-road capabilities. Aside from four-wheel steering and adaptive air suspension, it gets what GMC calls Crab mode. The meaning is pretty much in the name as the Hummer EV can move sideways with its wheels locked in one direction at low speeds based on driver inputs. While towing capacity figures are yet to be revealed, it is likely to be fairly competitive. A towering set of 35-inch tyres round off the off-road bits.

On the outside, the Hummer EV continues to pay homage to its predecessors with a menacing presence. But it has been given some modern twists with new LED headlights joined by an LED light bar running across the entire grille. The grille continues to retain seven slats with the Hummer nameplate. Other highlights include skid plates, demountable targa roof panels as well as steel underbody steel plates to protect key components like the battery packs.

GMC has kept the Hummer EV fairly premium on the inside, with features like a 13.4-inch touchscreen infotainment system, a 12.3-inch digital instrument cluster and a 14-speaker Bose audio system. The screens are also beneficial for off-road thrills as Ultravision provides eighteen camera angles for better navigation around the rough stuff. There's also "Super Cruise" autonomous driving tech for aiding lane changes and more hands-free driving bits.

With everything that the GMC Hummer EV packs, we can safely say it not only carries on the Humvee's appeal but further enhances it. Priced at USD 112,595 (Rs 83.03 lakh), production is set to start in 2021 with another three variants being launched in the coming years. Unfortunately, it has very less chances of making it to India as GM no longer sells its cars here. Other than the Tesla Cybertruck, the Hummer EV will take on the upcoming Ford F150 Electric, Rivian R1T and the Bollinger B2.