2017 EICMA : UM Motorcycle Enters 125cc Space With Some New And Old Offerings
by Hiral
Nov 9, 2017
Views : 7555
---
An electric cruiser, two Scrambler bikes, an On/off-road Adventure bike and a Vegas version of the Sports S were amongst the new models on display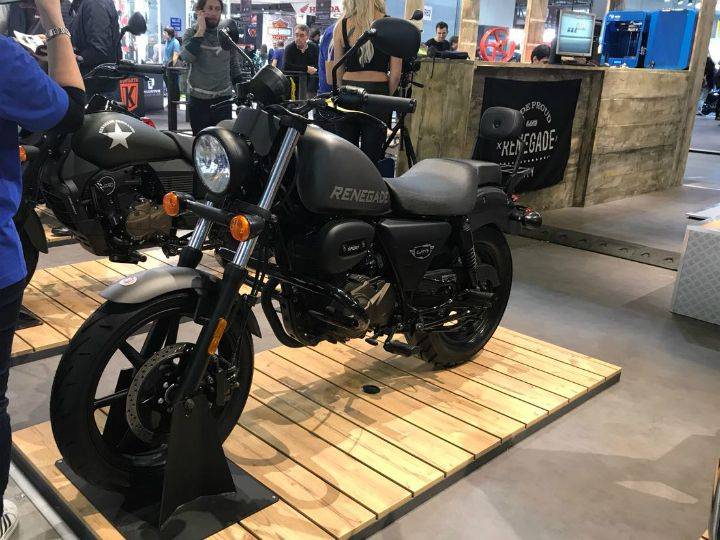 UM Motorcycles took us by surprise at the Milan Motorcycle Show with its new and somewhat unexpected offerings. The old boys from the Renegade family - the US Renegade Commando Classic, the Renegade Commando, Renegade Sports S and Commando Mojave - were there, but this time they were sporting a 125cc engine, which is by far the lowest offering from UM.
Other than that, we also saw several new offerings:

Renegade Vegas Sport S:


The Renegade Vegas Sport S is based on the Renegade Sport S. While it's a 125cc bike, if it makes its way to India, you can expect a 300cc version of the same.
The Vegas has similar lines as the Sport S, but gets a single-seat design and a rear seat cowl. The bike gets a black paint job with orange highlights and blacked out parts. It gets a round LED headlamp. The front forks get old school rubber gaiters. The dimensions are similar to the Sports S while the suspension, brakes and alloy wheels too are carried over.

Renegade Scrambler X:


The Renegade Scrambler X is a new motorcycle from UM. And the company showed off two motorcycles based on the same platform. The Scrambler X is an Enduro bike. It gets spoke wheels with gold rims, off-road tyres, high set front mudguard, bar-end mirrors, stomp grips on the fuel tank and two panniers. It further has LED headlamp and what appears to be a tuned exhaust. It has long-travel USD forks at the front and a long travel monoshock at the rear. The bike was showcased with a 125cc engine but if UM decides to launch it here, expect a 300cc version of the same.

Cafe Renegade:


Another bike based on the Scrambler is the Cafe Renegade. The Cafe gets alloy wheels, a rear seat cowl, a small bikini headlamp fairing, rim tape and black and white livery. UM seems to have been inspired by Ducati's Scrambler range and hence, has come up with its own Scrambler lineup. We ain't complaining.

UM Adventure TT:


The Adventure TT appears to be an on/off-road bike with a liquid-cooled, FI, 125cc, single-cylinder engine. The design of the bike looks strikingly similar to the BMW F 650. It has a high-rise handlebar and large, almost vertical windscreen, half fairing, an analogue-digital instrument cluster and an aluminium rack at the rear. It further has on/off-road tyres mounted on what appears to be a 19-inch front spoke wheel and a 17-inch rear spoke wheel. It has long-travel front and rear suspension and high-set exhaust to allow for trail riding.UM's If UM decides to get the Adventure TT to India, expect it to come with a 300cc heart.

UM Electric:


The American motorcycle company also showcased an electric cruiser concept at EICMA. However, it has not disclosed any specs about the bike yet.

UM set camp in India in 2014 partnering with Lohia Auto. They have a plant in Uttarakhand that manufactures the 300cc Renegade lineup. They will further be producing more 300cc bikes there and a portion of it is intended for export. We expect the future India-bound bikes to come with a 300cc motor instead of the 125cc liquid-cooled motor as the cost for setting up tooling for a new engine will be expensive considering the kit and features the bike gets. And hence, a 300cc bike will make more sense. To give you a perspective of how such a bike would perform, refer to the Sports S sold in India. The 279.5cc, single-cylinder engine that powers all of UM's bikes in India churns out 25.15PS of power and 23 Nm of torque and gets a 6-speed gearbox.
Further, in our recent interview with the CEO of UM India during the launch of the Renegade Classic, he had spoken getting three new bikes at the Auto Expo in 2018, one scrambler, one cafe racer and one Adventure bike, so now we know what to expect from UM next year.

While this was just a tiny glimpse of the UM stall at EICMA 2017, click here for a complete look at the biggest motorcycle expo in the world.