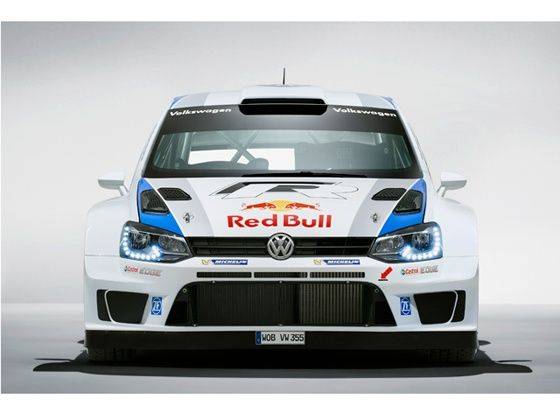 You've seen exactly what it is capable of on a race track here in India, and while that may have done little to boost Polo sales in the country, the Volkswagen Polo R Cup and the smart looking sub compact hatch in particular have been solid ambassadors for the German firms deep rooted motorsport ambitions worldwide.
Far away on the streets of Monaco it was the start of new chapter in firm's international motorsport aspirations where all gathered to applaud two very special Polos, one of which will participate in this year's FIA World Rally Championship (WRC) for the very first time in the sport's history.
Developed and massively kitted for the World Rally Championship, the Polo R WRC is a 315PS strong race machine, sprints from a 0–100 km/h in 3.9 seconds. Visually the Polo rally car is every bit as exciting to look at as anything we've seen drive past gruelling WRC stages over the years.
As impressive as Volkswagen's Polo R WRC rally car is their line-up for 2013 starting with Sébastien Ogier together and his co-driver Julien Ingrassia (both France), and Jari-Matti Latvala and his co-driver Miikka Anttila (both Finland). Both have seven World Rally Championship race wins to their name.
As of the Rally Portugal, the fourth round of the World Championship calendar, Volkswagen plans to run a third car. At the wheel will be two-time Intercontinental Rally Challenge (RC) champion, Volkswagen Junior driver Andreas Mikkelsen (Norway, new co- driver: Mikko Markkula, Finland).
The production counterpart and namesake of the rally car in Monaco: the Polo R WRC Street is a tamer civilian version of the rally beast. It also possesses a very imposing exterior, with its white paint job, blue/grey stripes, WRC-style bumpers and 18-inch alloy rims.
Under the bonnet is a powerful 2.0-litre TSI engine that produces 220PS and 350 Nm of torque. If you manage to take it from 0 to 100 km/h in 6.4 seconds on a public road (highway advisable) consider yourself a true connoisseur of its real world potential.
Compared to the rally model the production version is a little more subdued with design elements like for example horizontal stripes running the length of the sides and stripes on the roof, which give the car a cleaner look than the Wörthersee version. Even on the inside the street version is decked to enhance on road performance keeping the driver strapped into Leather and Alcantara bucket seats with a three-spoke steering wheel and aluminum pedals for making those precise manoeuvres.
So how well would Volkswagen's opening tryst with the world of rallying come to pass and how skilfully would its specially developed Polo R WRC rally car tackle asphalt, gravel, mud, ice and snow at the 2013 World Rally Championship? Only time tell.