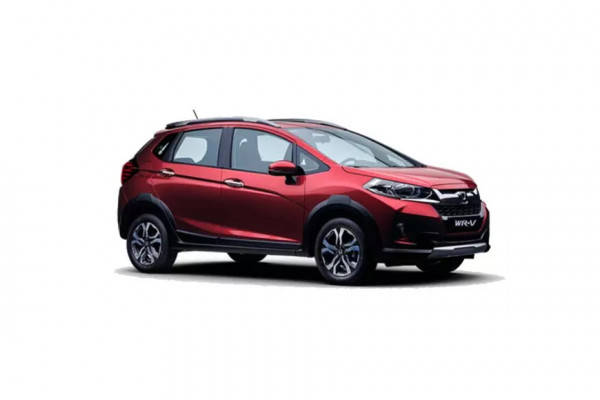 Honda WRV 2017-2020
Rs. 8.08 Lakh
Discontinued Model since 2 Jul 2020
---
About Honda WRV 2017-2020
To take on the likes of Hyundai i20 active and Etios Cross, Honda has launched WR-V in Indian market in the price range of Rs7.67- 9.92 lakh (ex-showroom, Delhi). The WR-V is based on the Jazz platform though it looks entirely different thanks to the beefed-up wheel arches, all-around cladding, and aggressive nose with thick slatted chrome grill. Interiors are made up of quality material and asymmetric theme of the Honda continues inside the WR-V also. There are many first-in-class features like sunroof and infotainment system with inbuilt Wi-Fi connectivity for luring millennials. Honda W-RV is powered by a 1.2-litre petrol and 1.5-liter diesel engine capable of putting out 89PS/110 Nm and 100 PS/ 200 Nm respectively, mated to the 6-speed manual transmission with no automatic option available for now. Honda is offering WR-V in two trim levels -S and VX in both petrol and diesel guise.
Honda WRV 2017-2020 Overview
Starting December 2019, Honda is offering an Anytime warranty which can cover the car for up to 10 years and 1.2 lakh km.
Honda has added a new V variant for its compact SUV, the WR-V. Available in the diesel variant only, it gets some additional features when compared to its base-spec diesel variant. Priced at Rs 9.95 lakh (ex-showroom), it costs Rs 70,000 more than the base-spec 'S' trim level. Apart from the introduction of the new variant, the base-spec 'S' and top-end 'V' trim levels gets some additional features.
These updates have pushed the prices of the WR-V up by Rs 32,000 depending on the variant you pick. The WR-V now starts from Rs 8.15 lakh and goes up to Rs 10.35 lakh (ex-showroom, Delhi).
Honda WRV 2017-2020 Colours
WRV 2017-2020 Alternatives
Must Read Questions & Answers Before Buying WRV 2017-2020
Q. Price of scorpio s11 dashboard?
For that, we'd suggest you please visit the nearest authorized service center of Bajaj Motors as they would be able to assist you with the exact price and availability of the spare parts.Follow the link and select your city accordingly for service centers.
View More Questions
Q. Which is best for performance EcoSport or WRV (petrol version)?
According to me honda any time better then ford as i currently own ford ecosport then to what honda delivers is great value for money and high end quality product which is well tested and build according to india condition. Honda is know for its quality as in ford they highly lack in quality as there is always issue in electronic sensors engine indicator light turns on any time inspite of regular and time to time service plus as we know water logging condition in mumbai ford highly fail if you take drive car even 2 ft and above water level car stops working and then there is huge amount of bill you need to pay to get car back ok track basically ford don't invest and build the car according to indian wether condition this goes specially for ecosport. So highly suggest go for wrv
MIleage - WRV I will divide comfort in several aspects: 1. Seating comfort 1st row - Ecosport (better back and cushion support and feel than Honda seats) 2. Seating comfort 2nd row - WRV (Very well suited for long drives for 3 persons. Bucket seats are better positioned compared to Ecosports) 3. Headroom, legroom and width - WRV (Honda has put in a lot of thought and provided us with an awesome usage space) 4. Luggage space - WRV. 5 . Seating position - Ecosports (A little edge there as seat position of ecosports driver seat is approx 50 mm higher than WRV) 6. Sunroof - WRV 7. Body roll - Ecosport Mileage - both are equally good in petrol variants; for diesel - definitely WRV. Resale price - ECO sport will fetch a bit more than WRV though not drastic difference. Value for money - IMO both are equally good but still if your family is of 5 persons and prefer a top end petrol car, WRV should be the choice. Other wise Ecosport should suit you just as fine.
For power EcoSport and for fuel efficiency wrv.For engine reliability and long-term life Honda is best.Now I live in Canada so we have more options in Toyota's and Honda's.
View All Answers
Q. Is buying Honda WRV worth for money?
Recently I bought new Honda WRV 'V' model diesel 2019.Before this car ,I owned Fiat linea classic diesel 1.3 multijet car which is now an old legendary discontinued model.I was also tense that which new car I should purchase after fiat linea.I was just looking inlieu of linea.When I drove Honda wrv and witnessed it's tough body and driving behavior I selected WRV .Now I am a happy and satisfied customer with complete sense of relaxation.Few important features are (1) tough built and ruggedness (2) safety features 5 star safety rating because it is based on jazz platform (3) Fully loaded infotainment and best navigation in its segment (4) 16 inch alloy wheels (5) Rear parking camera and sound sensors (6) Multiple ports for USB,Hdmi etc(7) Last but not the least,the wellbehaved Honda sales personal(Libra Honda,Dhanbad),no hidden charges,no false commitments so you will never see any TV ad of Honda cars because they serve the Indians in true sense
You have to lower your expectations with a petrol WRV. The car struggles to give you 13Kmpl even after the first three services. The car is meant for driving under 80 Kmph only and has a slow pick up. I had always wanted to own a Honda car after owning other cars for over two decades, but my WRV has left me completely disappointed. Initially, i was told that the mileage and pickup will improve after each service and constant usage, unfortunately nothing has changed even after a year. So, Like me, based on test rides and reviews if you are planning to buy a WRV, AVOID IT, try and drive a used car to know how it really matches to your requirements. Best is to avoid rather than regret it later. Also hoping against hope that somebody can help me to fine tune the pickup
Yes, I agree. I had pre booked this car being a HONDA and Jazz fan. 30K kms driven. Did a road trip from Pune to Jaipur (3300 Kms / mileage: 16kmpl) and another one Coastal Karnataka (1400 kms / mileage 14kmpl). Not disappointed though, maybe my expectations were high.
View All Answers
View More Questions
All WRV 2017-2020 Questions and Answers
WRV 2017-2020 User Reviews
2.3

The pickup of the car is good, However severely lacks in average in its segment.A/c cooling is not so good enough.

5.0

I have covered all over india about 15000km facing zero trouble.Comfort is well.Driving is easier.Good pickup.Luggage space is very good.

3.7

Overall it's a satisfictory vehicle but it should more featured in this rate like there should be rear ac vent.

5.0

The average and the performance is the best in class.The comfort is also the best especially for long drives, Even with 5 adults and 1 child in the car.I get about 21 kmpl with ac (deisel version).

4.3

Best petrol engine in entire segment Very calm smooth drive and premium experience
All User Reviews
1.0

I from Pune and owner of WRV Petrol SMT Model,Whereas I totally disappointed by WRV Pertrol performance and its Pick up issue Specially in Slope/Ghat section, In traffic situation ..I repeatedly check with my dealer on same from First Month of Purchase to Till Date (Since more than half year)..but still they does not provide any solution and now it fustrating situation for me. Previously I owned the Honda Brio and based on its performance I like honda to consider to go for WRV model also I have shared my requirement at the time of purschasing with Sales Team as well including Safety Feature and Performance ..Whereas they recommanded me WRV Petrol engine But now It seems they have cheated me as my requirements are not getting fulfiil.Now It is life threatening experience with WRV Petrol issue due to its Pick and Performance issue .. Now I faced horrible issue with WRV Petrol car performance ..My car is not moving forward on slope, it get rolled back where as having heavy traffic on road.. it almost hit back vehicles ..This happens multiple time ..Also when I check with dealer I came to know that they are already aware about this issue and the got answer that they do not have any option to resolve this as all engine are calibrated digitally/ It as per designed. In each visit I got answer from Deccan Honda representative that after servicing It will work better but Its not true I am still facing same issue.I have invested my hard earn money to buy this vechicle for Family. Whereas It look like Honda/Dealer dosent care about customer and their issue and playing with other lives.Now It almost a year that I am following up with them for same issue and still not get proper resolution .. Now I feel that Dealer need to take this vehicle back or solve my issue and its their resposiblility that they have delayed on provinding solution.

4.3

I own Honda WRV Petrol VX variant 2018 Model bought on 2018 December from Dakshin Honda ,Lavelle Road ,Bangalore .Its almost 1.5 yrs old .Till now no issues .During the lockdown perriod used to take the vechicle every week for around 5 kms .on May 10th the after travelling ~20Kms parked in a Mall .When i come back & tried to start Car is not staring at all . I towed the vechile and given to nearest Service center (Saphire Honda Service center,Bangalore) .The identied that its fuel pump issue. The part is not availblae like that they informaedIts almost 21st Day today (from May10th) .Honda not providing the part to service center.I had totally disappointed with the Honda Qulaity now !!!!.Service center in bangalore has to depends on Other states (chennai ,pune ) for the Accessaries (Fuel Pump etc)...in a city like bangalore !!!.Still waiting for the car to be ready . Hope Honda will rectify this issue soon

3.7

I bought this vehicle in 2018 as a family car and i am quite happy with its exterior and interiors. However, i experienced its poor pick up in crowded roads and have to use lower gear which is not a good feature of the vehicle. Another instance, within 2nd month of its purchase, when traveling to Ooty, on one of the uphill roads, the engine just GAVE UP! and just dint budge because the accelerator and clutch was a failure!!When i reported this to the Honda service supervisor, they dint take it seriously and said the vehicle has to undergo couple of services to show up its true side!!Now it gets interesting...after using 25500 kms within 1 year 3 months, Clutch pressure plate and Fly wheel GAVE UP!! and i ended up spending Rs. 25,000 for putting up new parts.Now when i complained that this should not have happened since it is driven 25000 kms and not even 2 years, they came back consoling me that these Wear and Tear happens when you drive in city??What is more annoying is that these service supervisors wont allow customers to speak to mechanics who actually repaired your car, neither these service supervisors have any expertise??Engine and maintenance wise, i am against Honda WRV.

3.0

I have seen some reviews related to petrol version and hence I am adding mine also. Those who reviewed excellent is for the diesel version(see the mileage) and the disappointed reviews are for petrol version. I am one among the disappointed and cheated owner driving petrol version for the last 20 months. The dealer did not solve my problem regarding low pick up. So I contacted honda. They also did not solve the issue. As pointed out in another review , the vehicle rolls back when we try to move to move the vehicle upward in a steep road. It will be embarrassing, when there is another vehicle behind you. As said earlier Honda is cheating its customers with this petrol version. The vehicle is excellent for plain city road, I admit. In hilly terrain driving will be a nightmare and many times you will have to apply hand brakes to prevent the vehicle from rolling back.

4.3

Excellent in long rides and city use. very good comfortable and quick acceleration as well. Getting an 24 km/l on Ecco drive and getting 19 to 21 km/l on performance drive. Negative part is Honda's Digipad, its one of the waste Digipad that i ever saw. Also break pad's life is very less. around 15k to 20k kilometres maximum, after that we need to change the Break pads.
All User Reviews
Honda WRV 2017-2020 Expert Reviews
Honda WRV 2017-2020 Images & Videos