Volkswagen Touareg : First Drive
---
If it's a no-nonsense premium SUV that you are looking for, the 2012 Touareg is a formidable option as it comes packed with features, good looks, performance, pedigree and the ability to leave tarmac at the drop of a hat to take on the rugged outdoors like no other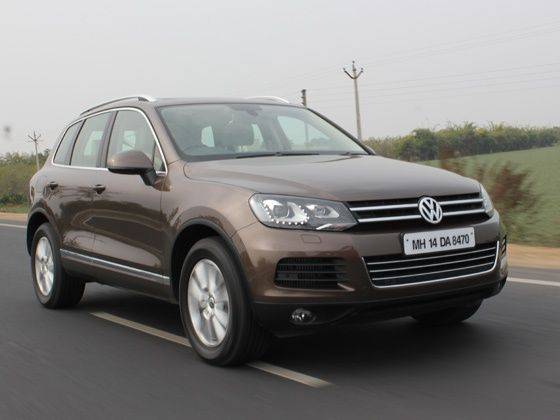 In terms of design, the Touareg doesn't break new ground. It sticks to the Volkswagen family look that can be seen on the Phaeton all the way down to the Polo. Having said that, the Touareg is a good looking SUV with clean character lines and a rather purposeful macho stance, and thanks to those elements it will still turn heads when it goes by. While one might argue the similarity created by using the same design theme, this idea is becoming a norm amongst manufacturers worldwide and it does make a brand statement.
Step inside and you will notice that Volkswagen Touareg comes endowed with a first class cabin. It's totally on par with anything you would expect from a luxury car maker and has been crafted to pamper you. The cabin space is nice and airy, even for the second row passengers. The fine use of high quality materials, fantastic fit and finish, all compliment each other to offer a plush cocoon inside the Touareg.

When it comes to gizmos and gadgets on board, the Touareg can boast of a rather long list, including bi-xenon headlights, fog lights, roof rails, a power liftgate, cruise control, four-zone automatic climate control, 14-way adjustable front seats, Vienna leather upholstery, Bluetooth and an eight-speaker sound system with touchscreen control, a six-CD changer, USB and iPod connectivity, and frankly the list goes on, but I would have to write a small book on that front!
If it's safety you are looking for, the Touareg is second to none and here too the list seems endless! Designed to protect you in the best way possible, this SUV comes fitted with electronic stability control, ABS with brake assistant, ASR, EDL, 10 airbags, hill start assist / hill descent assist, front and rear disc brakes and of course you have the three-point seatbelts.

For India, the Touareg is set to come powered by a large 3.0-litre V6 TDI diesel unit. The 2976cc engine is capable of pumping out a solid 245 horses between 3800 and 4400rpm and makes a stonking 550Nm of torque between 1750 and 2250rpm. This is mated to an 8-speed automatic gearbox which translates all this power to the road in a devastating manner that will most probably have you sporting an evil grin plastered across your face! Fire up that engine, and you will be surprised by the silence despite the large diesel under the hood. Refinement is exactly what you would expect and this motor delivers literally by the truckload. The Touareg is fast on tarmac and has enough grunt to drive over boulders off the road, but we will get to the boulder bashing a little later.

In terms of ride and handling, the Touareg is surprisingly surefooted. The air suspension allows the vehicle to soak up road undulations without bouncing the passengers around and this in turn allows you to go faster on some bad roads. I found myself touching 3-digit speeds with ease on some broken roads and the Touareg held its own. Never once on my drive did the vehicle feel twitchy; in fact the ride was solid, composed even around some fast corners. I did find the steering to be a bit light but for the Indian market that isn't such a sore point, especially since most owners will most probably use their Touaregs within the confines of the city. Overall, the drive experience is an absolute delight no matter where you take the Touareg.

Speaking of which, the Touareg has the genes of a formidable off-roader as well. The air suspension allows you to control the vehicle's ride height, and when fully extended, the Touareg can literally crawl over boulders, while retaining a solid composer. Add to that, the off-road package onboard and the SUV is prepped to handle some rather dire circumstances. After all, the Volkswagen Touareg does boast of solid lineage including its Dakar Rally genes. I personally experienced the Touareg tackling a 35-degree half-pipe situation and while I was under the impression that the vehicle would tip over, it just drove right along. I also got to drive the vehicle through various other tests that showcased its impeccable off-road manners. It's not every day that you get to witness a high end SUV boasting of such talent.

Overall, the Touareg is a pedigree product that has struck a fine balance between style and substance. On one hand, it's simple, and on another it's in your face. Yin and yang. A perfect blend of both, and frankly that is where the Touareg really scores for it is a well engineered product that offers a powerful engine, a driving feel that instils confidence, fantastic interiors and topping it all is the fact that VW has ensured that the Touareg comes with immense off-road capability tossed in for good measure.