Kia EV6 First Drive | Well Rounded Electric Power
May 25, 2022
Views : 3087
11 min read
---
By Alan Richard

Follow us
The Kia EV6 promises a lot for an EV. Power, space & practicality and exclusiveness. Lets see how it delivers on these promises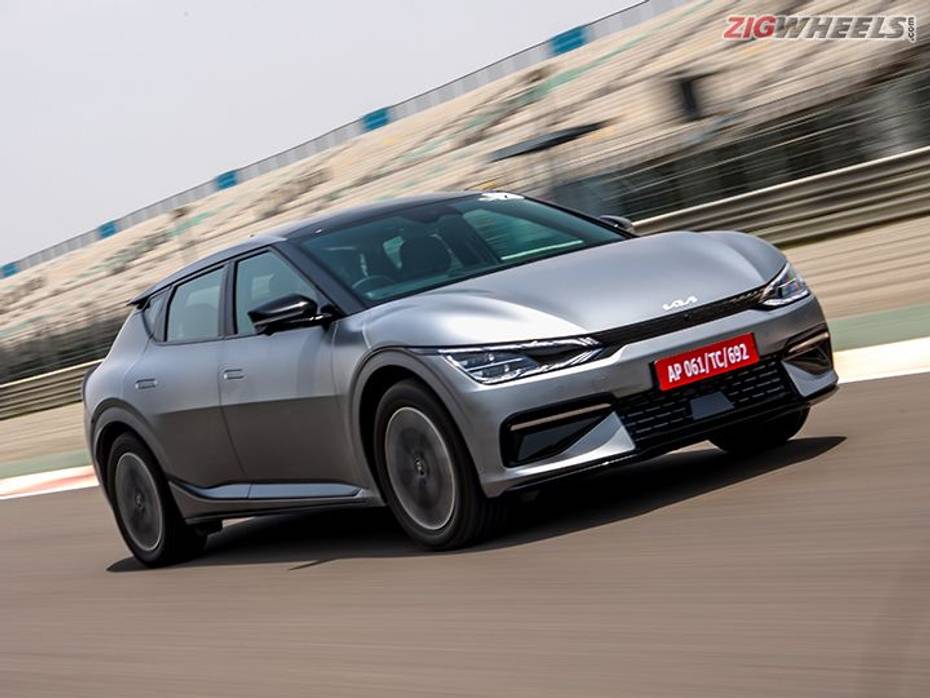 You can be forgiven for initially thinking that the EV6 looks a bit out of place at a track like the Buddh International Circuit. But when you hear its stats, like the 325 horses at your right foot, 605 Nm of torque and a 0-100 time of just 5.2 seconds, then being at a racetrack doesn't seem so odd. There's a lot to the EV6 in terms of space, practicality, features as well and for an EV it really packs in a lot. But when you're at a racetrack, there really is only one way to start this review.
Performance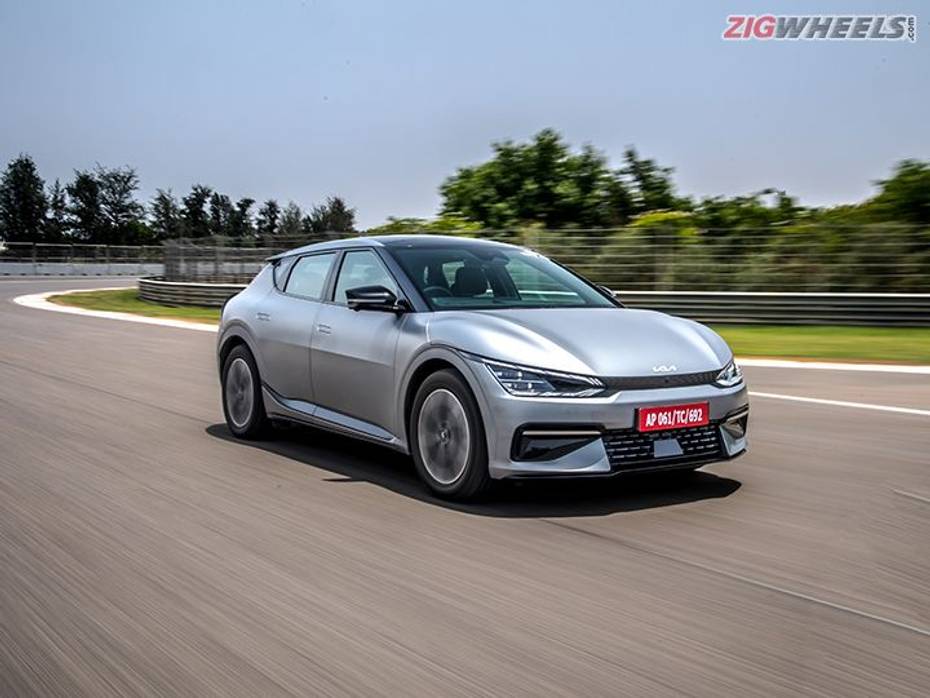 The EV6 turns right coming around the acute-angled turn three, that brings us onto the long back straight for the first time, and I unleash all 325 horses. The initial acceleration, like all powerful electrics, is brutal and relentless all the way up to a limited 192kmph. Traction in a straight line with this AWD drivetrain, is brilliant. You can blast away even from a standing start and it will pull away cleanly and without a hint of tyre noise.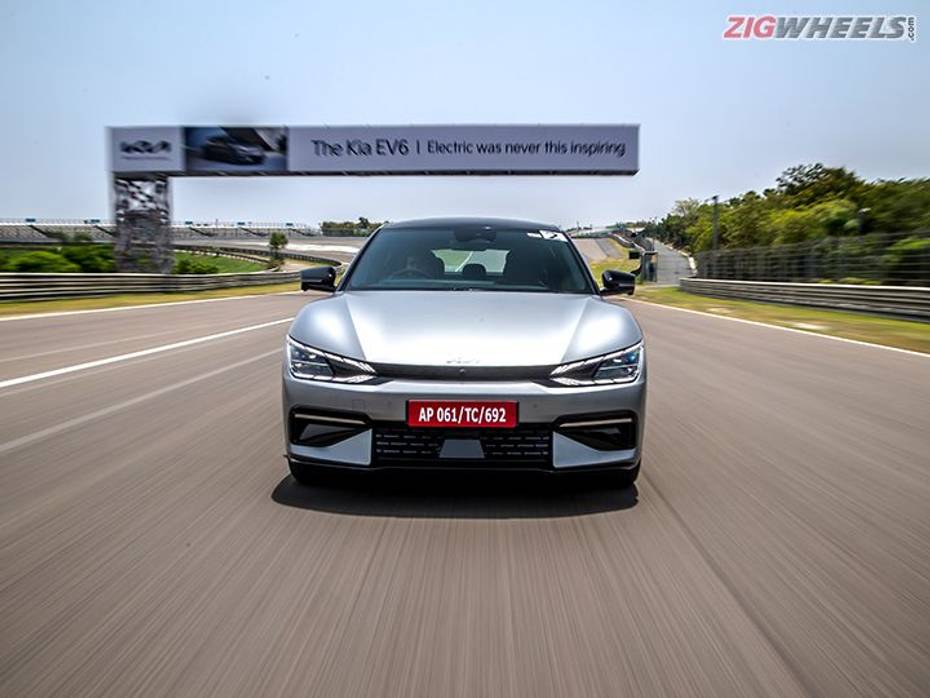 The power is split between the two motors, with 225 horses coming from the front engine and an additional 100 PS added by the rear motor. Total torque stands at a massive 605Nm. The AWD system is intelligent and is able to decouple the front motor in 0.4 of a second, switching to RWD, when the system detects that all that power isn't needed. Kia will also be offering a single motor, RWD only model with 229PS & 350Nm that can wisk you to 100kmph in 7.2 seconds.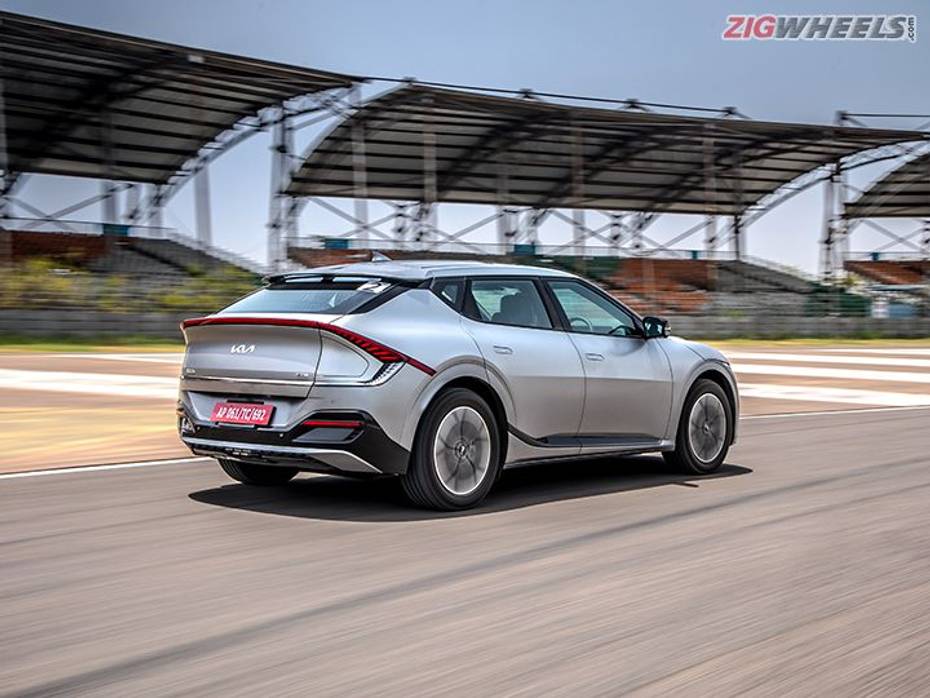 Get latest updates on
the automobile community
The end of the straight comes up really quick and this allows me to test the Sports Braking system. The EV6 has a dual-brake setting that you can toggle between on the infotainment screen. This gives you access to more bite and braking force from the discs on all four corners and is great at the race track. Switch to Normal Mode and the pedal becomes a lot more progressive with the brake force ramping up slowly. It should be the default setting in the real world but the Sport Brakes feel about right at the race track.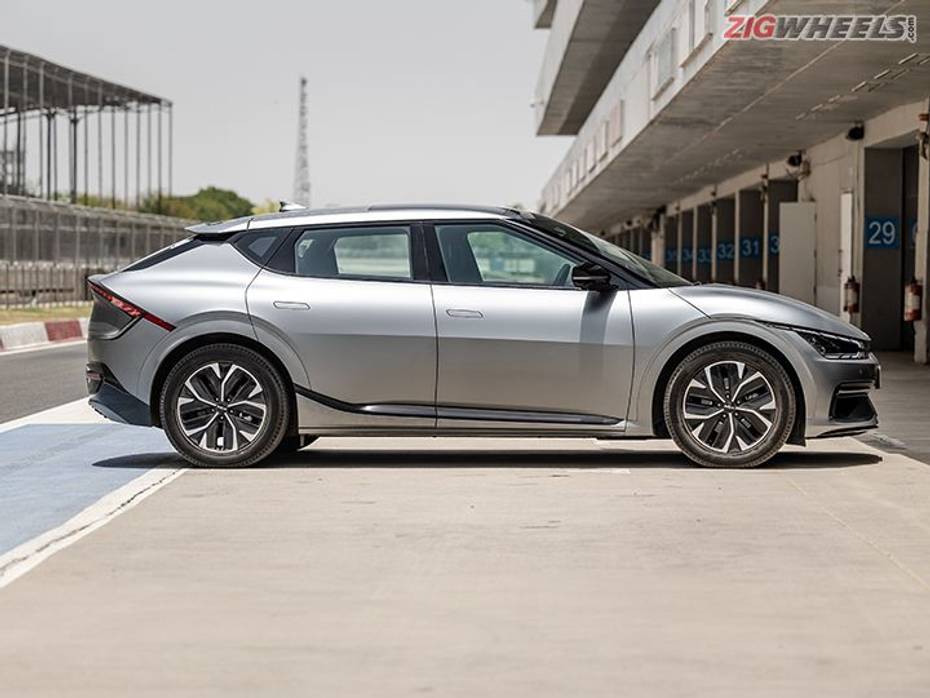 This is a good time to remind you that a race track is the worst place to test a road car. Because the surface is flat and perfect and so we can't really tell you how the EV6 will handle over bumps, speed breakers and rough roads. But we can tell how much fun it will be through corners.
Fun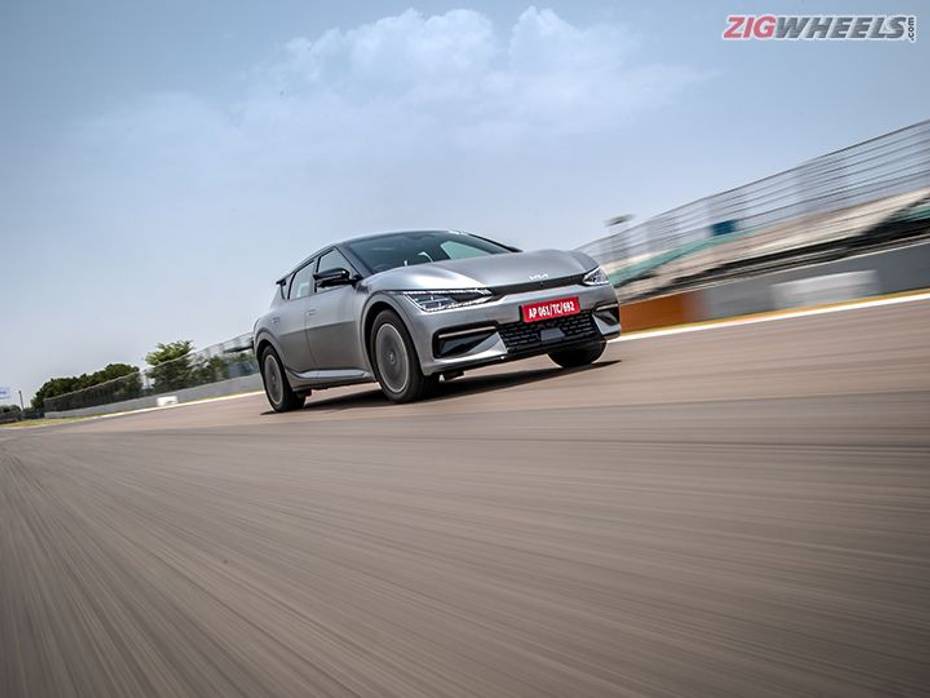 Plenty is the short answer. The chassis feels quite agile and likes to turn in sharply but as is the case with most electrics it's heavy too. So that weight wants to keep going forward an So if you push into the corners it's easy to get some understeer, but it's also easy to control the understeer, at least with this AWD model, release some steering lock and add a dab of throttle that allows the front motor to pull the front wheels into the corner and Bob's your uncle!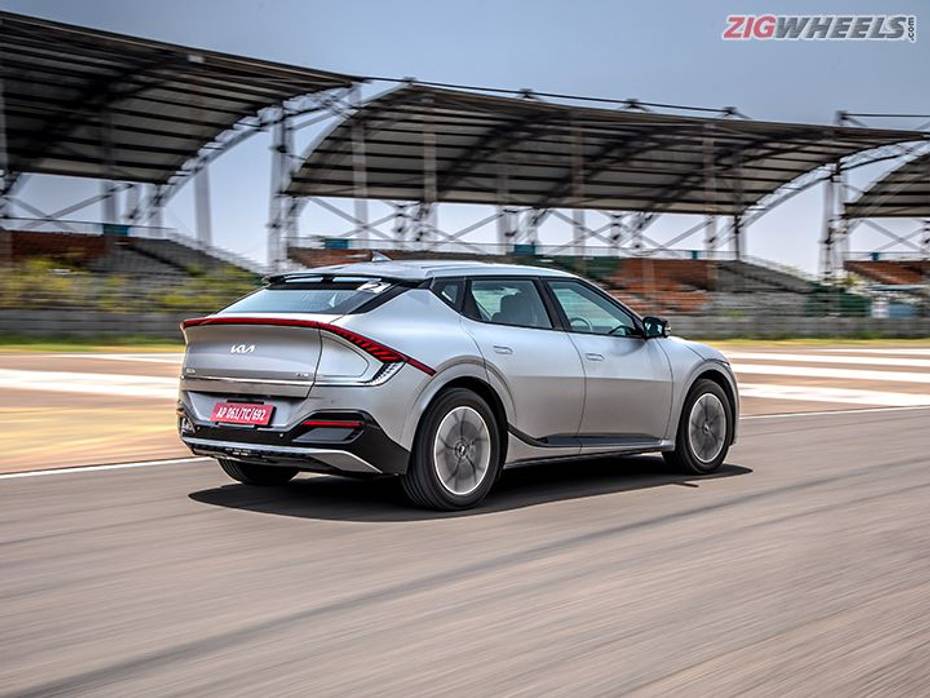 Coming out of corners it's easy to be heavy footed with the throttle and spin up the tyres. Something we had quite a bit of fun with with the safety of the race track but something you should be respectful of in the real world. The throttle even in Eco, Normal and Sport mode seems to give you access to all 325 horses if you go looking for them.
Drive Modes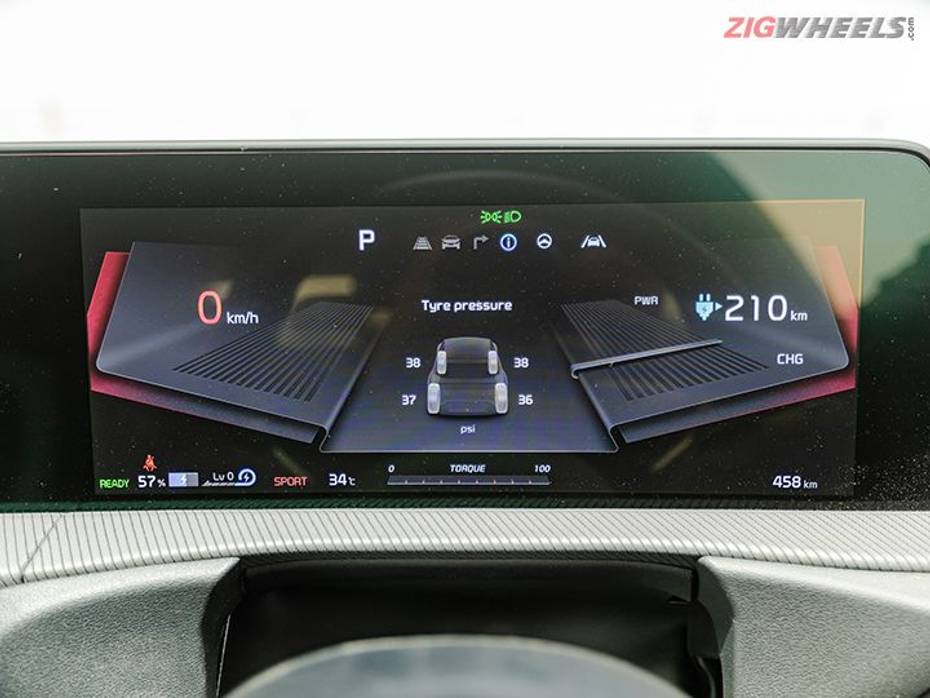 Speaking of drive modes there's three Eco, Normal and Sport. They do what they claim to do with gentle throttle and light steering with Eco and Normal and more aggressive throttle response in Sport with a little more firmness added to the steering effort. In the real world Normal feels like it will be your default mode, with Sport really only being used occasionally.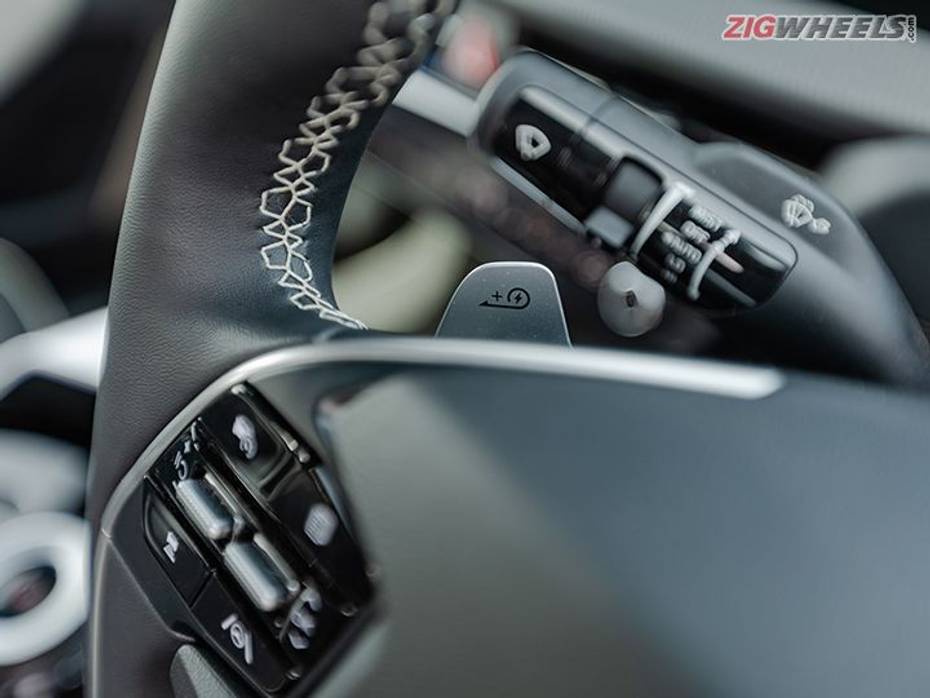 As will all electrics you have regeneration modes. There's three modes and they are accessible via the paddle shifts. With level 1,2,3 it adds ascending levels of regeneration; as you get off the pedal there's more braking force applied and in i-Pedal mode it gives you max regeneration and this is a good one pedal solution.
When you get off the throttle, the regen is more progressive, so not quite as aggressive as in the XC40 Recharge for example. There's even Smart Regenerative Braking mode that switches automatically between all the modes depending on traffic conditions and it's activated by long-pulling the left shift paddle.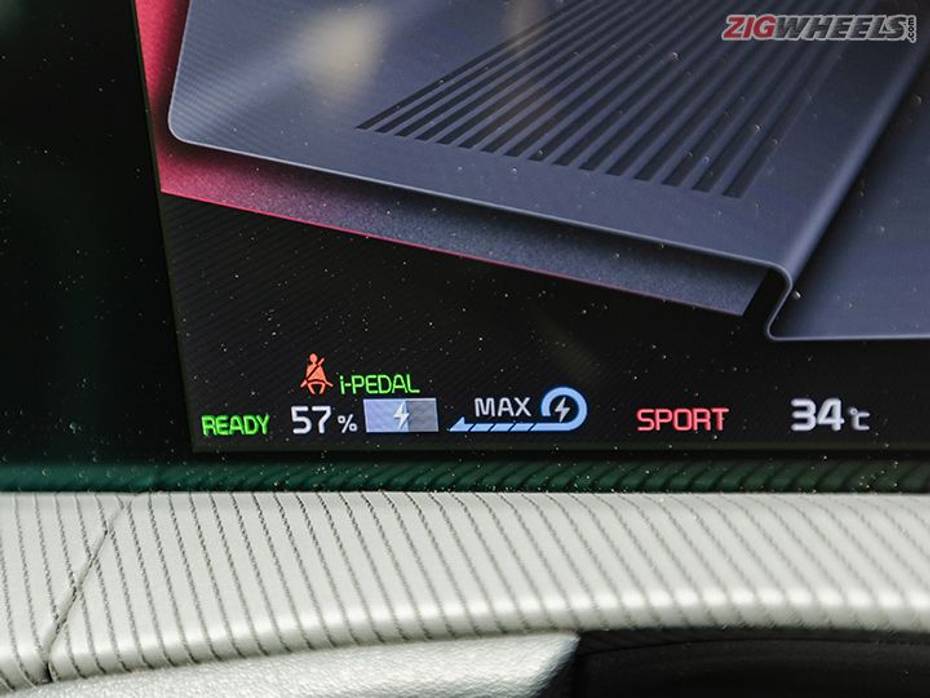 The great thing is that all the options are there. If you're really used to a one pedal driving scenario the i-Pedal will work for you immediately. And if you're not, if you're still getting used to regenerative braking, then those other modes will help you get there. Where you want to be really is where you're getting the max regeneration and the most power back into those batteries.
Batteries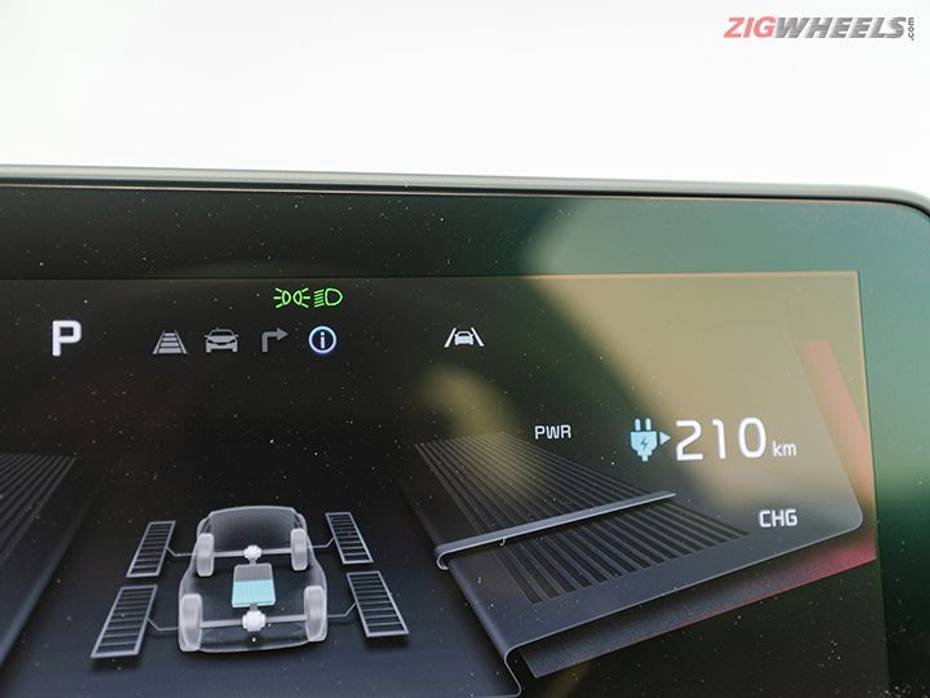 The EV6 packs in a 77.4kwh battery pack and Kia says it will give you over 500km on a single charge. On the day we started out with 85% of charge and through the course of the day that included a good 15-20 laps of the race track with full power jaunts down the back straight every single time. We still only managed to drop the range to 50%. Impressive performance in conditions not really conducive to conserving range. So you should easily expect well over 450 kilometres of range in the real world.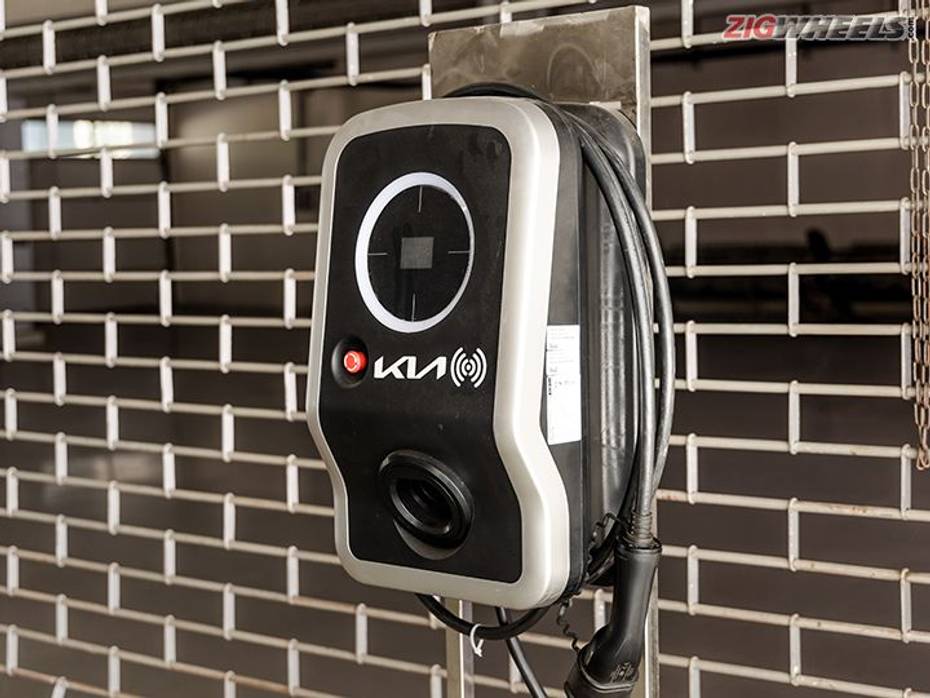 The Kia is capable of being charged at up to 350kW in just 18min but good luck finding a charger that fast. At 50kW you can expect a 0-80% in about 1h 13min. The Kia is an 800 volt system but can accept charging from either 400V or 800V systems so it has no compatibility issues.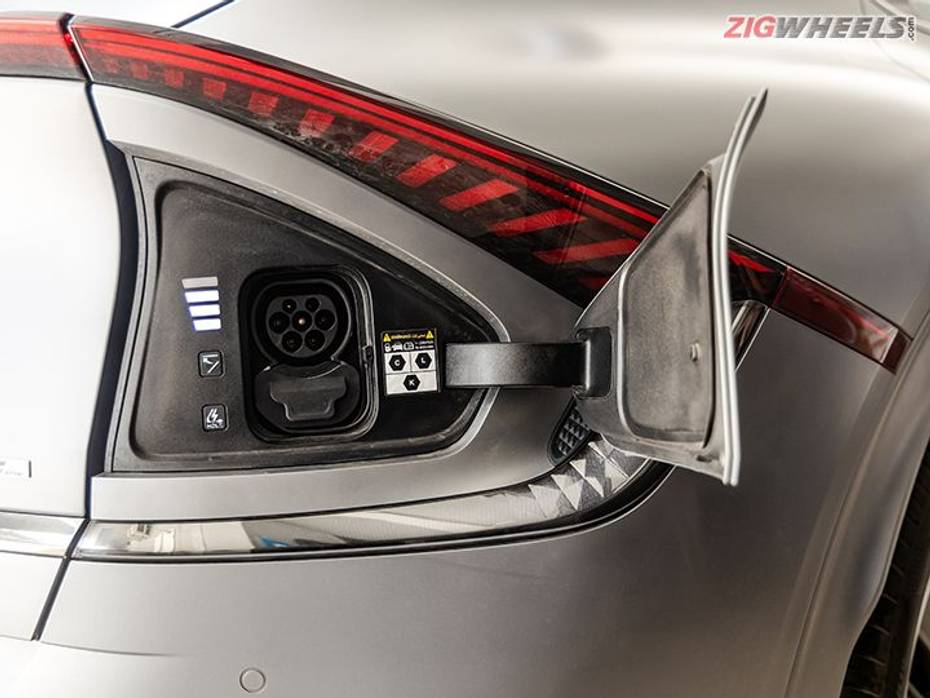 One catchy feature is its ability to share its charge too, so 3.5kW out to either another stranded EV in an emergency or to your vacuum cleaner or any other house hold appliance that you can't do without on your adventures with the EV6. At our product briefing the Kia powered the massive flat-screen TV that the presentation played on.
Platform & Design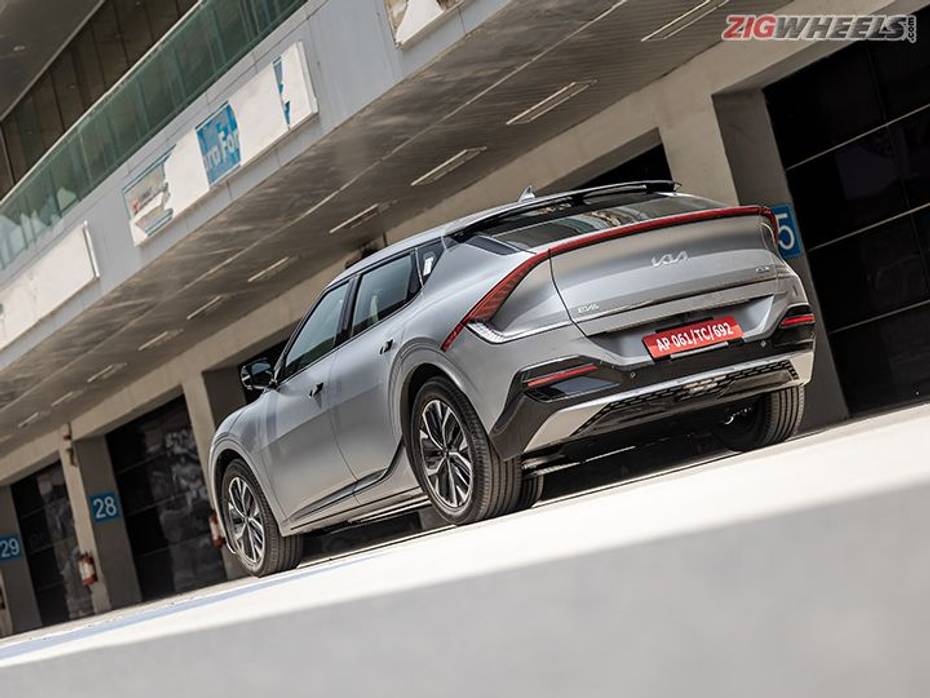 The Kia shares this e-GMP platform with the Ioniq 5 and as Kia and Hyundai usually do with their platforms, the Kia is the sportier version. It's easy to see that even at the first glance of the Kia. The sloping bonnet, the angular front bumper, the stretched out body, flush mounted door handles, the subtle rear wing, and shapely rear end. They all shout aero and so they should because the EV6 cuts through the air with a low CD of just 0.28.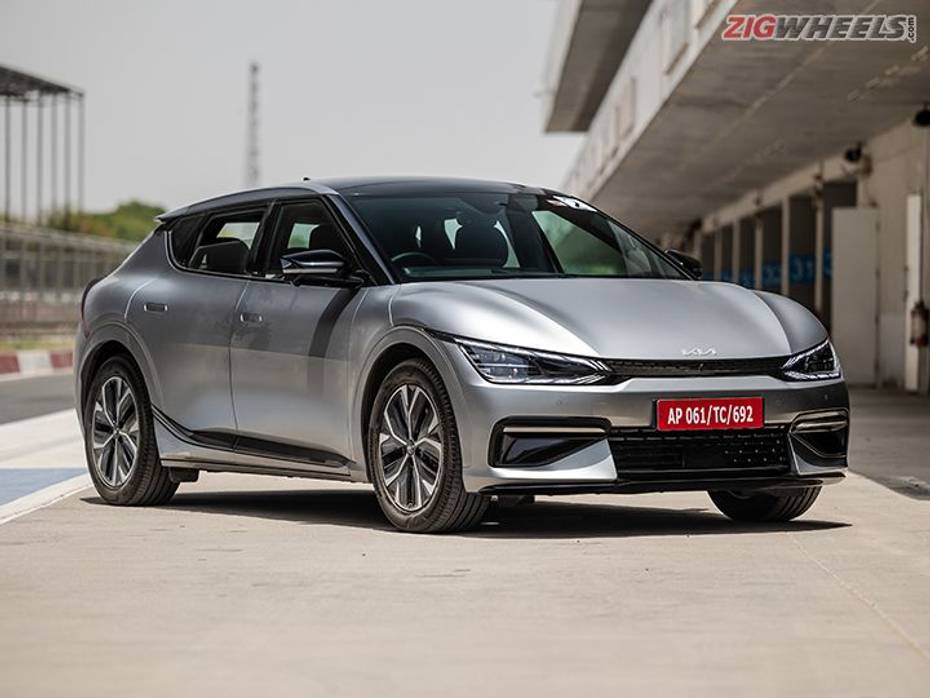 It's quite striking electric if you ask me. We're all familiar with Kia's tiger nose now but with the EV6 Kia is debuting their digital tiger face. As with all Kia cars the beauty is in the details, the faux grill elements, the aggression of that nose, the sharp angles of the bumpers, the flat sides with those flush fold out door handles and the beautifully detailed taillamps and turn indicators.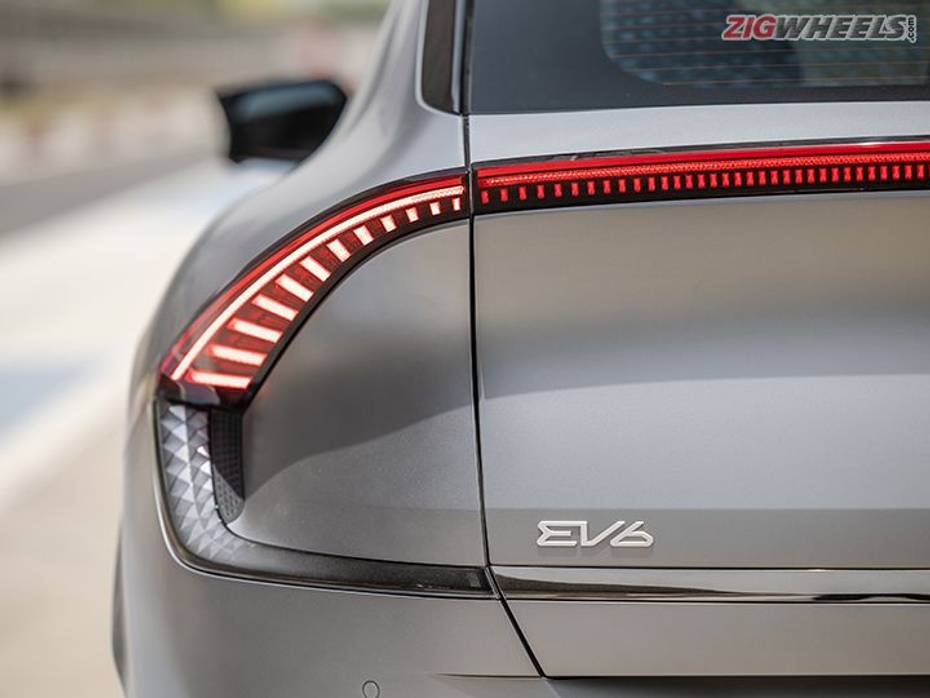 I said it was long and low already but you really have to hear the numbers to know what it looks like in the flesh. At 2900mm its wheelbase is actually longer than a Fortuner. And at 4695mm long it's longer than the Octavia! So it's not just a big crossover hatch, it's a really big crossover hatchback.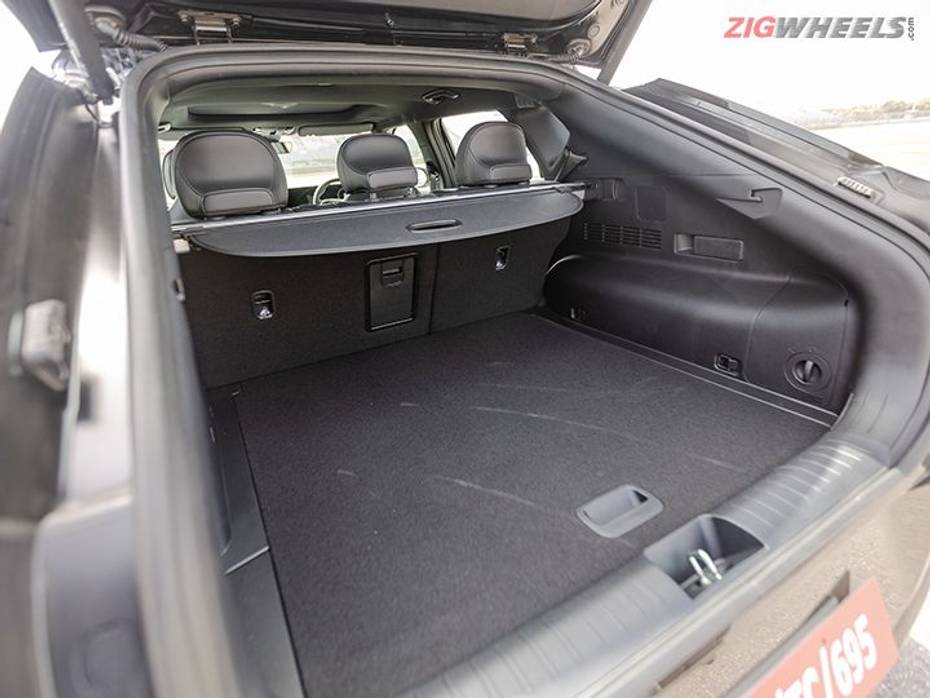 This platform also has more than enough length to fit in a decent 520 litre boot with an additional 20 litres in a frunk under the bonnet that increases to 52 additional litres if you pick the RWD variant of the EV6.
Driver Focused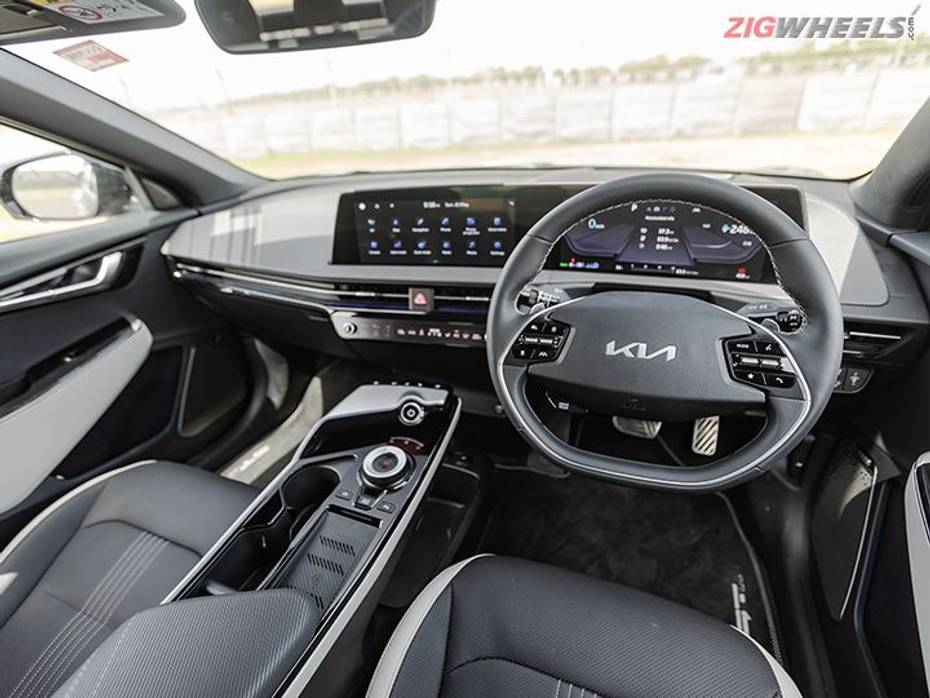 Everything is tilted around facing the driver so you really feel important when seated in front of the steering wheels. Dual 12.3-inch dual curved displays up front are nice and clean and as with Hyundai and Kia cars we've experienced before, that software is really easy to use. There's also a 14 Speaker Meridian System that I have to admit that I didn't even try because a race track is meant for driving.
Plush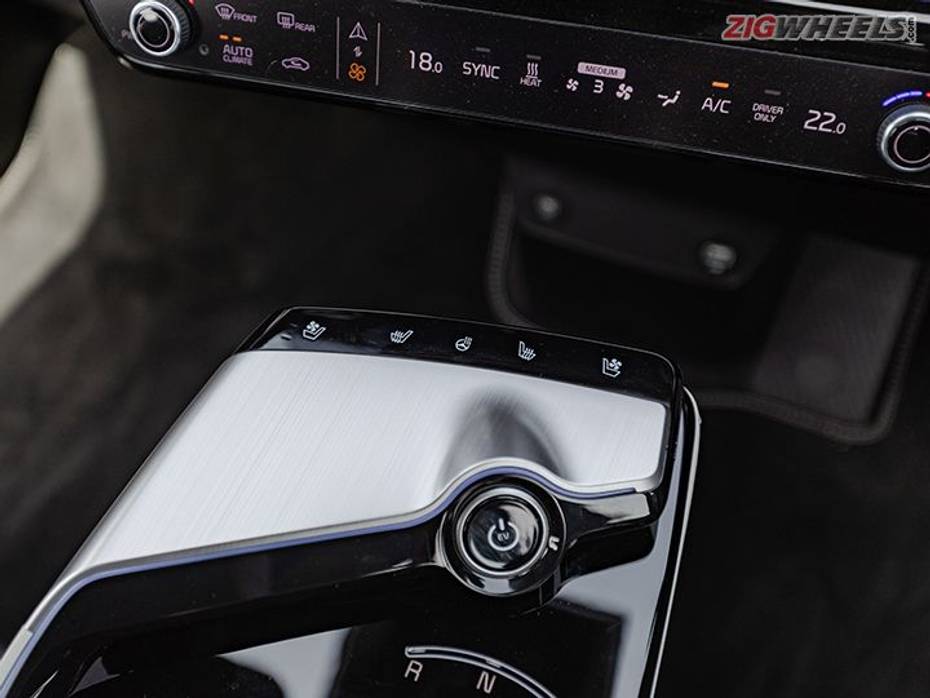 Then we move on to this floating console, that houses the seat ventilation and heating. The front seats are also 10-way powered with a 'zero gravity' (almost flat) recline angle. There's a circular gear selector instead of a gear lever and next to that is a wireless charger. It's vented and also has 15w charging so it's really useful.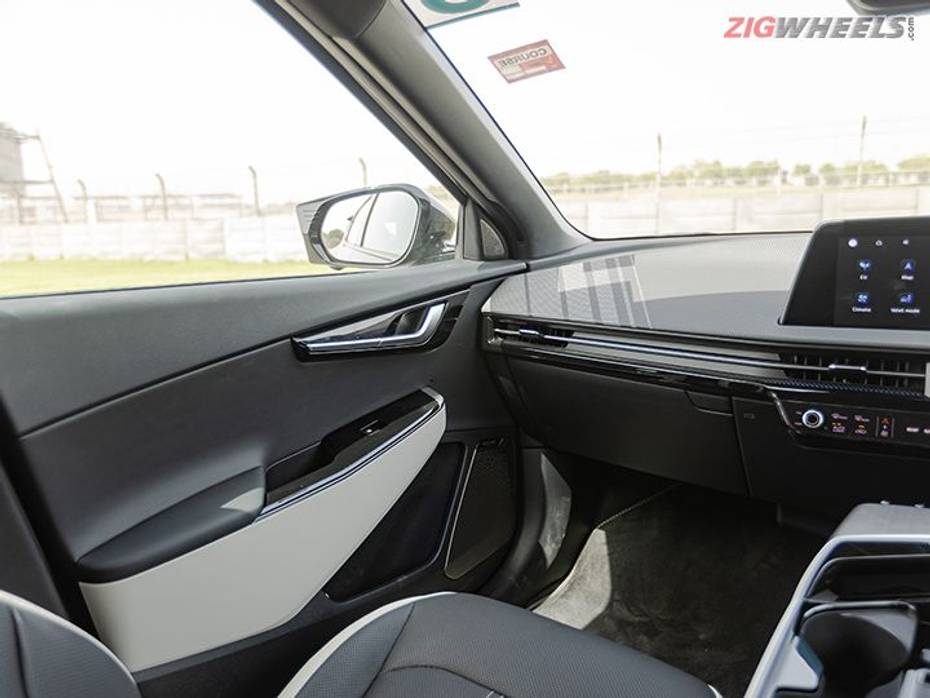 The other talking point are the materials used in the cabin. It's all soft touch on all the touch points and most of it is all recycled too. So recycled plastic in the floor mats and vegan leather for the seats covers. The test cars had regular vegan leather but customer cars will come with vegan leather with a suede effect.
Rear Seat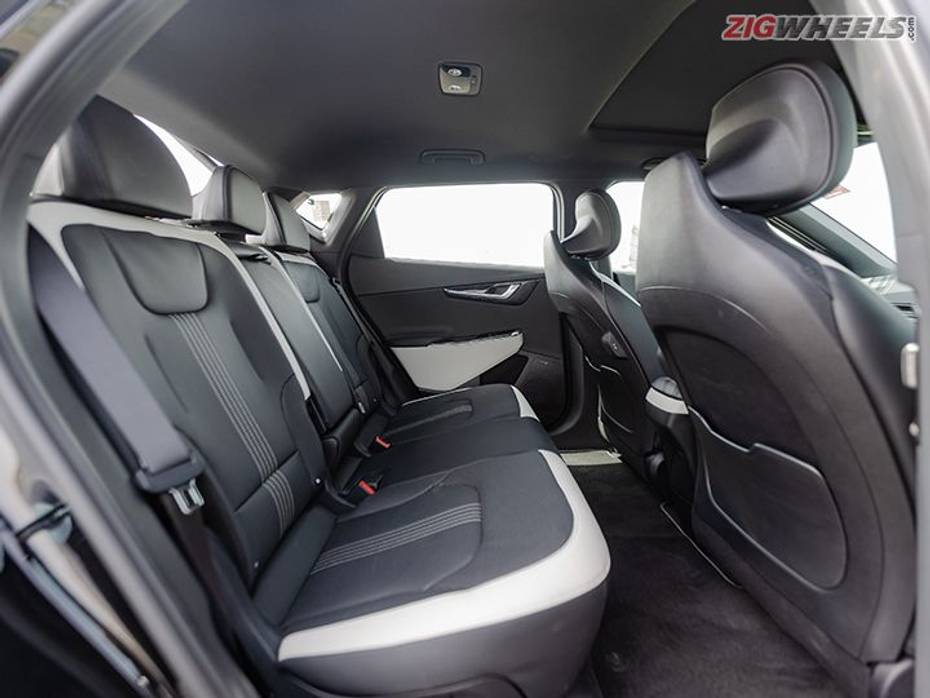 Big car experience in a hatchback? Well with the EV6 it really feels possible because there is acres of knee room in the back seats. It's truly palatial. The only complaint is that I can't really stick my feet under the front seats and so can't really stretch out. But the seat back does recline to a comfortable angle. What you will also notice is that the batteries are under the floor and so the floor is a little higher and you don't have as much underthigh support as you would want. However, it's comfortable, has loads of headroom as well and it's a wide car so you could fit three abreast because of that flat floor and flat seat as well.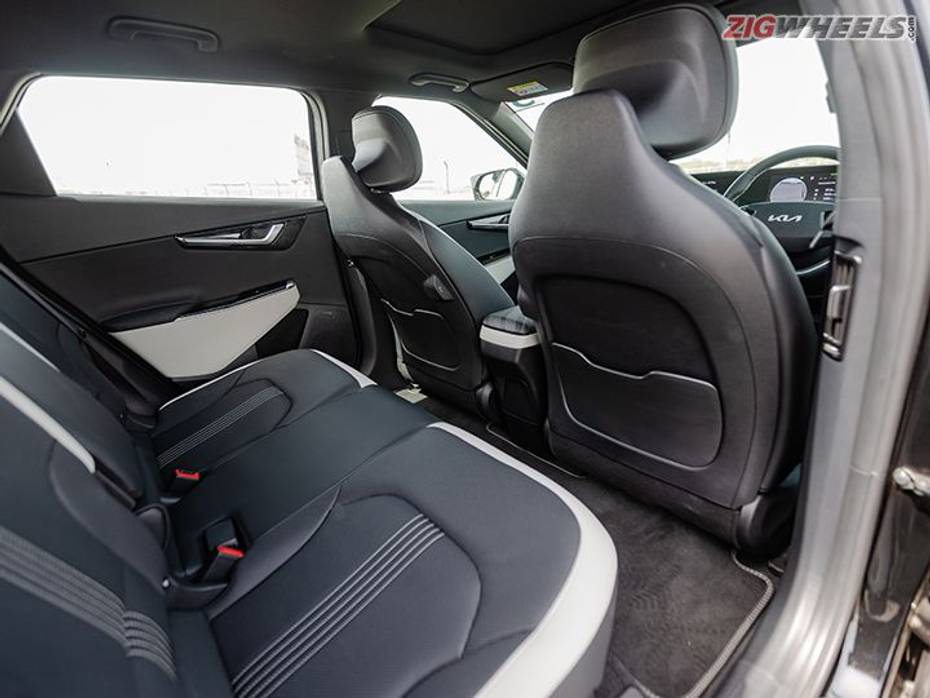 It is an all black cabin but you do have big windows as well as a quarter glass so it does feel fairly airy but you do have these big headrests if they were smaller you would have a better view out front. In terms of practicality you have charge ports here including a laptop charger and AC vents in the pillars. So it could be a chauffeur driven car if you want especially because of the massive amounts of knee room on offer.
Safety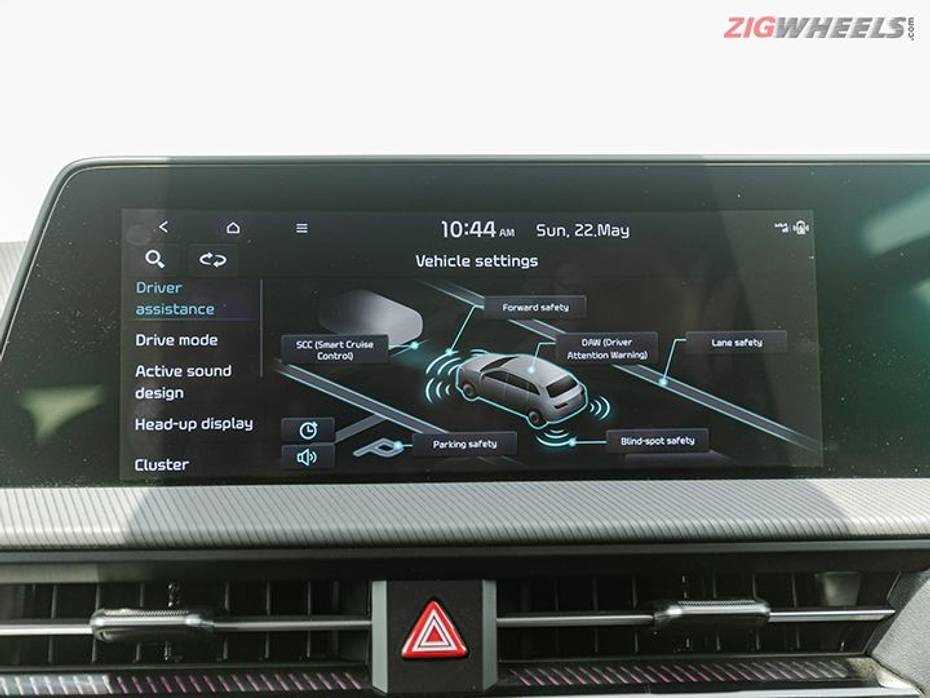 Another thing that's very relatable to a racetrack is safety. And the EV6 is packed with safety features. So eight airbags with two airbags between the front two seats to prevent collisions between the front two passengers. The body is also made with 63.6% Ultra-High Strength Steel too. And there is a full ADAS suite that includes auto braking, collision avoidance, adaptive cruise control, lane keep assist, HUD and more.
Other comforts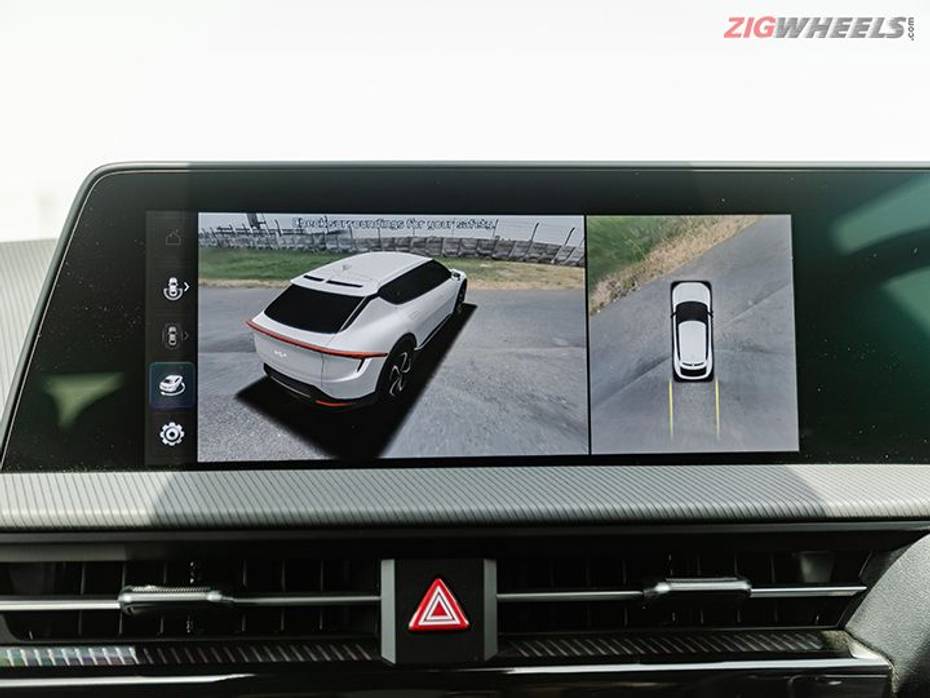 There is a 360 degree camera, large sunroof, and it will also be the first car to feature augmented reality which will help in navigation and works off the ADAS sensors and uses the navigation and HUD to direct you to where you want to go in the best way possible. At a race track with just one way to go around, this feature couldn't be tested.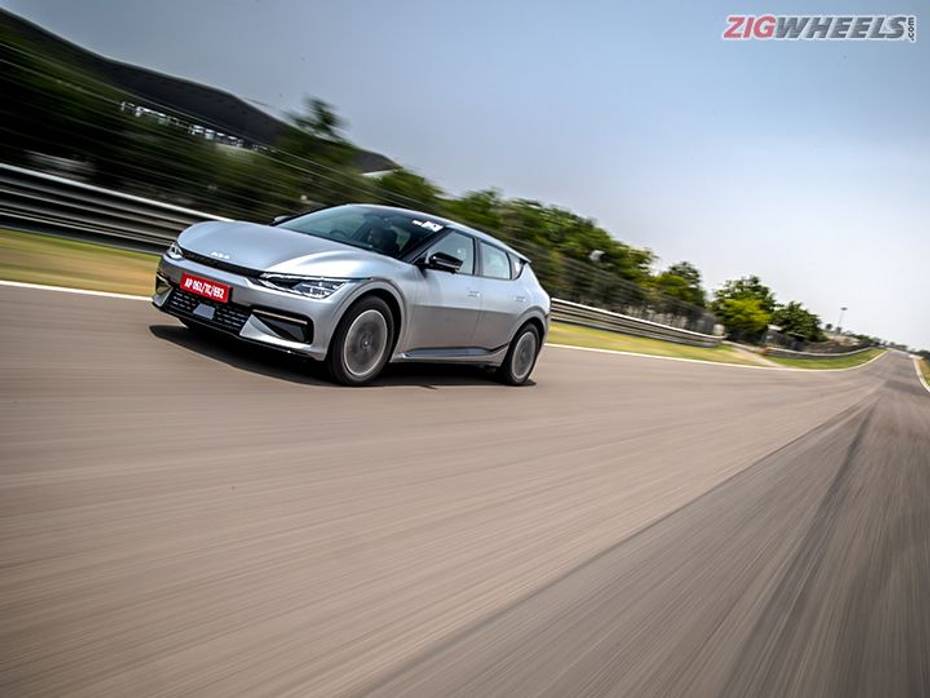 Another thing that was really impressive was the sound deadening with acoustic glass, extra rubber seals, and sound absorbing trim. The cabin was super quiet and we could only hear a hint of road and tyre noise when flying down the back straight at over 150kmph.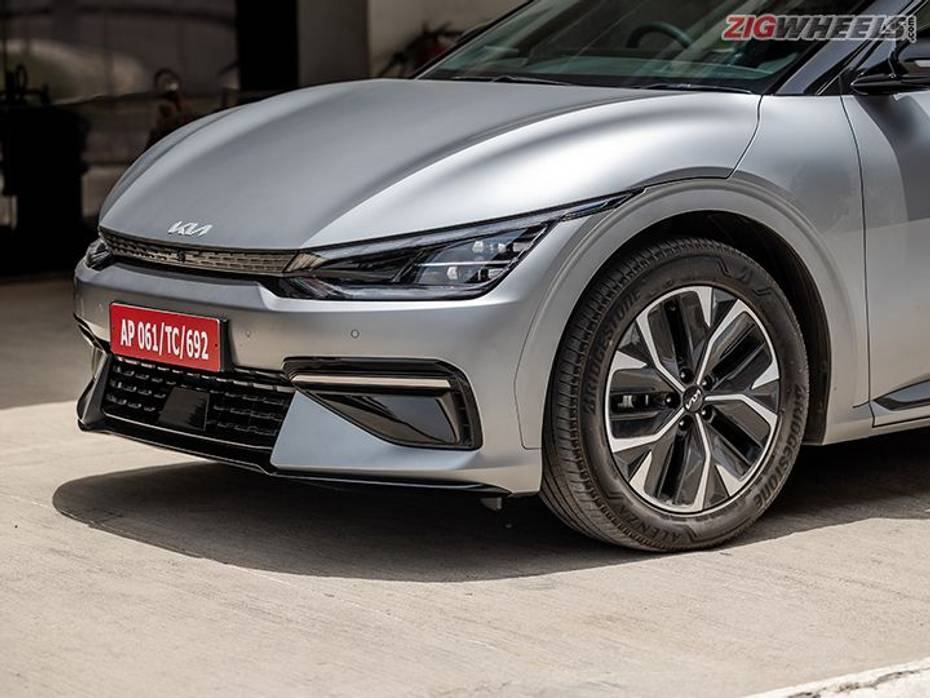 The car does synthesise some sounds to make up for a lack of an engine note. These are piped in through the speakers and you have three flavors to choose from; Stylish, Dynamic and Cyber. Its an electric futuristic sound, something to play around with. Just one of the new fun festures that these new electric vehicles are going to bring to us.
Verdict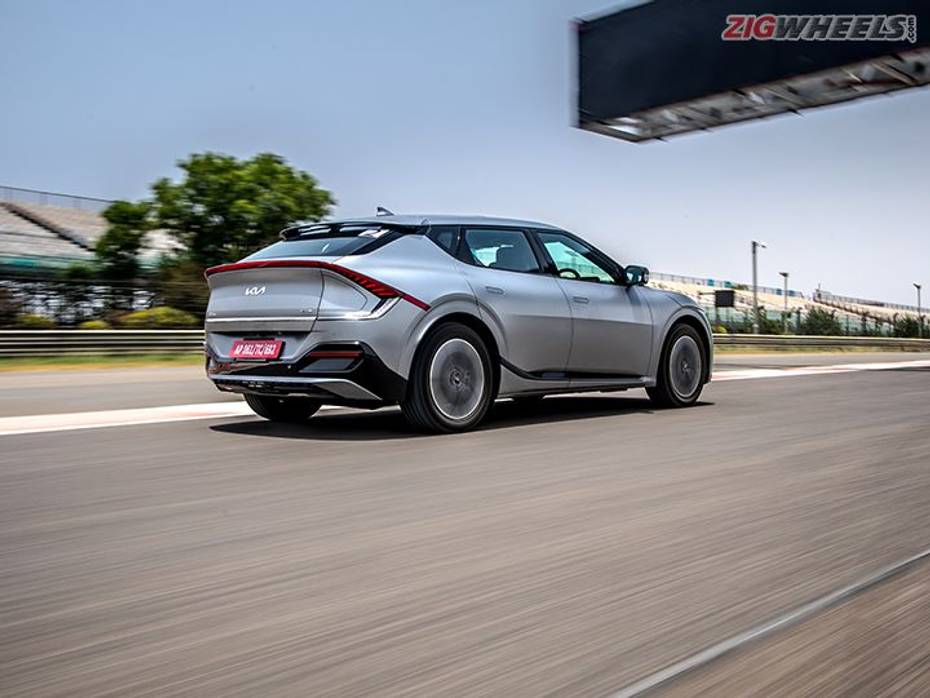 Kia says that the E in EV6 not only stands for electric but also 'emotion' and today has been an emotional day. The anticipation of putting those horses to tarmac before we started out and then the excitement once we did.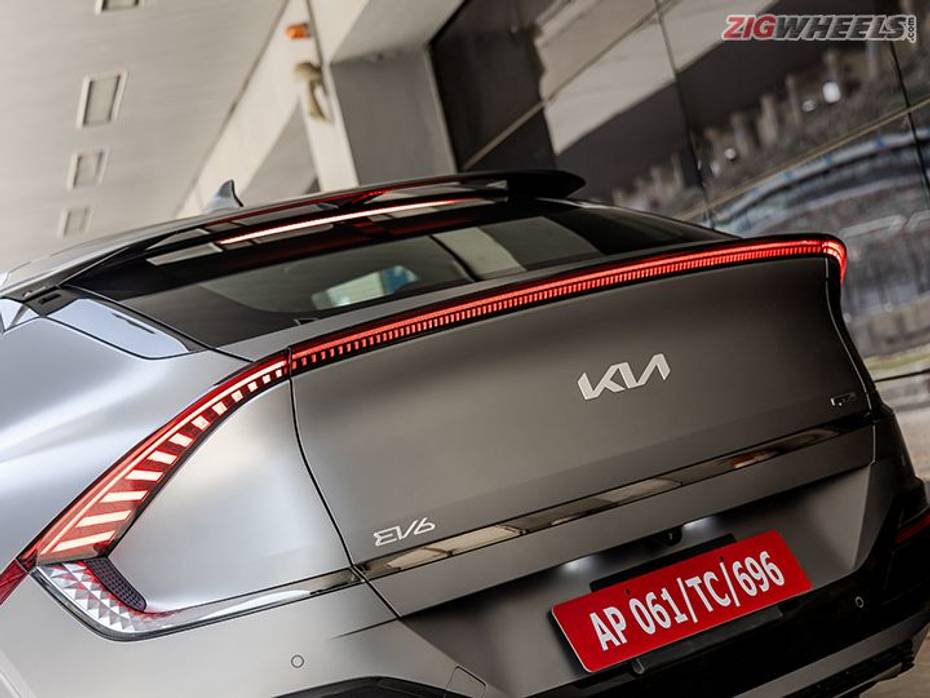 What does the EV6 promise you? Well exclusivity for one. Just 100 units is what Kia is going to bring to the country and those 100 units are expected to pe priced at Rs 65-70 lakh. Yes, that's a lot of money but the EV6 is a lot of car. Over 500km of range, great performance and safety, plush and spacious cabin and the exclusivity of those 100 numbers. Kia is giving a few buyers looking for an upmarket electric something to really think about.
Kia EV6 Video Review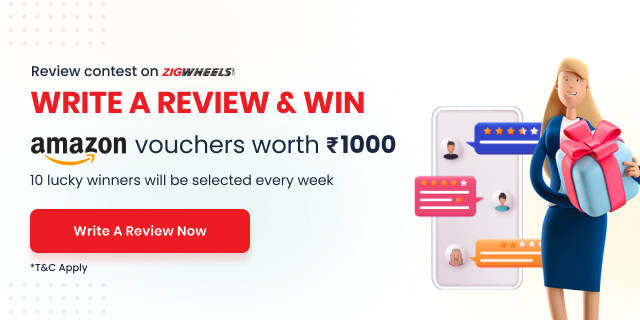 See what our community has to say!
NEW
India's largest automotive community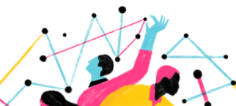 1 Other Things You Might Want To Do