2020 Tata Harrier Automatic: First Drive Review
Mar 16, 2020
Views : 17741
---
More power, an automatic transmission and some new features to top it all off. These updates come just a year after the Harrier was originally launched and there's a big reason why!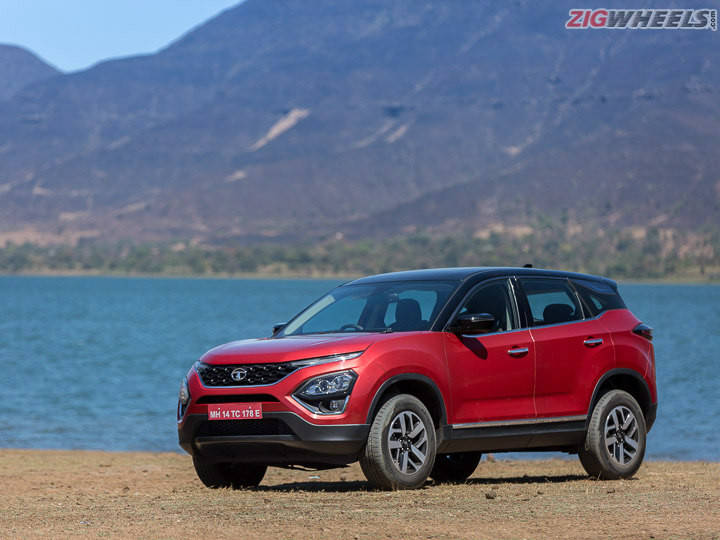 If you already own a Tata Harrier, don't worry, this isn't an all new car. But before you read this review, fair warning, you might just find yourself sulking a bit.
Why? It Still Looks The Same To Me!

Fair point -- after all, this isn't a mid-life refresh or facelift. However, you now get a far more attractive set of 17-inch diamond-cut alloy wheels on the newly introduced top-spec XZ+ variant. There's been a big rejig in the colour options too. Goodbye, Calisto Copper, Thermisto Gold & Ariel Silver. Hello, Calypso Red & Sparkle Cocoa.

Splash your Harrier with the red dual tone option and it'll look right at home sitting next to a Range Rover Velar, Land Rover Discovery Sport or even the Range Rover Sport. The dual tone versions also get their skid plates blacked out which lends a cleaner look to the front and rear.

Want chrome? You can have just a pinch of it on the bumpers, grille and door trim, thanks to the new chrome pack - a dealer level add-on. The most important change, though, would be the new wing mirrors. They're now smaller to eliminate the blindspots the older ones created. More city friendly? You bet!
Is It Because The Cabin's New?

Well, let's just say you've got one more window to peek into the Harrier from. From no sunroof at all to offering one as a dealer level accessory to bringing in a full-fledged panoramic sunroof, Tata's moved quickly to make their youngest SUV a bit more… Sierra.

While the sunroof will certainly get your kid's squeal of approval, the driver also gets some feel-good features. Namely, a 6-way power-adjustable seat and an auto-dimming IRVM.
It's also appreciable how quickly Tata has responded to corrective feedback. The front USB/AUX port for example, has been pulled out closer to the gear lever, so it isn't difficult to reach for anymore. Most wouldn't bother with such a change until the model's due for a mid-life update, so it is, in a way, a big deal.
They've even dunked in an additional USB charging port underneath the front armrest. That armrest still needs to be slide adjustable though; it's placed too far back to be usable for most drivers.
Ok, Now I'm Starting To Sulk

Relax! The cabin hasn't changed otherwise. It's still uber-generous when it comes to cabin space & practicality. Even the rest of features package remains the same, including the terrain modes, 9-speaker JBL sound system and 8.8-inch touchscreen infotainment system.

There's one more thing: the infotainment system (and digital instrument cluster) get new colour theme options, aside from the earlier blue (teal, yellow, purple & red).
There are some misses carried forward too, though, like the lack of a driver vanity mirror, a dedicated central locking button or TPMS. Bits like these can leave a sour taste, considering the top spec Harrier costs around Rs 25 lakh on-road now. Tata Harrier Price
Haa! So My BS4 Harrier Was More Of A Bargain!

Perhaps, but the ratio of price increase to features added is reasonable (Rs 25,000 - Rs 40,000 more, depending on the variant). For example, the base Harrier XE now gets ESP, traction control, hill hold, cornering stability control and rollover mitigation as standard. These were goodies you could only get in the range-topping XZ earlier.
And, of course, there are technical updates needed for BS6 compliance too. But as you know, Tata didn't let it stop at that.
Right, More Power

With the BS6 update, the Tata Harrier's 2.0 litre diesel engine has been uptuned to 170PS, a good 30PS more than before (torque remains the same at 350Nm). The good news is that in the quest for more power, the engine isn't accompanied by more turbo lag. There still is some but it's not noticeably more than before. Which means the Harrier is just as easy to drive.

There have been some minor improvements. The gear shift action is slightly smoother and the steering feels more consistent through corners. Still no feel or feedback as such, so high speed curves (and the body roll that comes with them) will have you wanting for a more communicative steering setup. We also wished it weighed up more at highway speeds but it's still super light to use in the city.
Tata also says they've made improvements on the NVH front by trying to control the engine's vibes better and adding more sound deadening. But to be honest, we couldn't catch any stark difference on this front and it still feels very similar.

This also applies to the performance with the power increase. It's not something you will experience as a difference in regular drive conditions. It feels as responsive, quick and relaxed throughout the rev range as it always did. And that brings up a crucial point - Yes, the Harrier made less power vs the MG Hector or Jeep Compass diesel that run the same engine. But it never felt underpowered standalone. What it missed out was some bragging rights on paper, but in practice, the 140PS tune offered a very good balance of usability and punch to begin with.
Was The Automatic Worth The Wait?

If you thought the wait would get you revolutionary tech, no. But if you liked the Harrier and just wanted it with an easy to use automatic transmission that takes the sting out of daily drives, yes. It's a 6-speed torque converter with a manual mode but no paddle shifters.
As a city commuter, the Harrier presents no unpleasant surprises. Even with light throttle, it gets up to 60kmph with ease and the gear changes are very smooth. The throttle response isn't lurchy or jerky and it picks up speed progressively. In fact, it's as smooth to drive as the Hexa automatic and that's a big compliment.

It's also responsive enough to give you a downshift when you need it. Not as quick as say, a Kia Seltos diesel automatic, but it won't give you reason to complain. Overtaking on regular roads won't warrant planning and on the narrow ghats leading up to Mahabaleshwar, we needed to give the transmission just over a second to downshift for overtakes.
That said, if you're looking to have fun on the ghats, best stick to manual mode. Letting off the throttle after a quick burst sees the transmission jump to coasting mode a little too quickly. Once you're back on the throttle, you can feel the transmission re-engage. This back and forth can get annoying. Stick to manual and it stays in gear through quick upward climbs, so the drive is smoother.

Also, it will auto upshift if the engine revs too high in manual mode. Notably, the gearbox is relatively conservative when it comes to engine braking. You can certainly use the transmission for a controlled descent but it won't permit hard downshifts to arrest your speed HARD, like you can in the manual.
With this transmission, the Harrier is a blissful highway tourer and an easy drive in the city. It sets no benchmarks but fulfills its purpose very well. Is there a trade off? Yes, fuel efficiency. The manual's claimed fuel efficiency stands at 16.35kmpl compared to the automatic's 14.63kmpl. In our road tests the BS4 Harrier manual delivered 11.29kmpl/15.39kmpl (city/highway). So as a daily commuter, the diesel automatic's fuel efficiency could realistically be in the range of 9-10kmpl in traffic.
What's BS6 About This Change?

The need for emission norm compliance has added some weight to the Harrier (the figure remains undisclosed). Part of that gain is the diesel exhaust fluid (DEF or AdBlue). The Harrier has a 15 litre tank for it. The fluid itself has to be replenished every 12,000-15,000km (depending on your driving conditions) and costs about Rs 1000 for a full tank.
Technically, the car doesn't need DEF to run. But regulations mandate that it cannot be driven without it. This means you will get plenty of warnings if the fluid is running low (there is a fuel bar style display in the instrument cluster for it too). If you run the Harrier out of DEF, it will not restart again. The tank can be filled up through a filler cap in the boot, placed right next to the tool kit.
Is This The Harrier For 2020 Then?

Well, as stated in the beginning, this isn't a brand new car. But there's plenty that's been improved here vs the BS4 Harrier. It's only marginally better to drive, but now has some cool new features, better standard safety and of course, an auto box that's pleasant to use. What's more, the Harrier comes with the option of a 5 year / unlimited km warranty which costs just Rs 25,960!

This is possibly the most extensive BS6 related upgrade of an existing car and Tata's shown it hasn't been twiddling its thumbs for the past year. At Rs 13.69 lakh - Rs 20.25 lakh (ex-showroom India), the updates come at an acceptable price premium too. That said, even with the added kit, the Harrier doesn't beat its rivals when it comes to tech or gizmos; it has just caught up with them.
But it's also apparent that these changes, while pleasant, shouldn't be surprising. Because this 2020 version is what the Harrier should've been the day it was launched.
Tata Harrier Video Review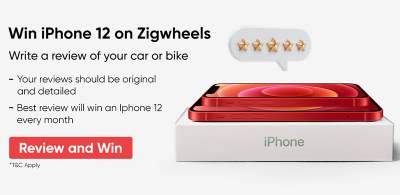 See what our community has to say!
NEW
India's largest automotive community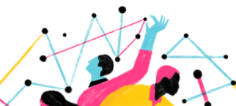 4 Other Things You Might Want To Do