Video: Harley's Electric Bike Concepts at X Games Aspen 2019
---
The two concept two-wheelers made their debut at the 2019 CES in Las Vegas
The two models are scheduled to go on sale by 2022.
The electric scooter looks very utilitarian.
The electric mountain bike has a more rugged design language.
Both get a removable lithium-ion battery and don't require a licence to ride either.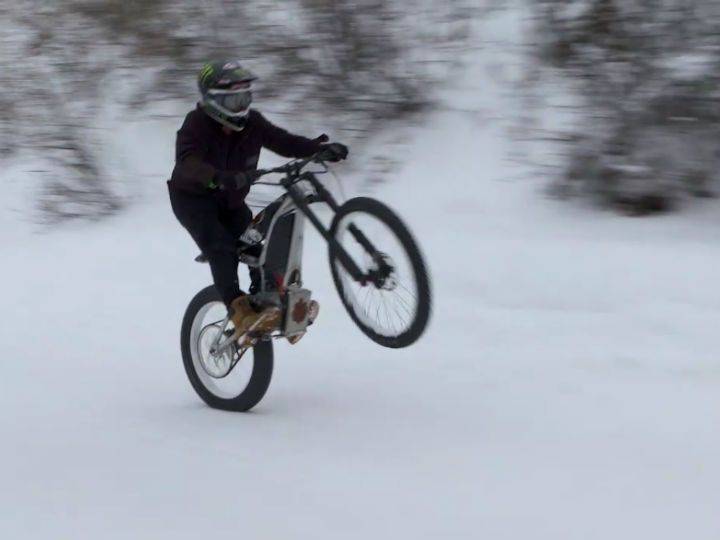 Harley-Davidson's future plans certainly seem to be electric! It first started with the Livewire concept, which was then followed up with a production-spec version. Later we got two concept models aimed at urban riders. Now, the American manufacturer has given us a glimpse of these models in action at the X Games Aspen 2019 in the US. Here's the video:
Jump to 09:10 to see X Games host Jack Mitrani take the concept 'scooter' for a spin. This particular model is devoid of the motor and battery casing, and that's actually a good thing! It gives us a sneak peek of the motor and the battery. As you can see, it grabs a lot of eyeballs due to its unconventional design. The footpegs, for one, are literally skateboards sawed in half! You also get very BMX-like handlebars, and there are no gears either. Mitrani says it's very light and easy to ride - a departure from conventional gasoline-powered Harleys.

Fast forward to 13:45 for the mountain bike concept. Its off-road themed underpinnings and the convenience of an electric powertrain will be ideal not only for the urban environment but also for the occasional trail run. At 14:55, Jackson Strong, an X Games gold medalist and motocross rider, takes the bike for a spin. And it seems like he's having quite a blast with the bike thanks to its high ground clearance, inverted front forks and rear monoshock setup. They seem to work well on uneven terrain.

The two bikes made their debut at the 2019 CES in Las Vegas. These bikes are ideal for urban environments where riders are looking for a no-frills, eco-friendly runabout. Moreover, you don't need a license either, and the battery is removable for maximum versatility. Furthermore, there's maximum torque right from the get-go, and the large belt driven rear sprocket sure seems to be wheelie-friendly.
Also Read: More Details Of Harley's Electric Muscle Bike Emerge
The e-scooter and e-mountain bike are scheduled to be launched by 2022. While there's still a long way to go, it remains to be seen as to what the electric segment will be all about three years from now.
Harley Davidson LiveWire Video Review