Nissan marks ICC association with World T20 trophy tour
---
Automaker Nissan kicked off its association with the International Cricket Council with the Nissan Trophy Tour that will take the ICC World Twenty20 India 2016 trophy across the globe before returning to New Delhi on February 1, next year.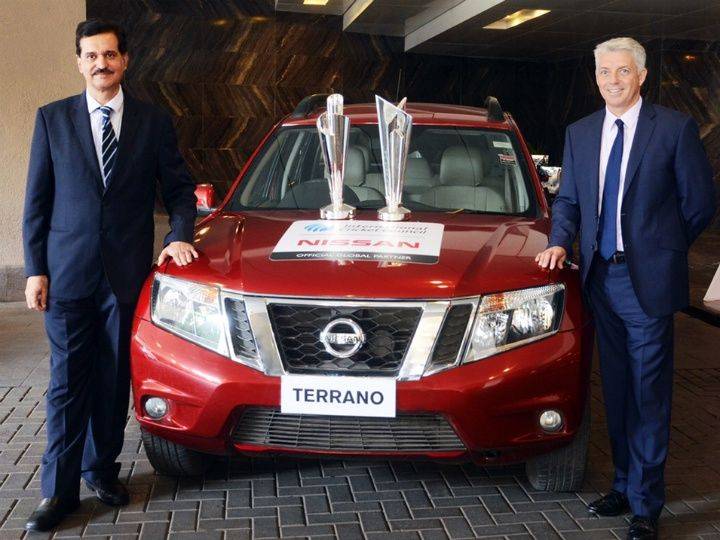 The International Cricket Council (ICC) World Twenty20 India 2016 trophy embarked on a global journey from Mumbai on Sunday. ICC chief executive David Richardson said Nissan Trophy Tour will provide fans the opportunity to get close to the trophy before the winning captain lifts it in Mumbai on April 3, 2016, according to a media release.
As part of the Nissan Trophy Tour, the trophy will visit 12 countries taking part in the tournament which will be staged in India from 11 March to 3 April 2016.
Scotland will be the trophy's first port of call, before travels to Ireland, England and the Netherlands at part of its European leg. The trophy's African safari will be from 2-7 January, during which it will make appearances in Harare (2 & 3 January) and Cape Town (5-7 January). Pakistan will be the trophy's first stop-over in the subcontinent (11 & 12 January), before it moves on to Bangladesh (14 &15 January) and then Sri Lanka (17 & 18 January).
On the Trans-Tasman tour, the trophy will arrive in Wellington on 21 January and will then head to Australia on 26 January where it will be displayed in Adelaide, Melbourne and Sydney until 31 January. From Sydney, the trophy will return to New Delhi on 1 February and will then start its domestic tour by making appearances at each of the venues that will host the ICC World Twenty20 India 2016 matches.
Outlining Japanese carmaker's philosophy behind its ties with cricket, Nissan Corporate Vice President and global head of marketing and brand strategy Roel de Vries, said, "We partnered with the ICC to bring cricket fans closer to the game. Fans feel exhilaration and passion when watching a cricket match. Those are the same emotions we want people to experience when driving a Nissan," and added, "We hope the Nissan Trophy Tour will build excitement around the world ahead of the WT20."
ICC Chief Executive David Richardson said, "The Nissan Trophy Tour has been designed to not only promote the tournament but also to engage with our fans and provide them the first opportunity to get close to the trophy. We would like to thank Nissan for their sponsorship of the Trophy Tour and we are sure it will be a big success as it travels across the world ahead of the ICC World Twenty20 in India next year."
Nissan Trophy Tour itinerary:
13-14 December – Scotland
16-17 December – Ireland
20-21 December – England
22-23 December – Netherlands
2-3 January – Zimbabwe
5-7 January – South Africa
11-12 January – Pakistan
14-15 January – Bangladesh
17-18 January – Sri Lanka
21-24 January – New Zealand
26-31 January – Australia
1 February – arrival in New Delhi