How About A Lambo V12 Soundtrack To Drive Away Those Monday Lockdown Blues?
---
The track-going hypercar is made out of carbon fibre and makes 830PS of power
Lamborghini Squadra Corse, the Italian carmaker's racing department, has released a new video teasing its track-only hypercar. The car is powered by Lamborghini's 6.5-litre naturally aspirated V12 engine and is scheduled to be premiered by the end of 2020. It will be a limited-production model and is likely not going to be legal for street usage. But that sound!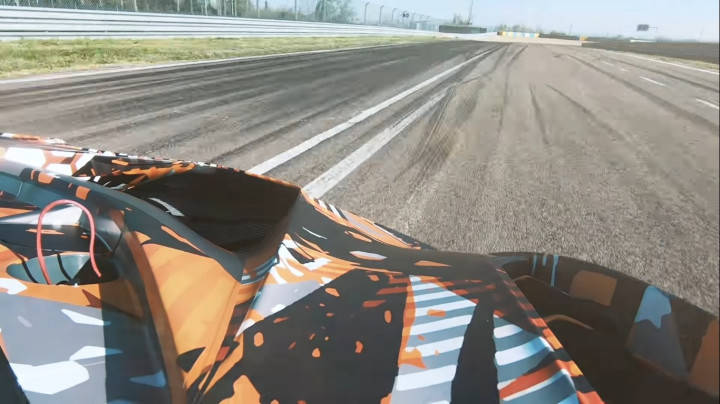 Lamborghini's engine is pushing the limits of natural aspiration with its 830PS power output. It is the same engine as last year's Sian concept hypercar but with 30PS more. Without major changes in displacement, the V12 squeezes out 60PS more than the Tesla-fast Aventador SVJ.

Like the Sesto Elemento, this hypercar has a carbon fibre monocoque and its front subframe is aluminium. No performance numbers are out yet, but we wouldn't be surprised to see a sub-three-second 0-100kmph sprint.

The latest video showcases Squadra Corse's orange-and grey camoed hypercar tearing down straights and charging wearily to a corner. Over a month ago, Lamborghini had teased the hypercar in an engine startup video where the car, devoid of bodywork, was screaming away on a dyno.

Lamborghini had first announced the hypercar in October last year with a video showing a dark silhouette of the vehicle with the caption 'the purest track experience.' Could this mean this will be a rear-wheel-drive car?

Squadra Corse's video doesn't just assure us that Lamborghini's hypercar works in the real world. It also shows us that the carmaker is dedicated to emerging from its crisis.
Add Your Comments