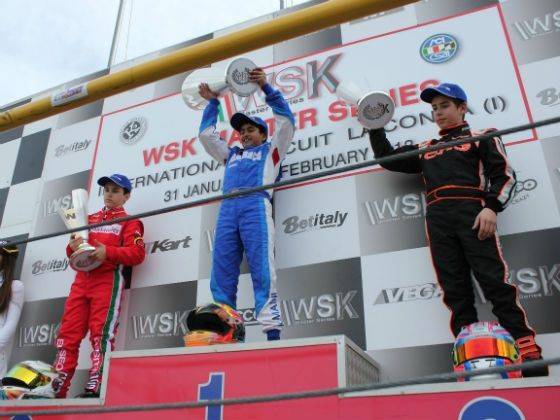 Young Indian driver Kush Maini won the World Series Karting race in the 60 Mini category (drivers between the age group from 8 to 12) at La Conca International Circuit in Italy on February 3, 2013.
Out of 41 entries in his category, the drivers were divided into 4 groups for the heats, out of which Kush was in Group C. The 12 year old driver, who races for Team Baby Race won two heats and secured a second place in the third heat.
He secured a pole position in the qualifying and later went on to secure a third in the pre-final race. On a grid of 34 drivers in the final race, Kush started third and fought his way up to secure the win.
On becoming the first Indian to win a World Series Karting race Kush said, "I have been driving Karts from the age of 5 and started racing at the age of 7. I spent last year racing in Italy which was a great learning experience for me as I also got several podium finishes in many of the races. However WSK is the biggest race for me and to win here is fulfilling the start of a Dream to become one of the best Drivers. I am now looking forward to the balance three races of the Master Series as well as the two races of the Euro Series".
The Bangalore go-kart racer is following the foot-steps of his elder brother Arjun Maini who had won the Force India talent hunt program, and is a part of the Sahara Force India Academy.