Take A Look At This Toyota RAV4 Disguised As A Lamborghini Urus
May 10, 2020
Views : 1793
---
The three-piece body kit will cost about Rs 1.7 lakh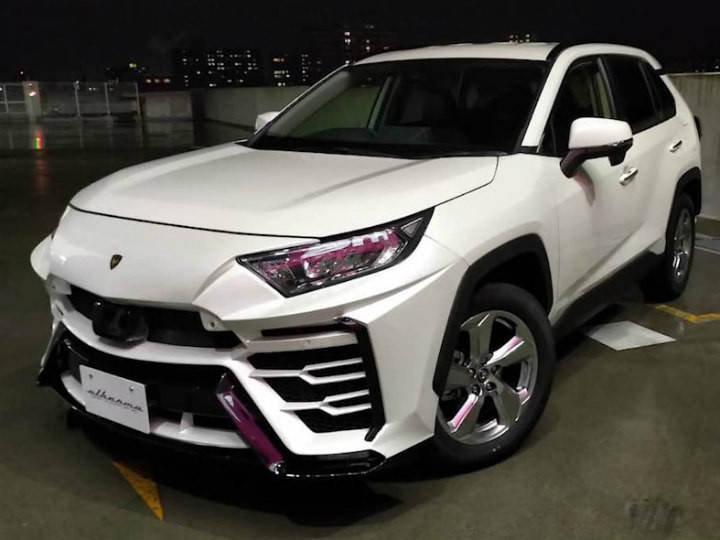 It costs a total of Rs 1.7 lakh.
Consists of three segments: front, side and rear.
Provided by Japanese tuner Albermo.
If the Lamborghini Urus is the SUV you desire but your pockets led you to settle for the economical Toyota RAV4, worry not. Japanese tuner Albermo is providing a three-piece Urus body kit for ¥240,000 (Rs 1.7 lakh) to transform your Toyota. The kit consists of an unpainted front bumper which costs ¥138,000 (Rs 91,819), LED DRLs with a honeycomb mesh in the corners for ¥8,000 (Rs 5,682), a revised rear panel for ¥78,000 (Rs 55,312), and four-piece side moldings for ¥16,000 (Rs 11,365).

Highlights on the front include tuning fork-shaped brackets for the identical front grille and the lower bumper. The rear features a half spoiler mounted from the roof and reflectors plus corner slots which bear a striking resemblance to the Urus. Finally, the side gets four extended side skirts.

With the complete kit installed, as bizarre as it may sound, the Toyota SUV does pull off the look and may fool the untrained eye. To add to the look, Albermo has also inserted their version of the Lamborghini logo.
On the power end, the top-spec RAV4 Prime plug-in hybrid variant produces 306PS through the combination of a 2.5-litre petrol engine and an electric motor. It can reach 96kmph in 5.8 seconds and travel almost 63km on just electric power.

While the Toyota RAV4 may not be available in India, it is one of the best-selling vehicles in the United States. The economy crossover SUV's owners may not be interested in the actual prospect of changing their car's appearance to that of the Lambo, but having the option doesn't hurt.
Add Your Comments