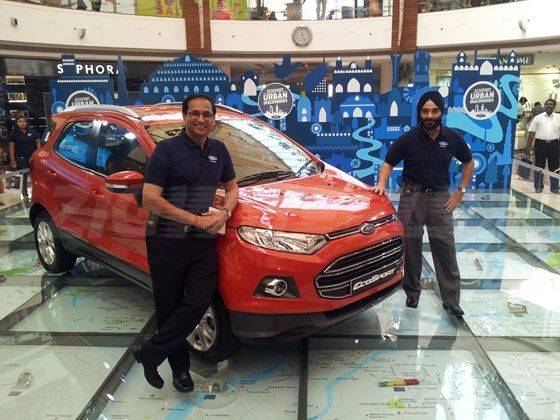 Ford today gave the first official public viewing of its production-ready, India-spec EcoSport at a Delhi mall while revealing more details of the much anticipated compact SUV. The EcoSport will be offered in four trims, eight colours and three engine options including the 1-litre EcoBoost turbocharged mill. Manual transmissions will be available in both petrol and diesel spec while the automatic gearbox will come only in the petrol variant. In fact, the diesel engine will be the same 1.5-litre unit that's on the Fiesta.
The EcoSport will also be equipped with Sync, Ford's voice-enabled in-car connectivity system. Developed in collaboration with Microsoft, the technology will let you operate your Bluetooth-enabled phone and USB devices via voice commands – just say the words and Sync will dial calls, read out text messages and browse and select music tracks.
The vehicle's unveiling was part of Ford's new EcoSport Urban Discoveries campaign that will give 100 winners, picked through an online contest, a chance to drive the urban SUV around their cities. The drive begins in May and one contestant will get to drive home an EcoSport based on the jury's decision. More details on the contest are available on the EcoSport Urban Discoveries website.
The SUV is currently on display at the EcoSport Urban Hub, which has been set up at Select City Walk and Infinity Mall in Delhi and Mumbai respectively. The EcoSport Urban Hub is part of a 12-city road show that will be held in Bengaluru, Chandigarh, Kochi, Ludhiana, Chennai, Jaipur, Hyderabad, Ahmedabad, Pune and Kolkata in a phased manner. Visitors to the hub will get to see, touch, feel and learn more about the SUV's features.
"The EcoSport Urban Discoveries will help us engage with and educate people about our upcoming EcoSport, and with this approach we would like to help customers take the right purchase decision," said Vinay Piparsania, executive director of Marketing, Sales and Service at Ford India.
No questions on prices were entertainted and Ford fell short of announcing the launch date of the EcoSport though speculations point to a June 2013 roll out.