The Best Tourers In The World Are The Slowest Ones
---
You can keep your Multistradas and GSes, I'm touring on a TVS XL100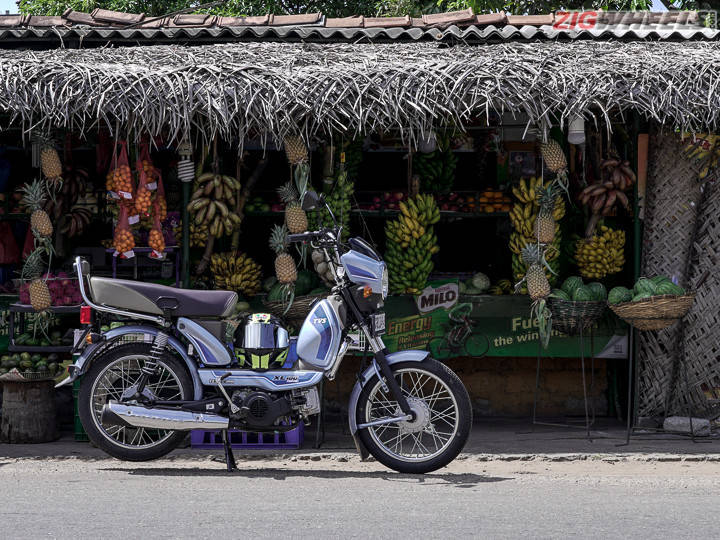 Fans of a certain British car show will remember when its most politically incorrect presenter spoke about the real fastest car in the world. An anorak could tell you that the quickest production car in the world is the Bugatti Chiron Super Sport 300+ (which might actually go even faster if they gave it a shorter name and get rid of the extra badging). But according to the said presenter, the fastest car in the world is a rental car. Any rental car. Because when it isn't yours, you thrash it in a way you could never dream of thrashing your own Chiron. The reckless abandon that comes with a rental car more than compensates for any horsepower deficit.

I had a similar moment of unconventional reasoning during my recent trip to Sri Lanka. TVS flew us down for a 3-day ride across the breadth of the nation, but while last year's journalists were aboard the crème de la crème of Apaches, this year's batch (with me in it) got to experience the opposite end of the spectrum. The Apache RR 310 that traversed the country 12 months ago is the brand's flagship model -- a matter of pride for TVS and a direct result of the company's prestigious collaboration with BMW. But the bikes given to us (if one can even call them bikes), were the ones that first put TVS on the map. The XL100 moped.

A dizzying 4.3PS propels you to a top speed of, wait for it….. 65kmph. Worse still, Ruman rode the XL from Goa to Pune shortly before this, and I heard horror stories about a hellish 14-hour journey. So when I landed in Colombo, I strapped myself in for an agonisingly boring 3 days ahead.
John Lennon famously said that life is what happens to you while you're busy making other plans. And while I sat there at 65kmph, dreading the journey ahead and convincing myself that I was being tortured, I fell in love with the XL100 as a tourer. The whole purpose of touring is to visit new places, to go somewhere you've never been before and see something you've never seen before. And sure, your Multistradas and GSes allow you to visit more places in a single day, but you're just passing through rather than actually visiting.

On the XL, you're limited to just a couple of destinations each day, but the ones that you do visit, you can really absorb. And that old cliché about the journey being as important as the destination? It really has some substance to it. When you're whizzing along to the 7th destination of the day at triple-digit speeds on your Africa Twin, your surroundings turn into an indistinguishable blur. But the slower you go, the longer each stretch of road effectively becomes and you're far more captivated by and immersed in the environment around you.

Yes, there are days when you want to be munching miles and carrying speed. And in sparser countries where notable attractions are few and far apart, a more powerful tourer would certainly make sense. But in a tiny nation like Sri Lanka, the XL was perfect. It isn't just about absolute size. Sri Lanka feels like a condensed, concentrated package -- a lot of beauty packed into a miniscule little package.

In an area just about 1/5th the size of Maharashtra, you're treated to picturesque coastal roads with brilliant blue sea on one side and lush greenery on the other, marshy wetlands populated by hundreds of lounging elephants, twisty tarmac cutting through hilly tea estates, there really is a little bit of everything and you're never far away from the next attraction. This is the sort of place you don't want to be whizzing through at breakneck speeds, you'll find yourself constantly wanting to stop and click pictures, take in the surroundings.

But landscapes and scenery can be quite similar in multiple spots across the globe -- there are many countries with miles of beautiful coastline and many others with mountainous terrain. What really defines a nation is its people. The 65kmph top speed meant that I had to sit at full throttle pretty much all the way, which made the XL's 4-litre fuel tank feel like a little Zippo. This meant frequent fuel stops, which allowed me to interact with the locals far more than I would if I could simply cover the length of the nation on a single tank. The natives, in turn, were quite intrigued by someone so heavily geared up sat on such a dwarfish little moped, which sparked some very interesting conversations over the course of my journey.

What made things even more entertaining is the fact that the XL100 is sold in Sri Lanka (it sells quite well, in fact) and the locals use it like the rugged workhorse that it is. You'll often struggle to see the moped behind the mass of coconuts that it's carrying. But despite the load-hauling capabilities of the little thing, its journeys are usually limited to a few kilometres up and down. Which means that they were quite surprised to hear about my ambitious road trip across the nation.

A large part of motorcycling is standing around your bikes with your mates, and bragging (and sometimes lying) about your capabilities and those of your motorcycle. You'll often hear BMW GS owners boasting about how their bikes are built like tanks and could survive an apocalypse. Now I'm sure the Bavarian boffins know what they're doing and the GS does indeed feel built like a vault, but over my three days in Sri Lanka, I took my XL off-road, blasted it across some beaches and got absolutely battered by pouring rain on multiple occasions. And it didn't give up the ghost. Heck, it never even missed a beat. By dint of design, the XL is supposed to be sturdy and durable and so it was, taking everything in its stride.

When we think about the ideal/perfect road trip, it's obvious you'd imagine something like riding down the French Riviera on a luxurious tourer, or streaking across the Swiss alps on a thoroughbred Italian sports bike. Sri Lanka certainly isn't the first name that comes to mind and a moped certainly isn't anyone's weapon of choice. But by the time I parked the XL for the last time in Negombo, I was smitten. Sri Lanka is a hidden gem, and having covered the breadth of the country over my 3 days there, I was extremely grateful to have been on the XL and not some million mile an hour missile. For on a Goldwing, this would've been a single day's journey, a fleeting glimpse into a heavenly nation that deserves far more of your time and attention. If you aren't hell-bent on crossing entire countries in a matter of hours, the XL100 is a rather excellent tourer. And that's because it's one of the slowest.

We aren't attracted to motorcycling by means of brochures and spec sheets. It's that tired old cliché about freedom - the power of mobility. If you truly enjoy the very essence of riding, of being on a motorcycle, then the exact speed (or lack of it) at which things are happening shouldn't be a deal-breaker. And that is also what this story is about. Any motorcycle, no matter how big or small, can be fun to ride; and motorcyclists with an open mind can enjoy themselves on anything that's put underneath them. Now, if you'll excuse me, I'd like to go decide on my next island nation...
More on TVS XL100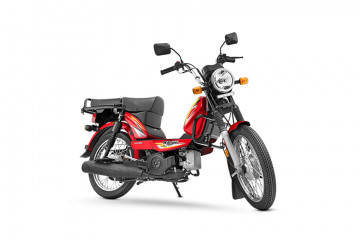 Rs. 41,015 Onwards
Ex-showroom, Delhi
View Diwali Offers
View On Road Price
See what our community has to say!
NEW
India's largest automotive community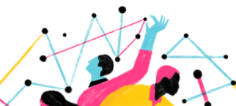 5 Offers Available