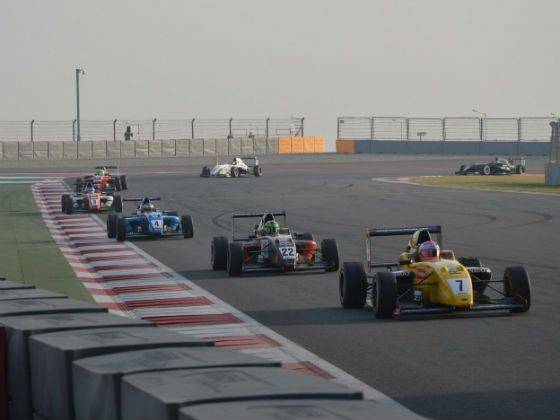 After all the racing action at the SIDVIN Festival of Speed 2012 at the Buddh International Circuit in November last year, the MRF Challenge 2012 will now head for the final round of the series to the Madras Motor Racing Track at Sriperumbudur in Chennai from February 8-10, 2013. This will be the first time that these Dallara-designed, Renault-powered MRF F2000 cars will be seen in action at the circuit in Chennai.
Continuing the fight for top honours, Jordan King currently leads the championship table five points ahead of Conor Daly, and third placed Alice Powell closely followed by reigning Formula Two champion Luciano Bacheta.
The final round will see five new drivers take to the grid, including Josh Hill, son of 1996 Formula 1 World Champion Damon Hill, and grandson of double World Champion Graham Hill. Besides Josh, GP3 racers Carmen Jorda and Vicky Piria, and Formula ADAC driver Sebastian Balthasar will also be driving in the season finale at Chennai. Japanese driver Yudai Jinkawa, who crashed heavily on Saturday in the last round, but bounced back hard on Sunday with a win, will also be seen behind the wheel along with compatriot Shinya Michimi. Aside from the foreign guest drivers, Indian lads Parthiva Sureshwaren and reigning Asian Formula Pilota Champion Parth Ghorpade will also be seen on the grid.
The weekend will also witness the introduction of the 2013 MRF 1600 cars as part of the premier class of the 2013 Indian National Racing Championship. The series will have four rounds with three races per round to complete a total of 12 races in all. The MRF 1600 cars will have a space-frame chassis powered with a Ford 1600cc Duratec engine, which has been designed by legendary single-seater manufacturer Van-Diemen from UK and built by Coimbatore based JA Motorsport.